Saturday night in Dresden, Germany will be highlighted by a major MMA event when MMA Live returns to the eastern German city.
See below the information from the promotion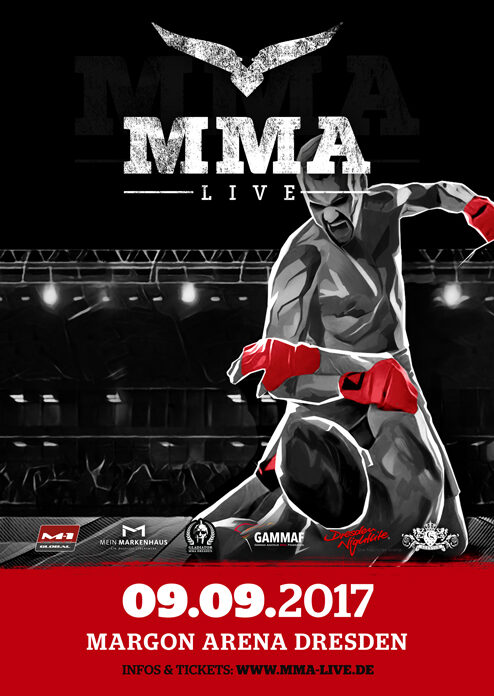 MMA stands for a modern type of full contact contest. Amateur and professional athletes present at a high level Mixed Martial Arts (German mixed martial arts, short MMA). The fights are carried out in a white battlefring (rage). MMA has become popular through the comparative battles in the Ultimate Fighting Championship (UFC) of the early 1990s, using techniques from various martial arts.
The event will be arranged in one of the most modern arenas in Germany. It can accommodate up to 3,000 people and has a VIP and conference area. The atmosphere will be outstanding.
Our team will equip the field of the field with a white Campfring (Rage) in which 10 to 12 fights will be held in the weight classes up to 61, 66, 70, 77, 84, 93 and 93. The Fightcard promises professional and well-known fighters from Spain, Poland, Czech Republic, Brazil, Serbia, Russia and Germany.
The fighters enter the arena impressively over a stage and then move fully concentrated to the ring (rage).
Our event is accompanied by a surprise program on stage. The stage and the ring are impressively staged by means of selected sound and lighting technology. The fights are broadcast by a film team of Fight 24 on the LED walls in the arena and live on the Internet. Culinary, the event in the bistro and VIP area is accompanied by a caterer with excellent references.
The tickets cost between 21.90 and 119.90 euros depending on the category. Our goal is to make the topic of MMA events in Germany even bigger. On 9th December 2017, we will bring the 1st European Championship MMA Amateurs and M1 Challenge with Fighters from all over the world to Dresden.
If you want to buy the tickets in the store, the Hardtickets gives at the concert hall Dresden in the Schillergalerie, Konzertkasse Dresden in the Florentinum or at Mein Markenhaus.Concert Hall in FlorentinumEntrance – Pragerstr. (Between Globetrotter & Wöhrl)Ferdinandstraße 12
01069 Dresden