27 Сентябрь 2013
On September, 25 Saratov got a fresh new gym on the premises of more than 2000 square meters.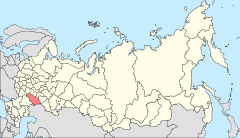 Location of Saratov Oblast in Russia
Not only is it the largest gym located in the city on the Volga river where everyone can train different martial arts styles. The gym named "Slavia" will also host various tournaments and seminars under the banner of Russian MMA Union.
From now on Saratov MMA Federation will have the training sessions in this brand new facility that's provided with the newest equipment one could only dream of. Saratov MMA Team already resumed training in Slavia.
Below are the photos straight from the facility: