Find below the regulations for the upcoming National MMA Championship of Republic of Moldova (Moldavia).
The championship is set to take place on May 18-20 in Kishinev.
1) PURPOSE AND OBJECTIVES
– Promotion and development of Mixed Martial Arts (MMA) in Moldova;
– Promotion of sport education, an active lifestyle and healthy young- Formation Team of Mixed Martial Arts (MMA) of Moldova;- Cultivating the spirit of competition and boost performance athletes;- Develop and strengthen links between sporting clubs that promote Mixed Martial Arts (MMA).
The purpose of this Regulation is also to establish system organization and development of amateur MMA National Championship in 2016 the course of this competition will be appointed national champions in MMA.
2) DATE AND PLACE
National Championship Mixed Martial Arts (MMA) amateur will take place from 18 to 20 May 2016 at the address Moldova, Chisinau. Chisinau, str. A. Doga no. 22 USEFS Gymnasium.
3) COMPETITION PROGRAMMay 18: 15.00-20.00 – scales and accreditation of participants t. Chisinau, str. A.May 18: 20:00 – draw.May 19: 09.30 – the assembly of representatives and referees seminar, or. Chisinau,May 19: The preliminary and semifinal battles.May 19: 14.00 – Opening Ceremony Arts National Championship Mixed Martial (MMA).
May 20: finals, leaving teams.
4) CONDITIONS OF ENTRY AND VALIDATION
Team representatives will send a confirmation of their participation no longer later than May 9, 2016 by sending requests to participate validation committee to address e-mail: [email protected] Any additional information you can find out by contacting telephone number mentioned below +373 69977011 – Ivan Gheorghiu.
5) ORGANIZATION AND TOURNAMENTNational Championship Mixed Martial Arts (MMA) is organized by Federation Mixed Martial Arts from Moldova (FAMM), supported by the Ministry Youth and Sports of the Republic of Moldova and sponsorsConducting competitions immediate returns Referees College Principal, approved by the Federation of Mixed Martial Arts in Moldova (FAMM).Referee – I. Zavton;
The referee secondary – D. Pocatilov.
6) CONDITIONS OF PARTICIPATIONThe right to participate in the competition athletes over the age of 18, which practice mixed martial arts (MMA) or other evidence of struggle, with no experience than 1 year of training, which passed the medical health care institutionsValidation of participants is based on the application of participation and all the athletes are required:- comply with competition rules;- to ensure maximum attention on preventing accidents;- to behave properly with esteem and respect for referees, organizerscompetition and other participants. 
* All athletes will complete an affidavit that participate unconditionally and I know the competition rules.
7) AGE AND WEIGHT CATEGORIESThe participants must have not less than 18 years old at time of the Contest and to enroll in the following weight categories:
61.2 kg 65.8 kg 70.3 kg; 77.1 kg 84.0 kg 93.0 kg; +93.0 Kg.
8) EQUIPMENTEach athlete is required to possess fighting equipment: shorts, dental protection, helmet, gloves MMA (red / blue) not less than 5 OZ, bandage protection, protective shell, protective shin guards with foot to cover Athletes will struggle without shoes.
At the opening ceremony of athletes will be dressed in suit team sport clean and tidy.
9) RULES
National Championship Mixed Martial Arts (MMA) will follow the Amateur MMA unique rules (WMMAA) rules can be found on the official site World Federation (www.wmmaa.org).
10) TERMS OF PREMIEREAthletes awards to:- First place: cup, medal, diploma;- Second place: medal, diploma;
– Third place: medal, diploma.
11) FINANCIAL CONDITIONSExpenses related to the organization and conduct of Arts Championship Mixed Martial (MMA) (referees food, prizes, diplomas, medals, cups, and premeii USEFS hall rent) will be borne by the Ministry of Youth and Sport Accommodation, transport and food will be provided on own account teams
THIS REGULATION IS AN INVITATION OFFICIAL FOR PARTICIPATION COMPETITION.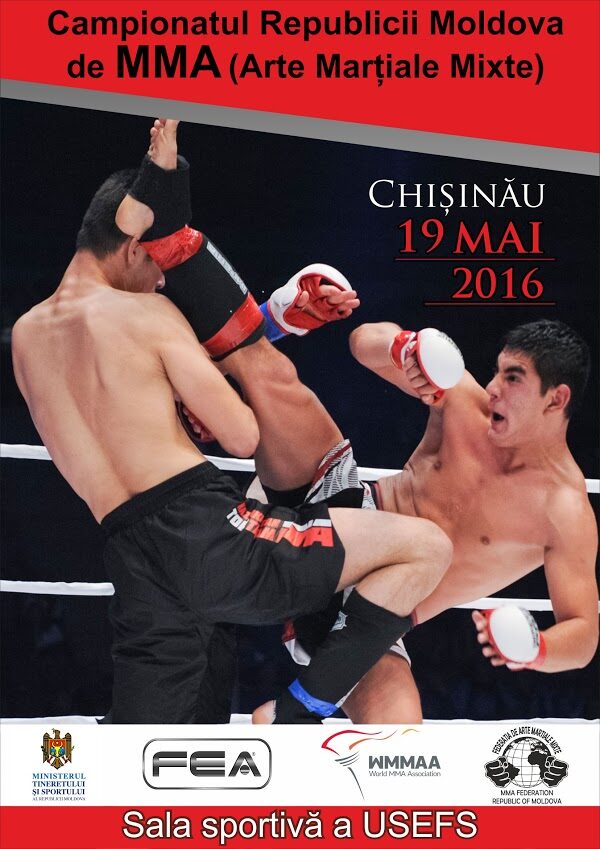 by Mikhail Mazur