Published on 29 August 2015
2015 World Championship will be held on 26-29 of November in the beautiful capital of Czech Republic, Prague.
Each member of the WMMAA family is officially invited to participate in this upcoming celebration of combat sport action, dignity and mutual respect.
The event is organized by our prominent member, Czech association of MMA in collaboration with Czech Martial Arts Union and Ministry of Education Youth and Sports of the Czech republic.
Please find below the regulations of the upcoming championship.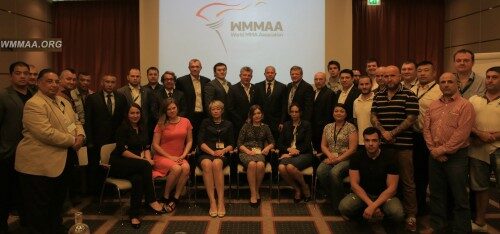 *Regulations in .pdf format can also be found in the Documents section of the website.
Introduction
Dear friends, Prague is a beautiful city and the Czech Republic is a beautiful country. We Czechs are proud of our country and our capital city as we are very proud to host the best amateur MMA fighters of the world in our home, in the year 2015. For three days – in the town where many heroes of European and world history have lived before, we will make together new heroes – the World Champions in MMA. There is no other sport that would prove just what MMA did. MMA is a sport phenomenon of our present and future. It is the fastest growing sport in recent years, indeed. Throughout the history of mankind the honest fight man to man is one of those activities that make a man a better, fairer and more exceptional to himself and to others as well. It is the fight that we learn from the most about ourselves. The desire to become a better person, learning to lose with humility and win with honour, it is the true spirit of MMA. The same spirit that will ultimately help you in life to fight for the greatest victory – to win over yourselves and become anyone you want. Perhaps each of you will come to Prague with the desire to become a world champion and that is already a victory!
It will be a great honour for us to welcome the national teams and their members from all continents of the world on 26th to 29th of November in Prague on the World Championship WMMAA. I would like to make sure to you all that our ultimate goal is to make your stay in our country an exceptional memory in your sports career and life, too. The arena that is prepared for our guests is the traditional meeting place for the Czech fans for many years. In the nearby vicinity of the arena, we have prepared comfortable accommodation, which is less than 5 km from the historic centre of Prague which belongs to one of the most admired in whole Europe. Your smooth arrival to the venue of the championship will ensure our specially trained and language skilled team that will be available throughout all your stay here. Our job is to take care of our guests the way that they will focus only on their athletic performance, which they were surely practicing many months for. Our task in Prague is to be here for you.
I believe that the MMAWorld Championship in Prague will be among the best, and even after several years when you fight in the octagons of all over the world, you will always remember that it was right in Prague where your career of a champion has begun.
I look forward to see you soon and the WMMAAfamily will meet again at the winner podium after the year.
Petr Kareš
Director of the World Championship
Regulations World MMA Championship is carried out in accordance with the rules and requirements of World MMA Association. Individual-team competitions are held in 7 weight categories with individual-team classification among the participating countries.
I. GOALS AND OBJECTIVES
– Determination of the strongest sportsmen and team of the World; – Development and promotion of Mixed Martial Arts (MMA) worldwide; – Improvement of judges and coaches qualification and sportsmen level of training – Involvement of different groups of people in active lifestyle; – Expansion of cooperation in the sphere of development of MMA in the world
II. PLACE AND DATE OF COMPETITION
Type of competition: World Championship Age group: Male, at least 18 year old Dates: November 26-29, 2015 Place: Czech Republic, Prague, Podvinný mlýn Arena, Podvinný mlýn 2131/11
Number of participants: No more than 7 fighters and 1 coach/team representative from one country. One sportsman per weight category
III. COMPETITION ORGANIZERS
World Mixed Martial Arts Association & Ministry of Education, Youth and Sports of the Czech Republic & Czech Union of Martial Arts & Czech Association of MMA Preparation for the championship is carried out by World & Local (Czech) Organizing Committee. The head of the World organizing Committee is Tatiana Klimenko. The head of the Local (Czech) Organizing Committed is Petr Kares. See contacts in part "Contacts". The Judges committee is directly responsible for the competitions. The head of the Judges Committee of the World MMA Championship is Radmir Gabdullin (Russia).
IV. REQUIREMENTS TO PARTICIPANTS AND CONDITIONS OF THEIR ADMISSION Sportsmen aged 18 years before the start of the competitions and older, registered in SPORTS ID system, with the level of training (not less than 2 years) in any Contact, Power or Mixed Martial Arts, who had been training for at least 12 months, registered by the Team Representative and medically examined not earlier than 7 days before the competitions are allowed to take part in the competition. Only athletes with not more than 5 victories according to SHERDOG are allowed to participate. Admission will be controlled by the Credentials Committee of the Championship. Participation applications should be submitted before September 15, 2015 via email to This email address is being protected from spambots. You need JavaScript enabled to view it. and in Sports ID System. Participating team consists of 8 people, 7 sportsmen, one per each weigh category and 1 coach / team representative.
The following documents shall be provided to the Championship Credentials Committee: Credentials Committee has the authority to review the applications and either approve or disapprove the admission. – Application in a standard form from the National Federation with obligatory presence of duly sealed signatures of the Head of Federation, Coach and Doctor; – Identification documents; – A completed competitor's card with acknowledgement (Annex No. 1,2,3) – Certificates on HIV and Hepatitis B and C (originals). – Health insurance policy and insurance contract (original) for this competition; – National anthem on the CD or a USB-drive, national flag. In order to have equal starting opportunities for sportsmen the Panel of Judges is entitled to demand the participants to undergo doping control procedures during or after the competitions. Where a participant or team representative refuses to undergo doping control procedures, the participating team is not allowed to compete and is disqualified.
V. COMPETITION UNIFORM AND EQUIPMENT OF SPORTSMEN
According to the Rules of the competition, sportsmen must wear long or short fight shorts and use protective equipment: -ź White open – finger gloves of at least 5 ounces (blue or red tape or plaster shall be wound around the wrist); – Protective mouth piece for teeth; – Bandage to protect the groin; – Shin guards.
Head gear at Mixed Martial Arts MMA Imperia may be used in at will. Sportsmen at the age of 18 to 21 years old must use a protective helmet. In this case, his opponent must also wear a protective helmet.
Sportsmen compete without shoes.
VI. REGULATION OF THE BOUTS
Preliminary bouts: if more than 16 sportsmen are registered in the weight category, all fights to 1/8 Finals consist of 1 round of 3 minutes. If the fight ends in a draw, the victory goes to the sportsman who has received the last effective score. From 1/8 finals duels are held: 2 rounds of 3 minutes each (60 seconds rest between rounds with chairs). In exceptional cases an additional extra round may be added if the first two rounds ended in a draw. Finals consist of 2 rounds of 5 minutes each, 60 seconds rest with chairs. In exceptional cases an additional extra round may be added if the first two rounds ended in a draw. The winner is determined in accordance with the Rules of Competition approved by WMMAA.
VII. SUMMING UP Individual-team competitions are held in accordance with the "Official Rules of Mixed Martial Arts Competitions" approved by WMMAA, including revisions, additions and clarifications of certain clauses thereto. Competitions are held according to the Olympic system (with 2 Third places), in seven weight categories: 61,2 kg; 65,8 kg; 70,3 kg; 77,1 kg; 84,0 kg; 93,0 kg; +93,0 kg. Team placing is determined by the maximum amount of points in individual classification of team members for 1st place by 10 points, 2nd place by 8 points, 3rd place by 6 points, 4th place by 5 points, 5th place by 4 points, 6th place by 3 points, 7th place by 2 points and for 8th place by 1 point. 5th place is taken by the participant who lost to the champion in the quarterfinals, 6th place is taken by the participant who lost to silver medallist in the quarterfinals, 7th place is taken by the participant who lost to bronze medallist and 8th place is taken by the participant who lost to the sportsman who had taken the 4th place.
VIII. AWARDING OF WINNERS
Championship winners in individual competition are awarded with belts. Prize-winners of championship who took second and third places in individual competitions are awarded with medals, diplomas and special prizes; coaches who trained champions are awarded with medals and diplomas. Teams taking 1st, 2nd and 3rd places are awarded with cups and diplomas.
IX. FINANCING TERMS
The following financial, material and technical commitments are imposed to the organizers and partners of the Championship: – to provide accommodation to the honorary guests and WMMAA management; – to secure arrival, accommodation and departure as well as guaranteed payment to the international judge's board and referees; – to provide accommodation and local transportation to all the contestants and their coaches and team representatives; – to organize weigh in procedure and Credential committee, deliver all the contestants and their team members to and from the weigh in procedure; – to provide medical surveillance at the tournament (AT LEAST 2 EMERGENCY CARS, 2 TEAMS OF SPORTS DOCTORS or PEDIATRISTS, 1 REHANIMATION CAR); – to ensure security of all the participants; – to organize the advertising campaign; – to make all the necessary arrangements and payments to the contractors; – o provide at least 2 fighting rings and all the required equipment; – to award winners with prizes, gifts and other rewards in accordance with Provisions; – to provide photo- and video –recording and presentation of materials to WMMAA executive committee.
All the entry documents (visas), travel expenses and meals of the national teams are on their own expenses.
IX. APPLICATION FOR PARTICIPATION IN THE COMPETITIONS
Applications for participation in competition shall be executed in accordance with the Rules of Competitions in two copies and submitted not later than September 15, 2015. All participants should be registered in Sport ID system by September 15, 2015.
Teams must arrive for registration to Prague on 26 November, 2015 before 20:00.
CONTACTS
World Organizing Comittee:
Tatiana Klimenko – This email address is being protected from spambots. You need JavaScript enabled to view it. – +79213458507
Alex Engelhardt – This email address is being protected from spambots. You need JavaScript enabled to view it. – +31632275416
Local (Czech) Organizing Committee
Petr Kareš – This email address is being protected from spambots. You need JavaScript enabled to view it. – +42733118778
Michal Hamršmíd – This email address is being protected from spambots. You need JavaScript enabled to view it. – +42774228302
Visas, Flights
Petr Kares – This email address is being protected from spambots. You need JavaScript enabled to view it. – +42733118778
Comments:
Facebook
Download SocComments v1.3