On Saturday, Jon Jones finally makes the move to heavyweight when he faces Ciryl Gane for the vacant title at UFC 285. It's Jones first fight in three years, and his first in this new division, and questions abound. What will his view of heavyweight be? Will the layoff hurt him? Can Gane capture gold in his second attempt?
The stakes are enormous, so let's take a look at what each man needs to do to win this marquee matchup and ultimately what will happen on Saturday night.
---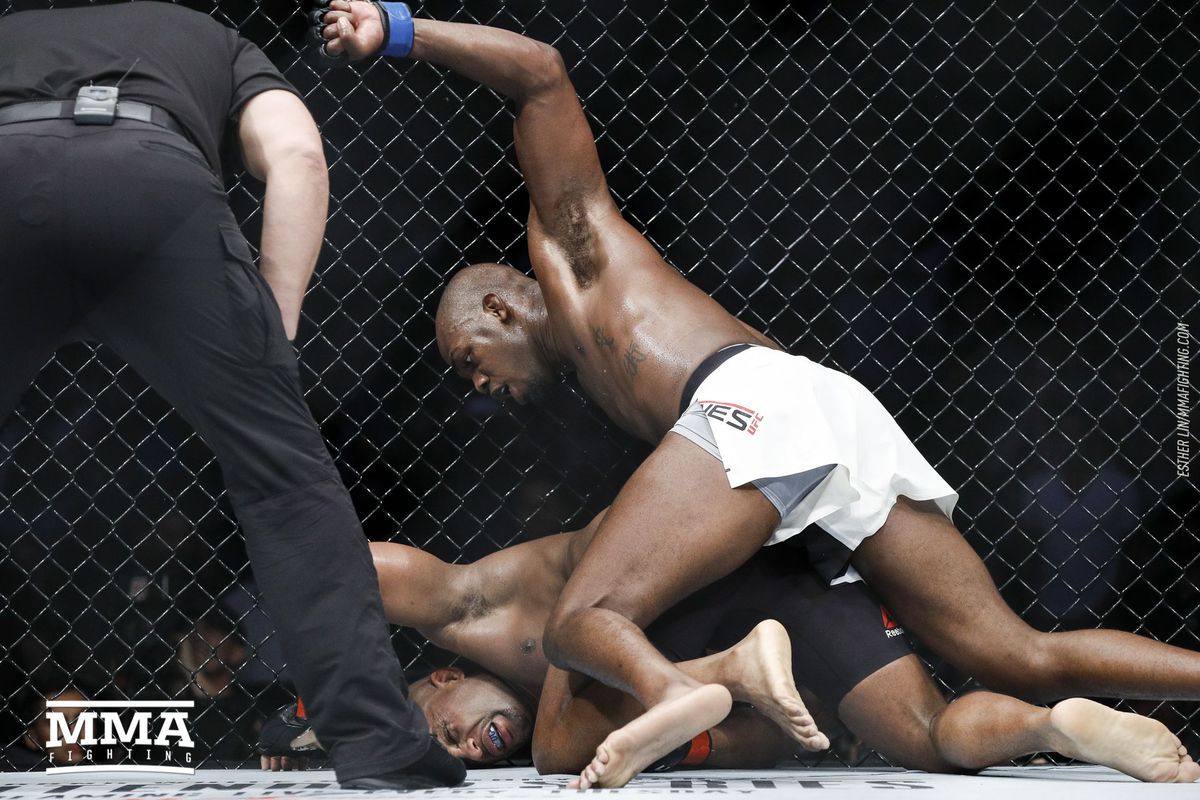 Paths to Victory for Jon Jones
If I was constructing a game plan for Jones, it would consist of three primary pillars: clinch work, takedowns and kicks.
On that first: Jones is undoubtedly the best clinch fighter ever in MMA history. He is a terror for any close fighter due to the variety of his attacks and the amount of leverage he creates. Jones is a master of chokes, elbows, spins, elbows, takedowns, and tie-ups. He will do well to return to those against Gane who has invited Ngannou into the clinch.
Jones stated many times that Gane showed weakness in wrestling and grappling. Ngannou is athletic and muscular, but he's not well-known for his takedowns. He was able, even with a broken knee, to place Gane on the floor. Jones is not as good of an offensive wrestler as many believe he is, but he's still much better than Ngannou in that realm, and more importantly, he's a substantially more dangerous top-position grappler. If Jones can score takedowns, Gane is going to struggle to get out from under him, and the elbows Jones can create from that space are game changers.
Also, as mentioned above, Jones' best shot at scoring takedowns come from creating clinches. But he should also be ready to catch kicks and drive on them. Jones is a good kicker, Gane often kicks, but Jones also has proven his ability to catch kicks from opponents. Jones even hasn't always taken down the opponent.
Lastly, kicks. Because both men are eager to fight, this fight will probably be at long distance. Gane has that karate-esque style, where he keeps his hands low and bounces around, chipping away with kicks and counters as they become available. Jones, in turn, should rely on his favorite striking weapon, the oblique kick, to stymie Gane's movement and keep pace at range.
---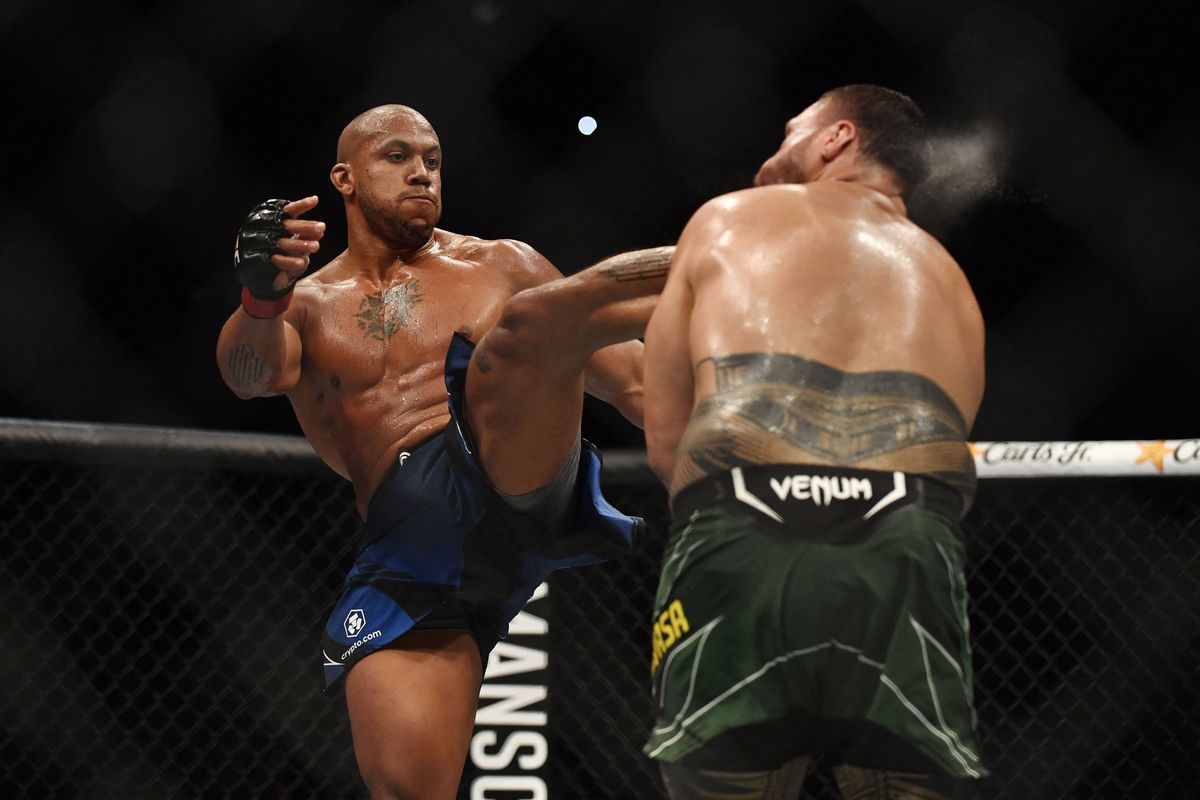 Paths to victory for Ciryl Gane
In the simplest of terms, Gane will benefit if he can make the fight look more like the one he had with Alexander Volkov.
At a fundamental level, Gane cannot compete with Jones in the grappling phases. Jones has more tricks than Gane, but Jones is much more dangerous. Gane will only survive if Jones goes to the floor. Gane must make sure that it does not do this. It's a good thing that his fighting style works well for this purpose.
While there is an idea that Jones may be the quicker man given that he's coming up from light heavyweight, that seems unlikely based on what we've seen. Although it's common to tell, Gane moves like a middleweight. This movement is key in keeping Jones away from backing Jones to the fence.
Coupled with that movement, Gane needs to lean on his kicking game. Thiago Santos has great success with low kicks on Jones until he tore both of knees to shreds, and Gane is a much better kicker than Santos. Low kicks, especially the calf kick will slow Jones down and serve as a steady way to score points without putting yourself in danger.
Gane's most important skill is his ability to throw many different boxing combinations. For all of his many skills, Jones is not a great defensive boxer. He rarely looks to counter inside, instead trying to separate and create space again, where he can rely on his reach. Jones was hampered by Dominick Reyes' ability to enter and manipulate multiples. Reyes finally started slowing down during the championship rounds.
Finally, Gane should really get down to fire some good shots early. Gane isn't a knockout artist, in large part because he isn't trying to be one. Gane is content to score on opponents and allow opportunities to present themselves. Against Jones, those opportunities will be few and far between, as he places a premium on not exposing himself. As a result, Gane needs to throw with more authority when the time does come, both as a way to stand out for the judges and as a way to keep the fear in Jones. Jones almost lost his title as a Thiago Santos no-kneed Thiago Santos champion because he refused to admit to the possibility that Santos would land a huge shot on Jones. Gane needs to introduce that same fear or run the risk of Jones running over him.
---
X-Factors
Everything. The entire fight is an X-factor.
The truth is, no one knows what (Mike!) Heck we are about to witness. Jones has not fought in three years, and he hasn't looked good in almost five. Jones claims that his poor performance is due to lack of motivation. But can we really believe it? Maybe it was that the division and Father Time caught Jones up. That's what happens when you're at the top for nearly a decade, after all.
The layoff arguably isn't even the biggest question mark for this fight. If this was Jones returning at 205 to fight Jamahal Hill, we could feel a little more confident in what we're about to see. But instead, he's moving up a weight class and, truth be told, his physique is not knocking anyone's socks off. How will Jones carry this added weight in the cage? He will he have more power? Is he going to lose his speed? (This seems likely based upon some training footage). How important will that be to his success against Gane? It's impossible to know and will not until Saturday. This is part of the reason this fight is so fascinating.
---
Prediction
It's difficult to predict what the fight will be like, as I stated in the X-Factors Section. Jones can approach it in many ways and Gane makes some questionable choices in the cage. To be honest, we are likely in for a difficult fight. I can see both men staring at each others for long periods of time from five feet. I believe Jones is the better fighter. Jones will be the most noticeable (i.e. ground and pound, spinning elbows, etc…) and so that should be enough to get the nod on the judges' cards.
Jon Jones def. Ciryl Gane by Split Decision (48-47, 47-48, 48-47)
Source: https://www.mmafighting.com/2023/3/3/23618520/ufc-285-paths-to-victory-how-jon-jones-and-ciryl-gane-can-claim-the-vacant-heavyweight-title?rand=96749