It's that time, folks. This weekend, Islam Makhachev will be taking on the No. 1 pound-for-pound fighter in the world, Alexander Volkanovski in the main event of UFC 284. If Makhachev wins, he'll ascent to the top of the pound-for-pound rankings, and if Volkanovski wins, the question will turn to where among the all-time greats does he rank?
The stakes are high so let's look at the requirements of each man to win Saturday night's marquee matchup.
---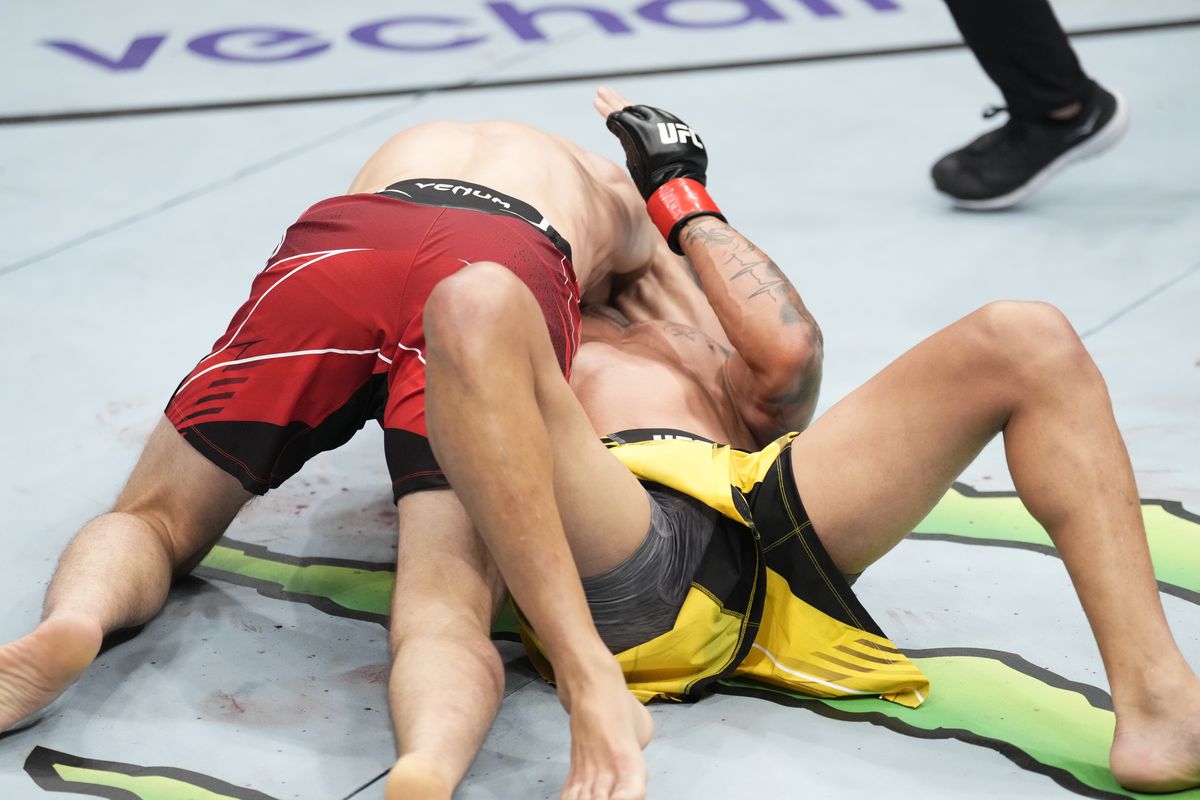 Paths to Victory for Islam Makhachev at UFC 284
It's difficult to find anything new on Makhachev, Khabib Nurmagomedov and before him have had such straight-line games. That's not a knock on the champion (if anything, it's a testament to how incredible they both have been as fighters), but everyone knows how they win/won, it's just a matter of can they do it. If Makhachev wins on Saturday, it will be because he was able to score takedowns and hold the position, or score takedowns and finish Volkanovski.
Okay, but how does he do that?
He does what he always has done. Most of Makhachev's takedowns are from the clinch, just like Khabib. He can (and has) succeeded with shot takedowns or reactive doubles, but mostly he gets into a tie up off of a striking exchange and then goes to work, off-balancing his opponents and chaining techniques together until he gets the desired outcome. There's a reason he has a 68 percent takedown success rate, and it's not because he's lucky.
I expect Volkanovski to do all he can avoid engaging in engagements. But Makhachev, while extremely well-studied, is a very good bet. Javier Mendez, along with his company, have been doing an outstanding job in game planning and countering the opponents over the years. This is to be expected. Volkanovski is known for his use of low kicks on his feet to compensate his small stature and disrupt his opponent's timing. I will be shocked if Makhachev doesn't come in preparing to either catch a kick and initiate a takedown sequence or simple sit down on a left hand counter. As Charles Oliveira discovered, Makhachev is a master at timing his counters and can dispatch Volkanovski as quickly as a double leg can.
Which leads me to Makhachev's other important takeaway: He can feel confident when he strikes. Although Volkanovski is clearly the superior striker in this fight, Makhachev holds the advantage of having more power. Volkanovski is a crisp and accurate striker, but he's not icing people, even at featherweight. Makhachev, meanwhile, has done just that, against far bigger men. Makhachev sees every exchange as an opportunity to finish the fight, or to establish contact in order to start a takedown. For Volkanovski, they are risk-reward propositions where he can score points. That's a pretty major advantage for the lightweight champion.
The last point Makhachev is concerned and what I find most interesting is his ability to maintain top control. It seems very likely Makhachev will be able to get takedowns, but can he maintain position? We have no reason to doubt him as he's done it to nearly everyone, but unlike Oliveira, Volkanovski will be doing everything to dig underhooks and stand back up, not trying to grapple with Makhachev. If Makhachev cannot simply ragdoll Volkanovski on the floor, he needs to make sure the times he does get top control, he's doing damage. Because as the fight goes on, Volkanovski will still be there, and Makhachev may need to build a lead if things aren't coming easy for him.
---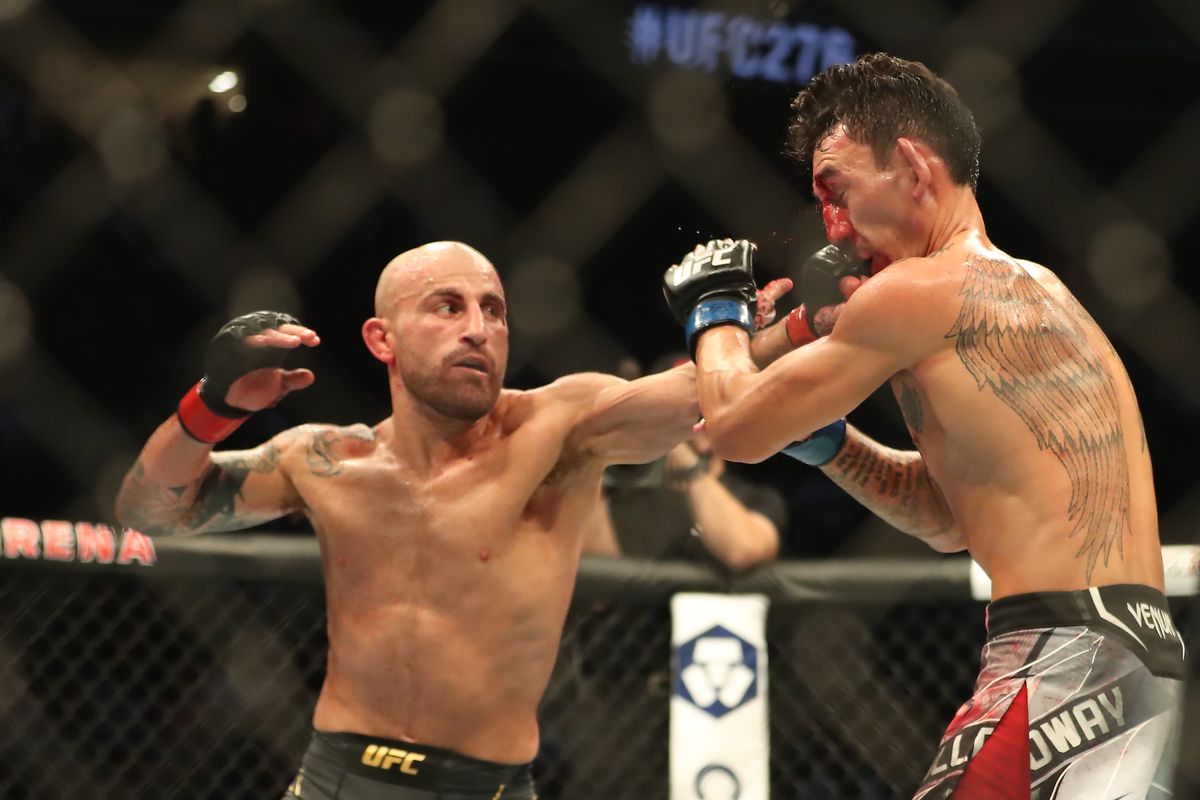 Paths to victory for Alexander Volkanovski at UFC 284
It is difficult to give new advice about fighting Islam Makhachev. It all comes down to "FOR LOVE OF GOD DON'T BE TAKEN DOWN!" Volkanovski's Saturday night was lava. And so, as I see it, there are two paths forward for Volkanovski.
The most obvious one, and the one I suspect he will try at first, is to simply avoid the ground altogether. Volkanovski has superior technical striking skills. He's quicker, more agile, better at timing and footwork. Volkanovski can come out with the intention of staying on his bike, presenting angles, never giving Makhachev a clean look at an entry or tie-ups, and content to pile up damage on the outside. This plan is more successful if Volkanovski has a cardio advantage. As the fight drags on, takedowns get harder.
In this scheme, Volkanovski should be the back-up to Makhachev and never allow himself to be tied to the fence. (The fence is the place where most of Makhachev's takedowns occur and is therefore also lava). If he does get down, then GO UP! Although this is an acceptable game plan, it requires almost perfect execution. We've all seen Volkanovski do near-perfect before. But it is a difficult path.
Instead, I'd like to suggest a different path for Volkanovski: friggin' going for it.
Volkanovski faces a fundamental problem in this fight: Makhachev is more dangerous than him. Volkanovski has made a career out of solving problems through adaptation, but at some point, the physical disparity is too much, so Volkanovski needs to change that math. If Volkanovski tries to out point him, that's a long 25 minutes, particularly if Makhachev doesn't end up fearing Volkanovski's striking. So, make him afraid.
Makhachev still isn't a comfortable striker, but he can be drawn into brawls. Charles Oliveira was unable to stop him from charging in when Makhachev responded recklessly. Every moment Makhachev is punching is a moment he isn't taking you down, so make than an enticing proposition. Get in the inside and let fly, defense be damned, and really sit down on your punches. You might become the lightweight champion with one, and you will at the minimum get the respect you're going to need to keep him from taking you down relentlessly.
Ahead of the Oliveira fight, I compared Islam Makhachev to Isaac Newton, saying he inevitably solves all problems. Volkanovski should introduce a little anarchy to the equation though, and see how that changes the math.
---
X-Factors
Mentality
I'm genuinely not sure what to make of both men heading into this one. Normally, I would say fighting in someone's home country would favor that fighter, but Makhachev, frankly, seems like it's fueling him up. The lightweight champion seems like an uncaring man in all the videos and media before the fight. He seems exceedingly confident, if not downright enthusiastic at the possibility of fighting Volkanovski.
Volkanovski, meanwhile, certainly doesn't seem nervous but he has a pretty clear chip on his shoulder for reasons that remain unclear. Makhachev doesn't seem to have done any wrong to Volkanovski, but he is here now threatening to "wipe his smirk from his face" as well as getting mad at Makhachev for disrespecting culture by not showing up to parties of some sort. I'm not really sure what to make of it. He had a chip on his shoulder going into the third Max Holloway fight and delivered one of the best performances ever though, so maybe this is just him gearing up for the fight.
---
Prediction
*Alexander Volkanovski can absolutely win this fight. I don't believe he will. Volkanovski must fight at his very best to win. Makhachev can only be great, which means that I will always pick Makhachev. In the end, weight classes exist for a reason.
Islam Makhachev def. Alexander Volkanovski by submission (rear-naked choke) at 2:45 of Round 3.
Source: https://www.mmafighting.com/2023/2/10/23592812/ufc-284-paths-to-victory-how-alexander-volkanovski-can-etch-his-name-history-against-islam-makhachev?rand=96749