A seasoned amateur Cuban Robeisi "El Tren" Ramirez (11-1, 7 KOs) will fight in a couple of months with Isaac "Royal Storm" Dogbo (24-2, 15 KOs). The former, having sensationally lost in a professional debut in August 2019, has since gained momentum and is now considered one of the top guys in his weight.
At stake in their fight will be a "temporary" WBO featherweight title (up to 57.2 kg). The full-fledged champion here is Emanuel Navarrete (36-1, 30 KOs), who will challenge the vacant title of the same organization in 59 kg in early February.
In the 4th year of his career, Robeisi wants at least some kind of title, even if it is still half-hearted.
"I have been boxing for over 20 years and have always been a fighter," Ramirez said. "I never forgot where I came from. But I refuse to define myself by past accomplishments. Even after I won my second Olympic gold medal, I overcame difficulties. I have risen to the challenges ahead of me and I know that my biggest challenges and greatest achievements in boxing are yet to come."
The Cuban added such an inspired speech with the promise that on April 1 he will enter the ring "with the hunger that brought me here, and with the hunger that comes when I know that I still have a lot to achieve."
Ramirez – Romero: video of the knockout and the best moments of the fight
"This is just the beginning for Robeisi "El Tren" Ramirez," he said pathetically.
Dogbo simply promised that he would become a two-time two-division champion on April 1st.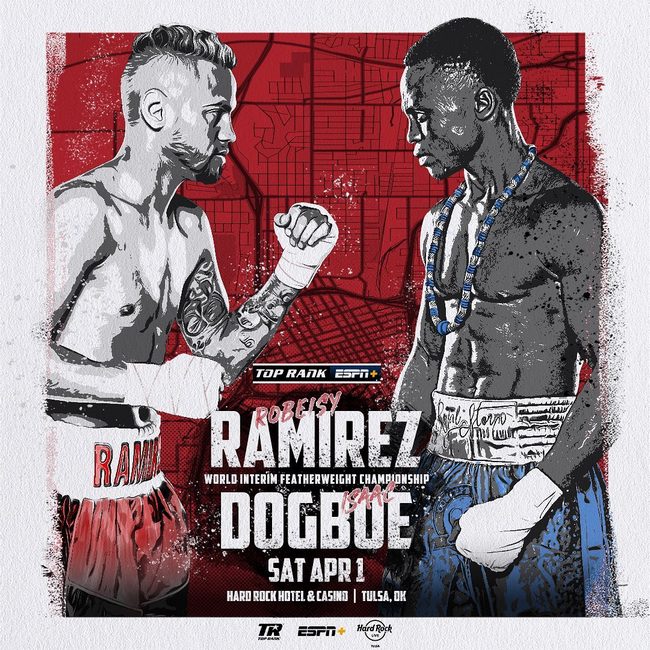 Last summer, Ramirez answered a question about a possible rematch with Shakur Stevenson in the pros.