IBF heavyweight mandatory contender Filip Hrgovic (15-0, 12 KOs) was conditionally left with a nose as the International Boxing Federation canceled its order on January 9 that its champion Oleksandr Usyk (20-0, 13 KOs) be immediately defended him. Now the path to the fight for the absolute championship in the division between the Ukrainian (IBF, WBA, WBO titles) and the British WBC champion Tyson Fury (33-0-1, 23 KOs) is completely cleared.
Matchroom Boxing and Wasserman Boxing, Hrgovic's co-promoters, had previously been terribly stubborn and demanded immediate bidding for the fight, threatening to sue.
IBF President Daryl Peoples justified his decision due to the fact that the WBA has priority in the mandatory defense rotation system, which means that Daniel Dubois (19-1, 18 KOs) should theoretically claim the title over Hrgovic.
But since Dubois is a boxer for Queensbury Promotions (the same company that promotes Fury), everything was decided "within the family". Dubois should supposedly get a chance to fight the all-out, but if the winner of the Usyk-Fury bout vacates the WBA title, it's likely that Daniel will be automatically promoted from "regular" to full champion.
"Both Fury and Joyce will beat Usyk." Alain Babich – about heavyweights
Meanwhile, the head of Queensbury Frank Warren is interested in meeting the winner of the megafight with Joe Joyce (15-0, 14 KOs). The promoter thinks it will be Fury, of course.
Hrgovic is still guaranteed a title shot: the winner of the superfight will be ordered to defend the IBF title within six months of the mandatory WBA defense.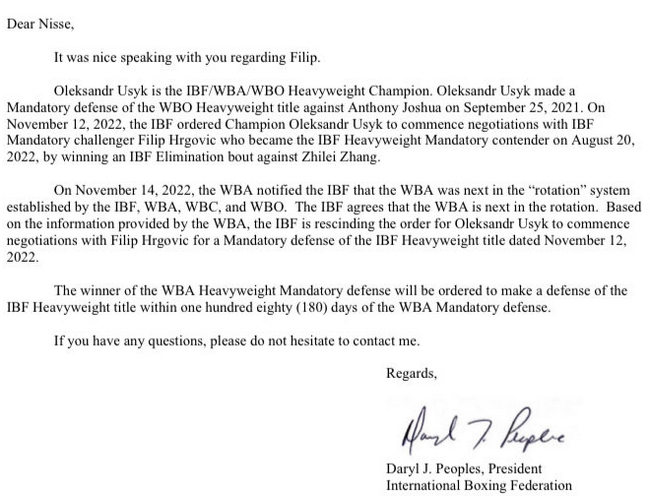 It's funny that in the heavyweight for more than four years there was no mandatory defense by the WBA. Now it has been delayed even further.
Recall that in December, the WBA called for a fight for the consolidation of titles between Usyk, the owner of the "super" version of the WBA title, and the "regular" champion Dubois. The latter is still recovering from injury.
Now the Usyk-Fury megafight could potentially take place in March in Britain.
Tokyo Olympic medalist British heavyweight prospect, meanwhile, dreams of sparring with Usyk.