Experienced Ukrainian coach Andrey Sinepupov met the beginning of the war in the boxing gym, in training. A month of shock after the start of the full-scale invasion of the Russian army into Ukraine, the coach again waited for the wards at training, and after some time they already began to plan their return to the ring.
For almost 11 months of the war, his wards traveled abroad three times to fight and won victories everywhere. And in Turkey, and in Poland, and in Germany, the anthem of Ukraine sounded and our flag was raised.
Andrey Alekseevich spoke about how to continue to train and develop the careers of boxers during the war, about the help of the well-known Turkish boxer in Ukraine Serdar Avchi to the Ukrainian military, about the invitation to move abroad, as well as about the future fights of Oleksandr Usyk and Vasily Lomachenko for the "absolute" Andriy Alekseevich told our site.
– How do you remember the boxing year 2022?
I remember the year 2022 for the victories of boxers, the victories of all Ukrainian guys – both those who fight for our companies and those who box for foreign ones. As for our promotional company Champion Boxing Promotion with Oleg Ivanovich Kuderov, our boxers boxed last year, we went abroad three times, won. Next year we are also going to defend the colors of Ukraine and win various titles.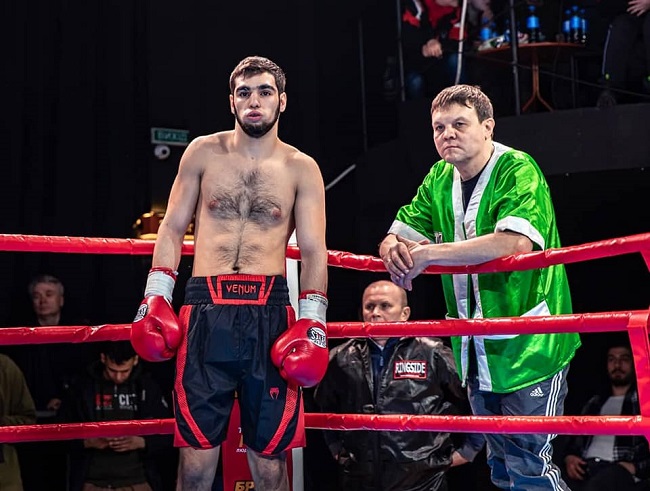 Andrey Sinepupov with a ward
— How were you received abroad during the battles during the war in Ukraine?
– They were well received everywhere, but we went to competitions. When we won, they rejoiced for us in the halls, it was great everywhere.
For our part, we set ourselves up only for victories for Ukraine, in order to bring positive emotions home at this difficult time. In general, we live and train only for the sake of victory.
How did you and your team spend 2022? How were the guys supported during the war?
– If you remember February 24, then we all, as usual, arrived at our gym for training at 8 in the morning. When I was on the road, I still did not understand what was happening. We gathered in the hall with the guys, we realized that Russian troops were already on the territory of Ukraine. I was personally shocked, I did not believe it, we canceled training and opened the gym again only a month later.
After the start of the war, I contacted some influential people and said that my boxers and I were ready to enter into territorial defense, that we were ready to defend Kyiv. They told me to stay at home, that everything is in order, there are people. Well, about a month later we started training again, and then thinking about fights.
Through the National League of Profiboxing, we got permission to leave, some people helped us financially organize these trips, and we boxed there. We set ourselves goals for this year, and brought them to the end.
– Which of your guys are you counting on in 2023? Who is in what positions now?
– All our guys with victories, everyone improves their rating with every fight. In heavyweight, we are counting on Alexander Babich. True, he had some personal moments before the war, plus he had a child, for some time he did not train. Now he has returned with renewed vigor, I believe that he has not lost anything especially.
In principle, we are counting on all the guys, they are all ready to box, to achieve results. Everyone has their own potential and we will help them realize it, and even bend it over their heads. And there the ring will show who will achieve what.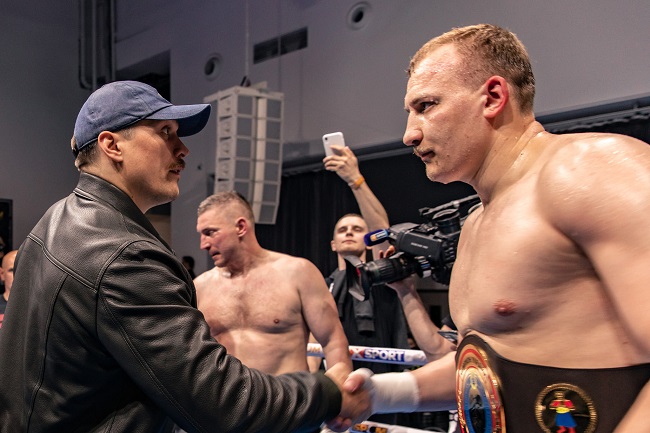 Alexander Usik and Alexander Babich
– Your guys already own some belts …
— Yes, Dima Zubko has a belt of an international champion according to UBO, Sasha Babich has a title of champion of Ukraine. However, these are all intermediate belts, we are going to completely different titles. These belts are a step towards future victories.
When did I work for Union Boxing Promotion and Elite Boxing Promotions? there were completely different belts – world champion belts, so these are real titles, and we are moving towards this. However, they are achieved step by step.
– Among your wards there are not only Ukrainians, but also the famous Turkish boxer Serdar Avchi. How did you start working with him?
– There is an interesting story, I will tell from the very beginning. It was somewhere in the year 2000, then we often went to Balaklava, near Sevastopol, for training camps. I spent about 40 training camps there, because it is good to do the first stage of preparation there – general physical training and SVP. Local coach Oleg Tyurin connected his guys to us so that they would train with us, and at the same time Serdar lived there. He boxed in the weight category up to 57 kg. I remembered it then. Later he came to us in Donetsk for sparring, stood in pairs with Kudryavtsev, with Merdov, he was a daring, fast, good boxer. He is a revanchist, he didn't even like to lose an episode, he tried to win two or three episodes lost in training.
Several years passed, I worked with the "Ukrainian Atamans" and personally with Dmitry Mitrofanov, and we often went to fights. And on one of the trips we flew to Istanbul, as we usually train, and then a person who weighs over 100 kg comes up to me and says: "Coach, coach, what do you need, we will do everything for you, just tell me." And I couldn't figure out who it was. And then I realized that it was Serdar, we talked, I told him that I work with pro boxers. And then he coached the guys and started promotional activities. Later, I introduced him to the president of our League, Mikhail Zavyalov, and Serdar boxers boxed under Ukrainian licenses, since they did not have their own professional federation.
He came to Kyiv many times, his guys boxed here. And then he decided to start a professional career, but already in heavyweight. I will say that he still has speed, he has a punch, he is technically well equipped, Serdar moves around the ring well, hits with both hands.
– As far as I know, Avcha has a lot of experience in amateur boxing, he participated and won many tournaments, and even took part in the selection for the Olympic Games.
Yes, he was a good boxer. This is the base that now allows him to feel confident in profibox. In the last fight Serdar won the WBC International Silver title in Turkey, I was in his corner then. Avchi chose the WBC line and confidently moves to the top along it.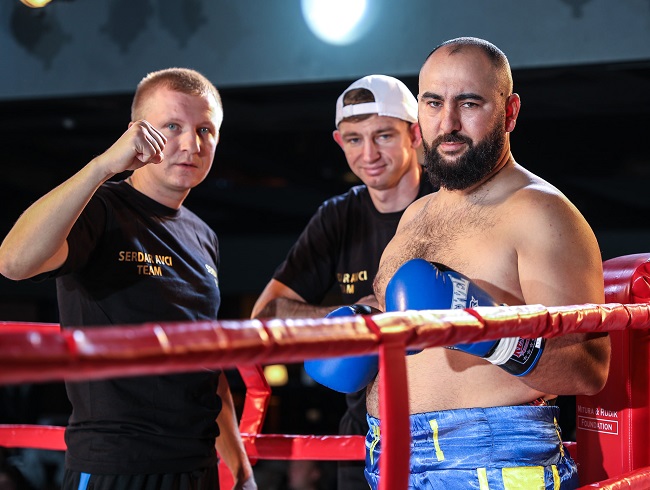 Serdar Avchi with the Ukrainian team
– Recently, an interview with Serdar Avchi appeared in the Ukrainian media, where he said that Ukraine is his second home. Do you also feel this, from personal communication with him?
— Yes, it really is. He has a lot of friends and relatives in Ukraine. At our boxing evenings, where he boxed, 50-100 people came to support him. In Ukraine, he is at home, he moves around Kyiv calmly, he knows everything here, he knows people. He lived in our country for some time.
– Did you communicate with him about the war during this year?
– Yes, of course we talked, he often calls me, asks how the situation is. He fully supports us, helps our country. By the way, when we came to Istanbul to fight, we went with Oleg Ivanovich to the market to buy military uniforms for our military acquaintances. Before that, we asked Serdar to help us. So he and his guys came to us, found everything themselves, bought everything themselves, packed everything, in general, did everything as it should.
He also invited me to stay in Istanbul during the war and train there. However, I told him that I would come to fights with pleasure, but I would not stay. I had many invitations from different countries, but I don't want to go anywhere. Ukraine is my country, I feel comfortable here. I have traveled all five continents and have always wanted to go home.
— Let's talk more about the fights expected for Ukrainian fans in 2023. These are two fights for the status of the absolute world champion. Before March 4, the duel between Usyk and Fury should take place, and also, most likely, in the spring, the duel between Haney and Lomachenko. Let's talk about the heavyweight fight first.
– For Alexander, this will be the most difficult fight in his professional career, he had no such rivals in the professionals. Besides the fact that Fury is tall and long-armed, he is also non-standard, very non-standard. You know, Usyk himself is a very diverse, fast, hardy boxer, it is impossible to adapt to him, it is very difficult to hit Usyk, he constantly throws blows at his opponent, but Fury hits painfully and from nowhere. He is also hardy, fast, his legs are not bad.
Both one and the second defend perfectly, they have a lot of defensive combinations. The fight will be tough for both. Yes, Fury talked a lot before the fight, and Alexander is handsome, he just smiled and looked at him. However, despite this trash talk from Tyson, I'm sure his team will prepare for the duel with the Ukrainian very seriously.
It will be a battle not even of a year, but of a decade.
– Okay. What is your opinion on the fight between Haney and Lomachenko?
– I want to say that now the whole Instagram is full of against Vasily, but I believe that he is our compatriot, I am sure that he is for Ukraine and for the Ukrainian people. He could have stayed anywhere, but he lives in Ukraine and defends the colors of the Ukrainian flag. I will keep my fists for him in the upcoming fight.
As for the fight with Haney specifically, we understand that every month and every year they go against Vasily. Yes, he has tremendous experience, but do not forget that he did not have a single fight in profiboxing with passing boxers, boxed only with the best, and almost destroyed them all. It won't be easy in a duel with Haney, because the American has a lot of good qualities.
If this fight had taken place a few years earlier, then I would not have doubted Vasily's victory at all, but now, of course, it will not be easy. However, he is still the coolest in lightweight. All these young guys are also cool, but they have not yet met Lomachenko in the ring, and when they do, it seems that he is boxing with first-class players.
Haney is a very technical boxer…
– Yes, technical, they are all technical, all good, but not so much. Vasily excels in everything except power punches. In the same endurance it is better. Please note that during the battles no one can drive him into a corner. If he is there, it is only because he considers it necessary to be there. Also, no one can impose their tactics on him, because he has a very large variety of combinations.
Lomachenko is one of the best boxers in the history of boxing.
Source: https://vringe.com/news/161619-sinepupov-pro-boks-vo-vremya-voyny-boi-usika-i-lomachenko.htm?rand=141343