British veteran, ex-contender for the WBC world heavyweight title Dillian Whyte (28-3, 19 KOs) recklessly cursed at a press conference before Saturday's fight with American Jermain Franklin (21-0, 14 KOs). But not on the opponent, but on his coach. Probably, he just warmed up the stunted interest in the battle.
At first, everything was decorous and noble.
"I will approach this fight like I would any other," White said. "You know me: I go out with only one purpose – to try to finish them off ahead of schedule."
"I definitely hit hard enough. I feel like I'm underestimated. Well, they don't know what kind of sight awaits them," Jermain intrigued. "I haven't had as many top-level fights in my career as he has. There were a couple of long layoffs. I'm going to prove what I'm capable of."
After such respectful words, the most interesting began. Dillian verbally grappled with the opponent's trainer: he did not like what Jesse Addison was talking about him and his defeats in top fights.
Franklin: "Bull with me? Dead number"

"White is a wounded lion in the jungle. A healthy lion will tear it apart. And here he is, a healthy lion," said the coach, pointing to a frowning ward in a hat. – His [Уайта] knocked out twice in the last three fights.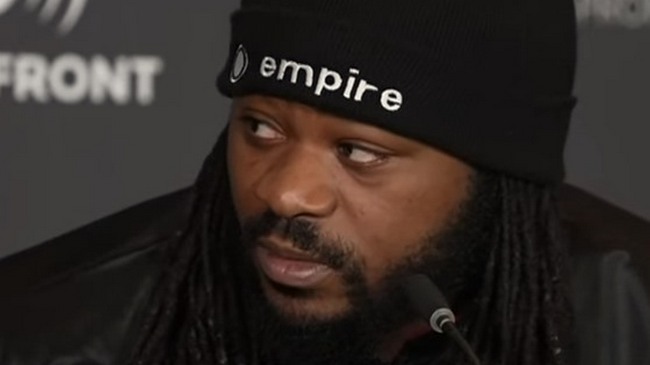 Dillian was hurt by all this, and he tried to shout down Coach Franklin. But he bent his line: "He is mumbling something there now, but after the fight he won't even be able to mumble."
White broke. He began to aggressively mimic the coach, theatrically mumbling and swearing at Addison, who coldly teased him.
"Shut up, you stupid fucking idiot! Fuck idiot! I don't care even if you're retired! I'll fuck you up if you keep talking like that," White fumed.
Dillian Whyte exchanging words with Jermaine Franklin's trainer at the presser ahead of their fight on Saturday: "I don't give af*** if you're a pensioner, I'll smack the s*** out of you if you keep talking."

[ @MatchroomBoxing] pic.twitter.com/L8BfYCap4U

— Michael Benson (@MichaelBensonn) November 24, 2022
In the duel of looks, White nearly got into a fight with someone on Franklin's team. Probably a coach. And the day before, he spoke about the new coach, rematches with Fury and Joshua, unwillingness to fight Joyce.
Yesterday, WBC world champion Fury shared an entertaining prediction for the White-Franklin fight.