Vadim Nemkov won the main event on points by unanimous decision

In the main event of the tournament Bellator 288 in Chicago (USA), light heavyweight champion Vadim Nemkov (15–2) successfully defended his title for the third time, winning a rematch against American Corey Anderson (16–6).
In April, the first fight ended without a result due to an unintentional headbutt. This time, Nemkov confidently reworked Anderson in the standing position.
The fight went the entire 25-minute distance. Judges' notes: 48-47, 49-46, 49-46 in favor of Vadim Nemkov.
In the co-main event, Usman Nurmagomedov defeated Pitbull (Patrica Freire) from Brazil (50-45, 50-44, 50-44).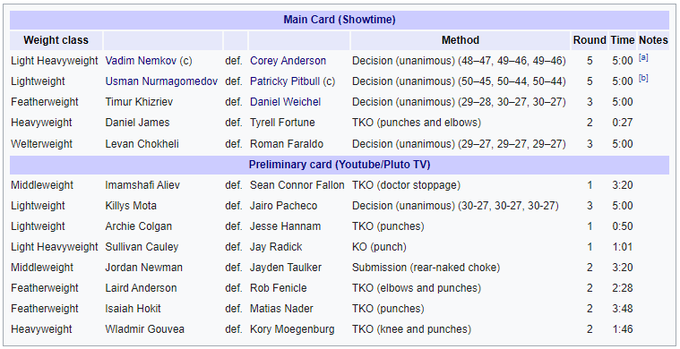 VIDEO. How Corey Anderson lost his fight at Bellator 288
The champlands clean on @CoreyA_MMA.#Bellatorr288 LIVE on @SHOsports ???? pic.twitter.com/30bjTvUWO5

— BellatorMMA (@BellatorMMA) November 19, 2022
BIG drama to end round 1, as Nemkov drops @CoreyA_MMA.#Bellatorr288 LIVE on @SHOsports ???? pic.twitter.com/ZRE8jcm6TH

— BellatorMMA (@BellatorMMA) November 19, 2022
SPINNING BACK KICK FROM NEMKOV????@BellatorMMA #Bellator288 #NemkovAnderson2 pic.twitter.com/5AzOYRUbzX

— SHOWTIME SPORTS (@SHOsports) November 19, 2022
??????? @VadimNemkov ends round 1️⃣ with a bang! ????

Tune in with @SHOSports LIVE NOW for the #Bellator288 main event and the culmination of the #BellatorLHWGP. pic.twitter.com/IB4z0CY7hw

— BellatorMMA (@BellatorMMA) November 19, 2022
2️⃣ rounds to go. How are you scoring this? #Bellatorr288 LIVE on @SHOsports ???? pic.twitter.com/ixgke9eC3J

— BellatorMMA (@BellatorMMA) November 19, 2022
Nemkov looking strong in the final round!#Bellator288 LIVE on @SHOsports ???? pic.twitter.com/5zk5UE6yY6

— BellatorMMA (@BellatorMMA) November 19, 2022
It's been ???????????? Nemkov ???????????? night????#Bellator288 pic.twitter.com/i7TTa4ytwg

— SHOWTIME SPORTS (@SHOsports) November 19, 2022