Former UFC flyweight champion Valentina Shevchenko is outraged by referee Mike Bell's decision to give a last round 10-8 decision to Alexa Grasso, thus denying "Bullet" a victory in the title fight.
"I have mixed feelings," Shevchenko said at the press conference following UFC Fight Night 227. "On one hand, I'm proud of myself because I really fought from the first second to the last, putting all my courage and soul into this fight. On the other hand, I'm upset because I won three rounds, two rounds may have been taken by my opponent, but 10-8 in the fifth round is totally unfair"

"I broke a finger on my right hand in the first round, but I didn't stop, although it affected my striking. That said, no one paid attention to a few illegal punches from her in the fourth round. I believe I did enough to pick up the win, but unfortunately this tournament was on Mexican Independence Day, which affected the referee's decision to give me a score of 10-8 in the fifth round"

"From my experience, a 10-8 is given when one fighter couldn't do anything at all, kept running away and looking for a way out of the octagon. In the fifth round, we fought four minutes in the standup and she didn't hit me once. She was able to take my back in the final minute, but even there she didn't do any damage to me that could be rated as 10-8. If it wasn't for that score, I would have gotten the win, but as it is, it's a draw. A draw is not a loss, but in my case, it's not a win either."
When asked about her future plans, "Bullet" stated that she has no plans to end her career, although she will not be in a hurry to return to the octagon this time around.
"First of all, I don't want to rush, because I might say something now and then, on a cooler head, change my mind. Let's see how long my hand takes to heal, that's of paramount importance because in my next fight I want to show the best I'm capable of and not fight at fifty percent of my capabilities. Right now I don't know what's next for me, who's next, but I'm still here and I've shown with my performance that I'm still capable of a lot. It doesn't matter how old I am. I have strength, motivation and all my skills, and mixed martial arts is a way of life for me. I hope I'll be around for a long time to come."
The women's flyweight title fight headlining the Las Vegas event went the full distance and ended in a split decision draw with scores of 48-47, 47-48 and 47-47, allowing the Mexican to retain her championship belt.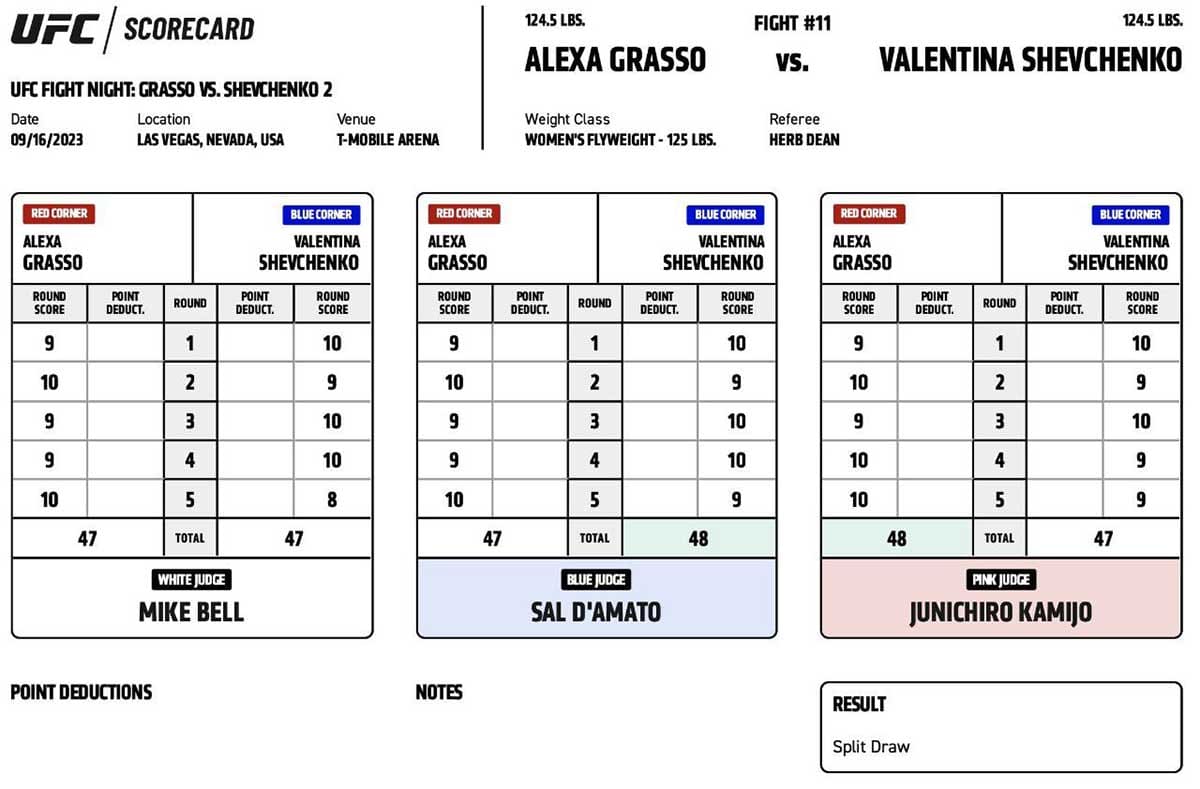 Grasso had scored a sensational victory five months earlier, finishing Shevchenko with a rear-naked choke in the fourth round to take the title away from her.
Source: https://fighttime.ru/news/item/32648-valentina-shevchenko-zayavila-o-predvzyatosti-sudi-v-revanshe-s-aleksoj-grasso.html?rand=19907