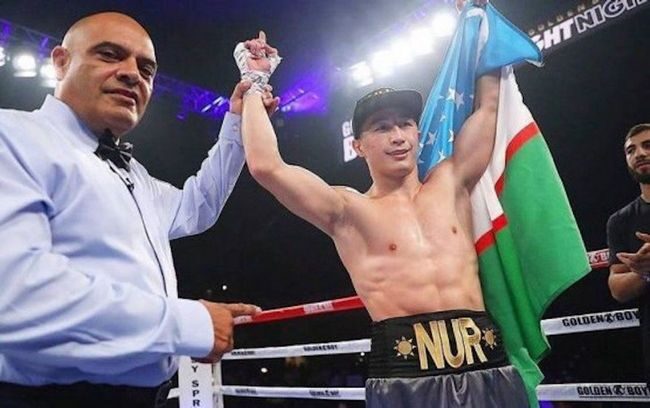 T Mobile Arena, Las Vegas, USA. As part of the show, Asian champion, World Championship medalist and participant in the Olympic Games-2020 second featherweight prospect (up to 59 kg) Elnur Abduraimov (9-0, 8 KOs) from Uzbekistan beat the Cuban
Manuel Correa (11-1, 7 KOs).
The Cuban turned out to be a not very trained and sweeping slugger. The left-hander from Uzbekistan shocked his opponent already in the starting round – the ropes saved him from falling, it was possible to fix a knockdown, but the referee was silent.
In the 2nd three-minute period, Abduraimov beat his opponent, broke his nose, dropped him three times.
???? Abduraimov drops Correa in the second! #AbduraimovCorrea #CaneloBivol

watch live: https://t.co/umliEJPhFG pic.twitter.com/QAShg6AjtK

— Matchroom Boxing (@MatchroomBoxing) May 7, 2022
After the fall of number 3, the referee decided that the Cuban had had enough.
Uzbek Super-Featherweight Southpaw sensation Elnur Abduraimov scores a second round stoppage win over Correra #AbduraimovCorrea #CaneloBivol pic.twitter.com/kvaXJ3Ab9X

— Matchroom Boxing (@MatchroomBoxing) May 7, 2022
Abduraimov TKO 2.
---
19-year-old Super Lightweight Prospect (up to 63.5 kg) Mexican
Fernando Angel Molina (8-0, 3 KOs) unexpectedly got drunk and almost lost to an American who had not entered the ring for a long time
Ricardo Valdovinos (8-2, 5 KOs).
Molina worked as the second number, failed without problems and punished the opponent. He realized that the time had come to inflate the density of the battle as much as possible. Valdovinos first leveled the course of the fight, and then even seized the initiative, sometimes forcing the young man to exchange blows in the center of the ring. In the last round, the referee recorded a controversial knockdown not in favor of the favorite.
It's ruled a knockdown…

Watch the end of #MolinaValdovinos now: https://t.co/WHhD6Aoicn#CaneloBivol pic.twitter.com/VeXkWb8lxJ

— Matchroom Boxing (@MatchroomBoxing) May 7, 2022
Judges score: 56-57, 58-56 and 57-56.
Molina SD 6.