These days San Juan (Puerto Rico) hosts the annual Congress of the World Boxing Organization (WBO). As part of the event, among other things, the best WBO boxer in 2022 was named.
The award went to Ukrainian Oleksandr Usyk (20-0, 13 KOs), who defended his WBO (as well as IBF and WBA) heavyweight title on August 20, winning a rematch against Briton Anthony Joshua. This fight was and will remain the only one for Alexander this year.
"You have a big heart, and I know that you fight for all Ukrainians," President of the organization Francisco "Paco" Valcarcel congratulated Usyk on the award. You are our Fighter of the Year and I hope you are happy… When we made him (Usyk) the mandatory challenger (in the heavyweight), the other guys complained. We had litigation, but in the end we were able to make you the mandatory challenger. We followed our rules and we were right because you deserved this position… We are proud to have you here."
Alexander was presented with a painting by Patrick Killian, in which he is depicted with a WBO belt.
"Oh, she's good. True, I don't know how to transport something so big, "the Ukrainian commented on the gift.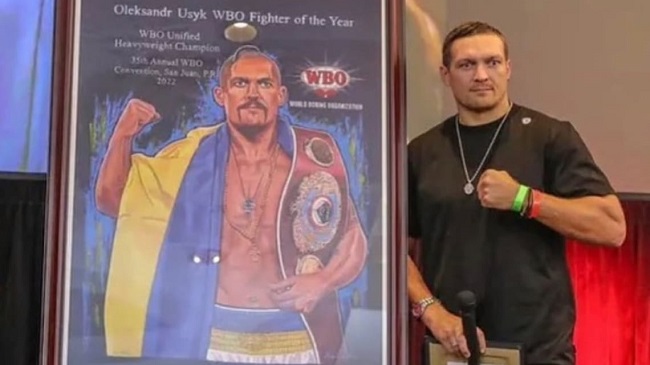 Recall that Usyk received the status of an official contender for the WBO heavyweight title by automatic, without a fight, being the "super champion" of the organization by a weight lower.
At the Congress, Alexander met his obligatory challenger from Britain, Joe Joyce.