The fighters will sort things out at the Bellator 291 tournament

In Dublin, the weigh-in ceremony for the participants of the Bellator 291 tournament, which will be held on Saturday, February 25, took place.
As you know, the main event of the evening will be the fight between the Ukrainian welterweight champion Yaroslav Amosov (26-0) and the interim title holder Logan Storley (14-1) from the USA.
On the eve of the fight, both fighters showed the same weight – 76.84 kg.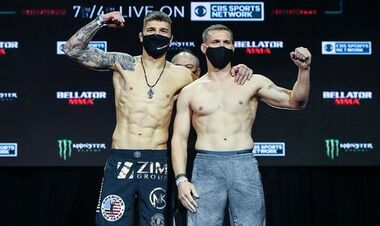 Read also:
Media service MEGOGO will show the fight between Amosov and Storley for free
By the way, another Ukrainian will perform at Bellator 291 – Dmitry Gritsenko. He is waiting for a fight with Daniele Scatizzi. Gritsenko and Skatizzi also showed the same weight – 74.48 kg.
Yaroslav Amosov representing Ukraine as he weighs in for defense of his welterweight title at #Bellator291

He & Logan Storley weigh in at 169.4lbs #bbcmma @BBCSport pic.twitter.com/nhkbtlCYFm

— Coral Barry (@Coral__Barry) February 24, 2023