UFC middleweight Joseph Holmes said he was assaulted after an altercation with fellow octagon middleweight Kevin Holland at a regional fight card on Friday night.
In a video posted to Instagram, Holmes said he and Holland were in attendance for XKO 60 in Dallas. After the event was over, he said he and Holland got into an altercation, and he alleged some of Holland's teammates then assaulted him.
"I just got freaking jumped!" Holmes said on his Instagram. Holmes said on his Instagram: "I don't remember the last time that I jumped. Where are my friends? I don't have any of you around to support me. You all are not helping me. I got jumped.
" They beat me up and beat me down. Then they stomped all over me, when I was weak. F*** Kevin Holland. That guy is a f***. …"
Holland and reps could not be reached for comment. On Instagram, however, the veteran UFC middleweight accused Holmes' team of attacking him in a previous altercation.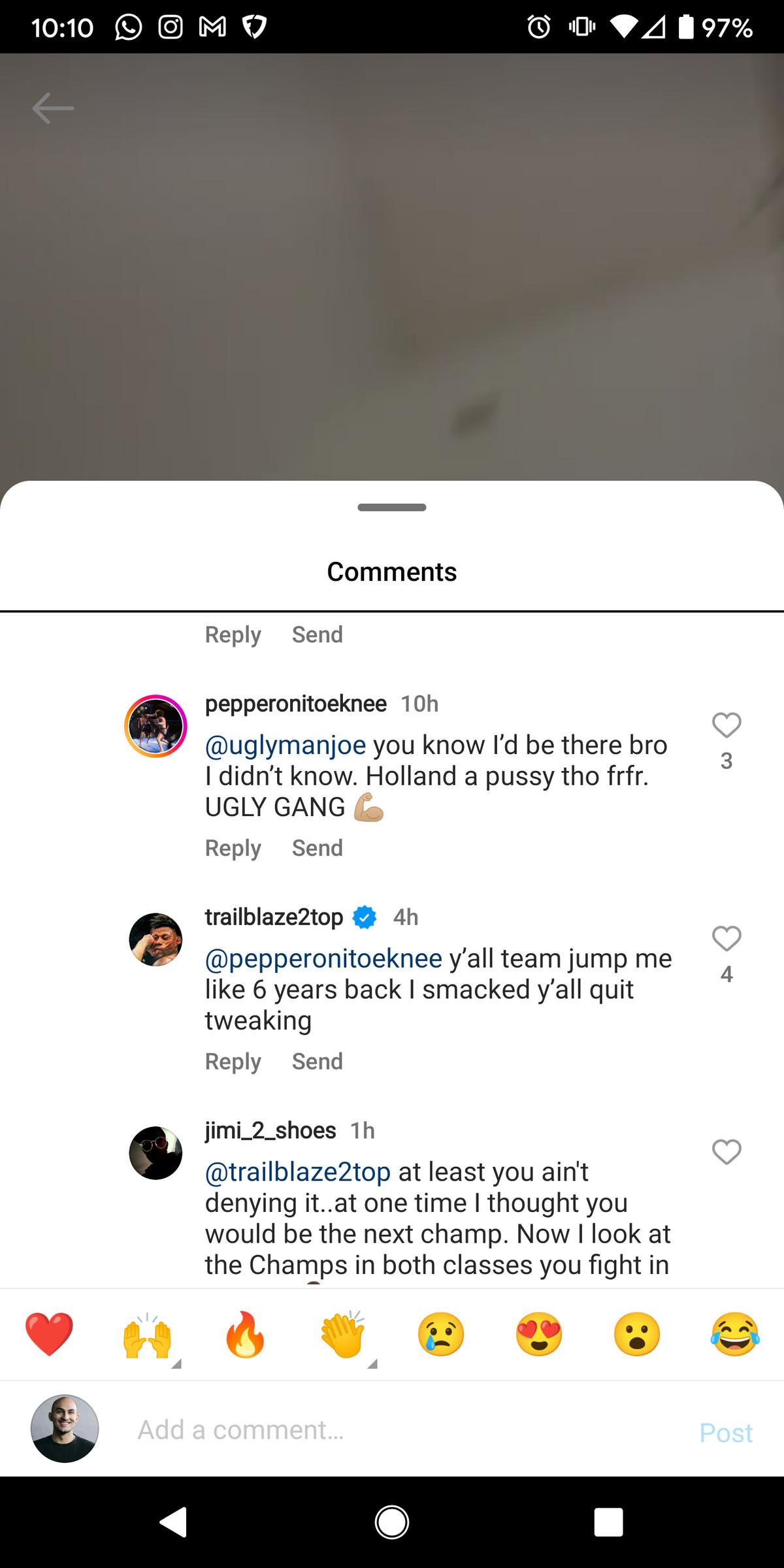 "Y'all team [jumped] me like six years back. I smacked y'all, quit tweaking."
A message to Holmes' management firm, Iridium Sports Agency, was not immediately returned, and the promoter of Xtreme Knockout did not return a request for comment.
Holmes said the altercation took place just before he left the event and involved several of Holland's friends, one of whom he said he had previously feuded over a romantic relationship involving one of Holland's relatives.
" We were at XKO in the Statler downtown. Holmes stated that he was walking around the venue and noticed Kevin and I don't like each other." "Kevin Holland. As I walk through the venue, I see him in front of my eyes. I continue walking, but don't speak a word. Don't touch him, don't look at him, nothing.
"So then, literally less than 10 minutes later, me and my girl were about to leave, for a quick second I'm like, 'Shoot, I just left my clothes upstairs,' because I changed clothes. I got back to run upstairs where my fighter was, to grab my clothes that I left, and I see Kevin Holland coming down the stairs. As I walk up the stairs, Kevin Holland comes down the stairs. He looks directly at me as if he is stopping me from going upstairs. Then he grabs my f ****** hand.
"I'm going to… [Sweeping his arms] So I say, "Nah! n ****, Get your hands off of me!" and he backs me up. You ain't going to grab on me. Next thing I know, this n ****, Pop, Pop, Pop, and then my f ****** Head is getting poked in the back. Now I am sitting there thinking, "What the f ***??" I am confused. You might be thinking, "What the f*** was I doing?" I am just trying to climb some stairs.
"Next thing you know, Kevin's in front of me, his boys are like looking all tough because they just punched me in the back of my head, I'm like this [covering his head], I'm eating the punches trying not to get hit hard, and Kevin's like, 'Stop hitting him,' so they stop hitting me and I'm standing there like, 'Yo, what the f***? "Calm down!" Security says, "Calm down, calm yourself." I just got jumped in front of you and all you have to say is for me to calm down? B****-ass n*****, do your job! You can go over and put someone in handcuffs, or take them to jail. You've just jumped me, and now you have me right there with the jumpers telling me to relax.
"So after being attacked, all the security is now surrounding me, after I'm the one that was attacked, and I'm like, you know what, 'Y'all are right. I'm going to be the bigger person. Holmes replied, "Totally fine." "I look at Kevin and I was like, 'Sign the contract when it comes.' We're going to send you a contract, sign it when it gets there. You're being all tough and big while your boyfriends hit me on the back of my head. Make sure you sign the f****** contract."
Holmes stated that he was not struck by Holland but rather Holland's friends. Holland's relative claimed that he struck him.
Holmes still wants to resolve his dispute with Holland in the Octagon.
Holland posted a response to Holmes' call out on his Instagram story, saying that the UFC won't let them fight but offering Holmes a $20,000 sparring wager.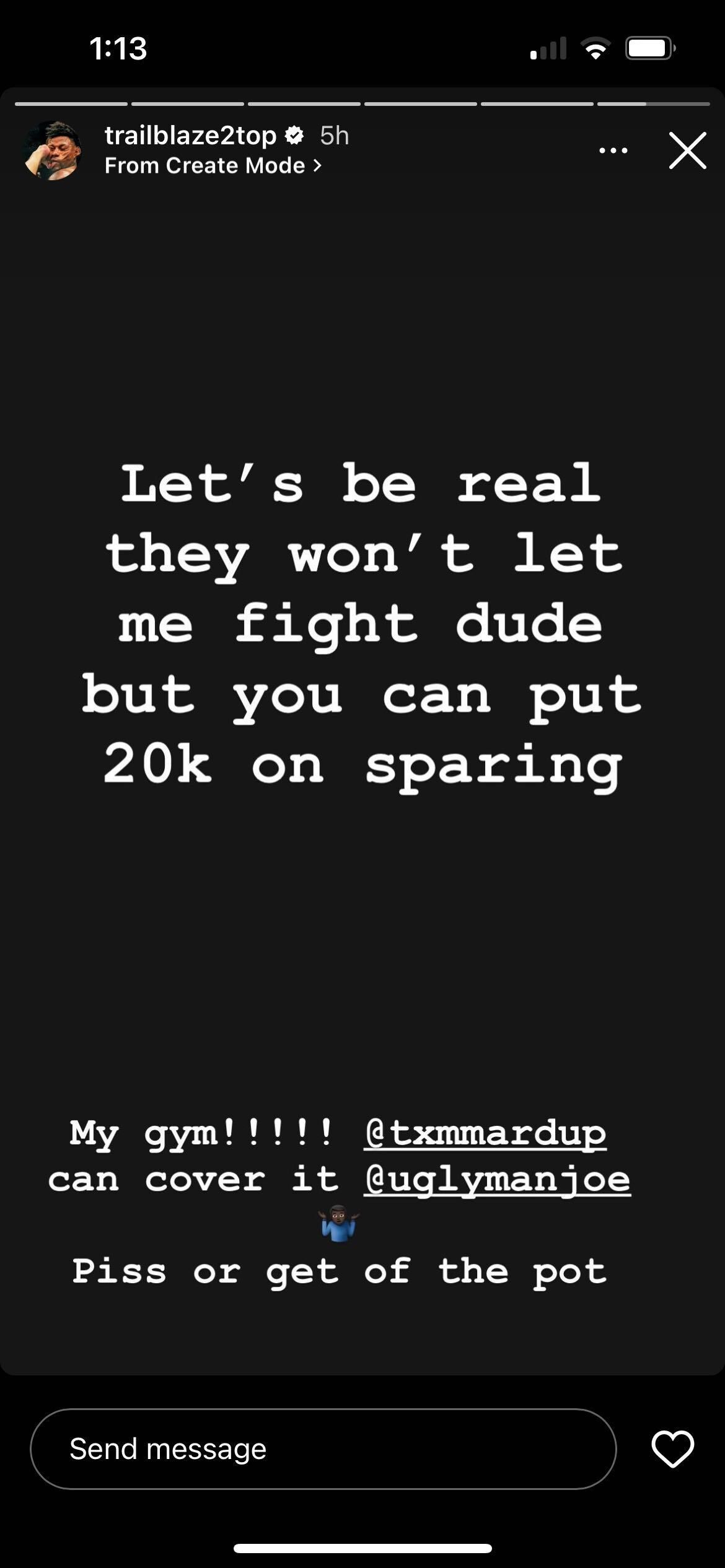 "Let's be real, they won't let me fight dude, but you can put 20k on sparring. My gym. Piss or get off the pot."
Holmes has a professional MMA record of 8-3, most recently losing to Jun Yong Park at UFC Vegas 63 in October. Holland, meanwhile, has an overall record of 23-9 with 1 no-contest, recently falling short to Stephen Thompson at UFC Orlando in December.
Holland is currently scheduled to face Santiago Ponzinibbio at UFC 287 on April 8.
Source: https://www.mmafighting.com/2023/1/28/23575650/joseph-holmes-claims-was-attacked-by-kevin-holland-friends-friday-night-i-just-got-freaking-jumped?rand=96749