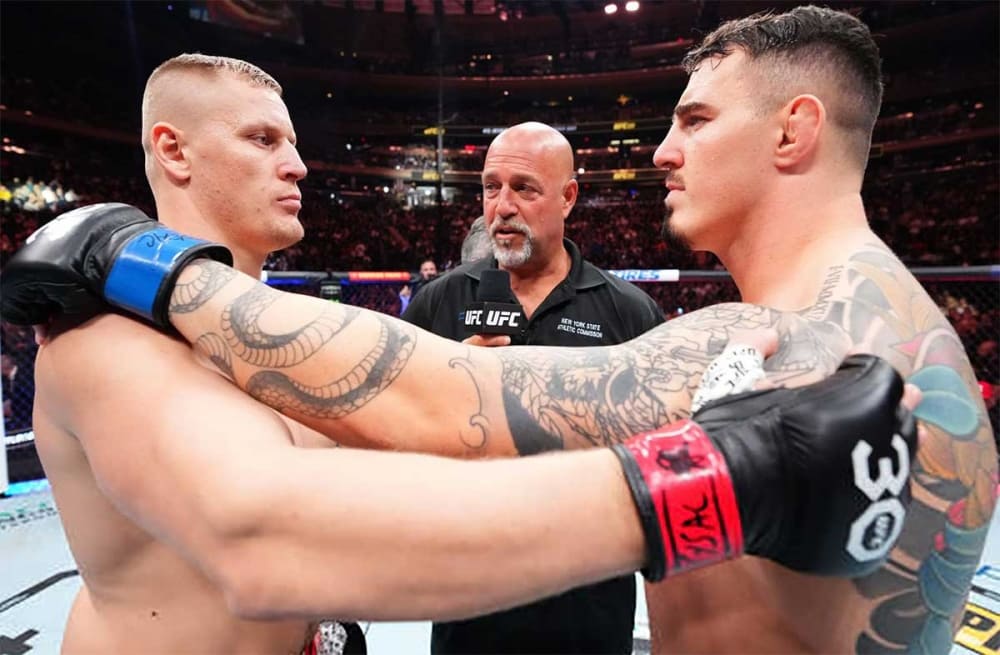 Tom Aspinall, who knocked out Sergey Pavlovic in 69 seconds last weekend in a fight for the interim UFC heavyweight championship belt, had no intention of humiliating the Russian by condescendingly placing a hand on his shoulder before the starting siren.
"I don't even know – I saw a few pictures and memes and it looked weird, but I had no intention of humiliating Sergey," the Brit said on another edition of The MMA Hour. "Sergey is not my enemy – he's my sidekick, my brother. I treat him, if not as a friend, then as someone I respect before, during and after the fight. This is my job and I'm not negative towards my opponents. I respect everyone involved in the sport. I know it looked weird on camera, but I was just trying to show him my respect before the fight, that's all."
Aspinall also made it clear that he doesn't think a fight between Jon Jones and Stipe Miocic is relevant after his win and that he should fight one of them.
"I feel like this fight has lost its luster. I don't know what others think, but I feel that my fight against Jones or against Miocic should be organized. I'm the best active heavyweight in the world right now, so let's move on and let me fight one of these legends."
Keep in mind that the title fight between Jon Jones and Stipe Miocic was scheduled to headline UFC 295 in New York on November 11, but the reigning champion was injured and withdrew from the fight, and the federation's management decided to hold an interim title fight between Pavlovic and Aspinall. Nevertheless, the UFC plans to have Jones and Miocic fight as soon as the champion recovers from surgery, with the winner facing Aspinall.
Source: https://fighttime.ru/news/item/33153-tom-aspinall-ob-yasnil-strannyj-postupok-v-boyu-s-sergeem-pavlovichem.html?rand=19907