Regardless of how anybody feels about the UFC's topsy-turvy light heavyweight situation, the promotion once again has an official 205-pound champion, and his name is Jamahal Hill.
Thrown into an unexpected title opportunity, Hill more than made the most of it, not just defeating former champion Glover Teixeira in the main event of UFC 283, but completely outclassing him on the feet for 25 minutes. The trio of 50-44 scores that put the proverbial crown on Hill's head don't reflect how strong his performance was against one of MMA's most resilient veterans.
Typically, the No. 1 in the UFC makes you No. 1 in your division in the MMA Fighting Global Rankings, as was the case with nine of 11 weight classes in our most recent update. You can add Hill to that list of exceptions, which includes heavyweight Francis Ngannou (recently departed from the UFC) and flyweight Demetrious Johnson (holding it down for ONE Championship). Hill is now No. 4 in our rankings. *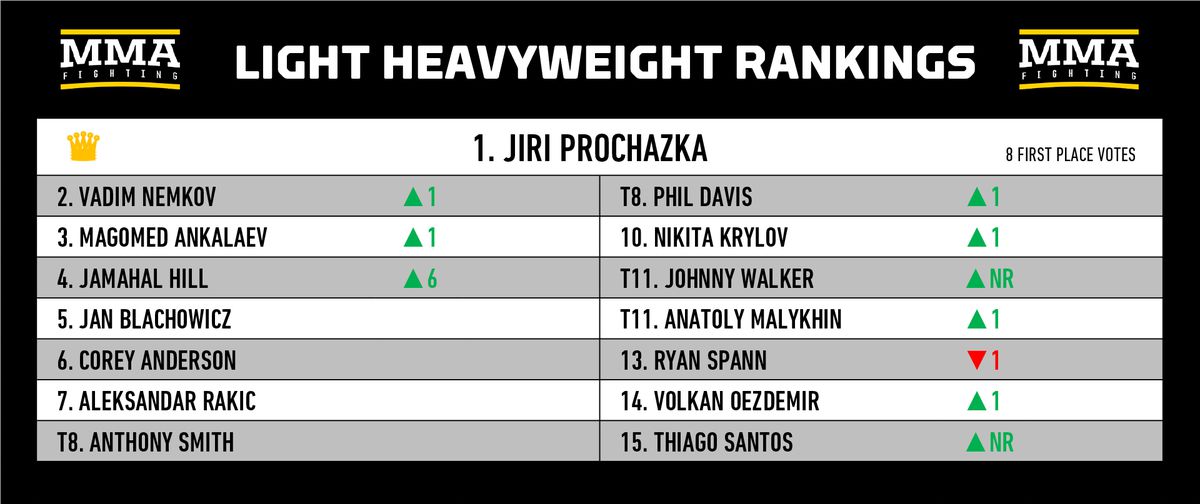 (*Teixeira has been removed from the rankings after announcing his retirement following the UFC 283 main event)
Too low? Maybe. But Hill's title triumph arrives at a confusing time for the light heavyweight division, with previously undisputed champion Jiri Prochazka voluntarily vacating the belt due to injury and a December matchup between Jan Blachowicz and Magomed Ankalaev failing to produce a successor. That left the door open for Hill to vault six spots up the charts, still shy of the very top.
If Hill defends his title with the same gusto with which he won it, it's easy to imagine him rising even higher in 2023, especially if he books a defense against Prochazka, Blachowicz, or Ankalaev. Hill still has work ahead of him to show that he is worthy to be considered the best. He lost a shockingly close fight to Paul Craig just a few months ago. It's on Hill to decide whether his UFC 283 win goes down as a historical footnote or the start of a championship run to remember.
Do you support the light heavyweight ranking? Did Hill do enough to claim a top 3 spot? Is it fair to assume that Hill is now No.1 in the UFC? 1?
Vote in the poll and leave a comment below.
Source: https://www.mmafighting.com/2023/1/23/23566303/rankings-shakeup-jamahal-hill-is-a-ufc-champion-does-that-make-him-mmas-no-1-light-heavyweight?rand=96749