Welcome to the latest update to the MMA Fighting pound-for-pound rankings, where every month our esteemed panel sort through the noise to answer one question: Who are the best overall male and female MMA fighters in the world?
How did UFC 284's momentous champion vs. champion main event affect the global pound-for-pound landscape? Let's have a closer look.
---
MEN'S POUND-FOR-POUND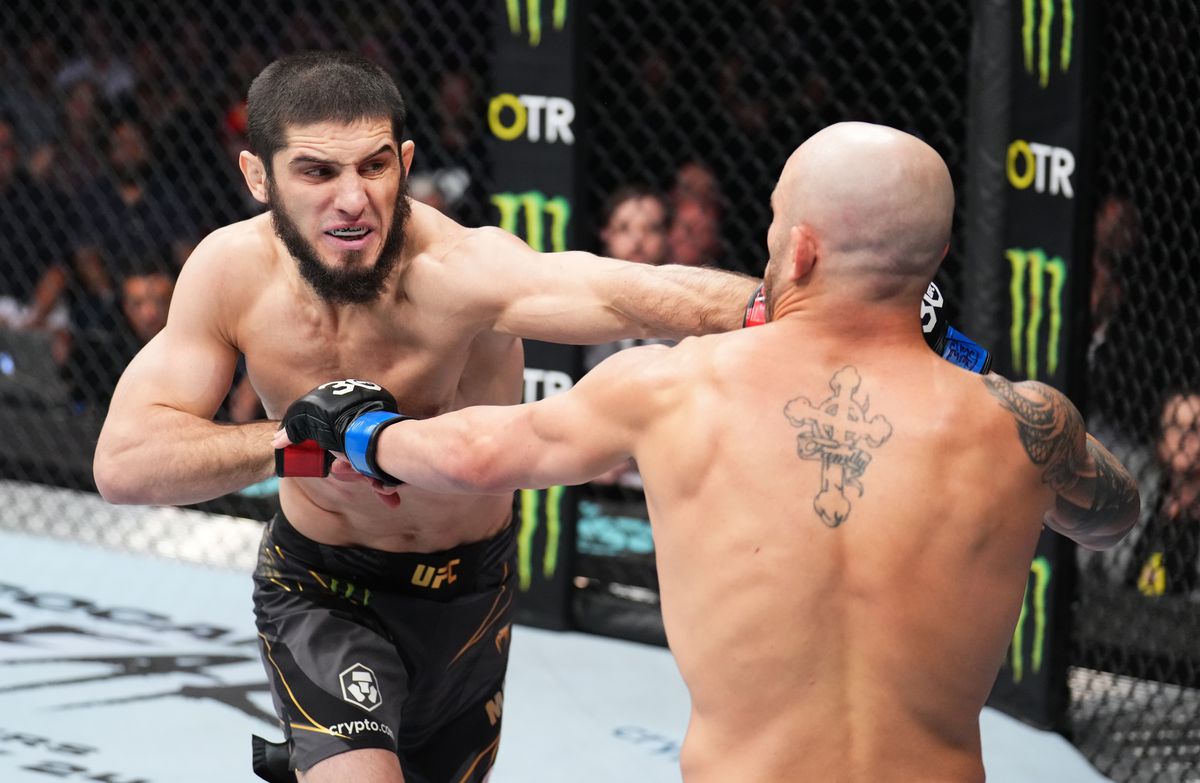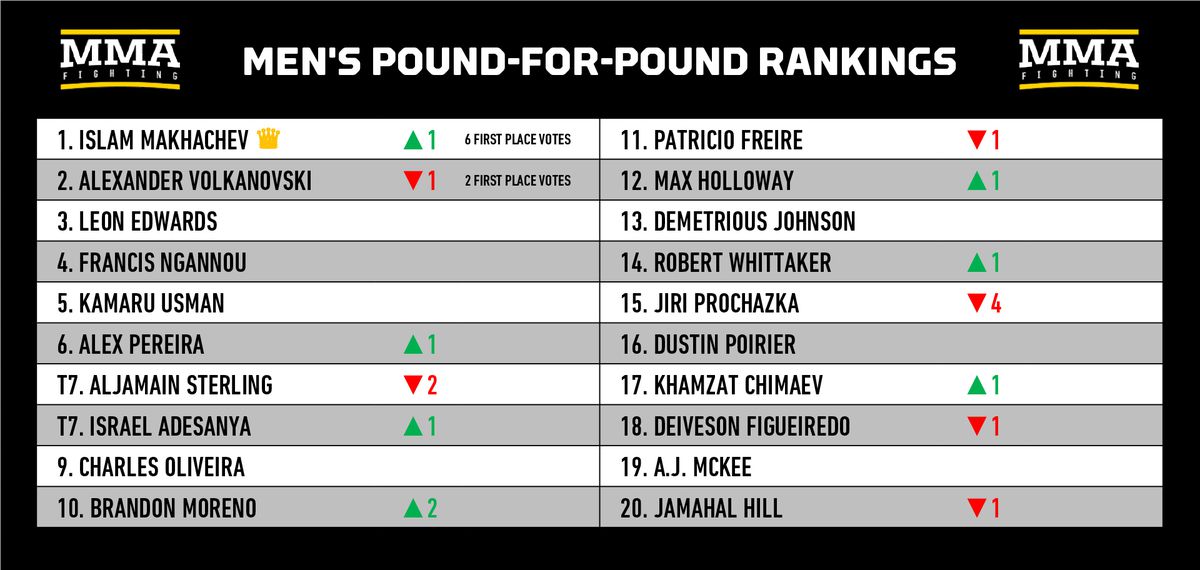 Islam Makhachev beat Alexander Volkanovski, so he's the No. 1 pound-for-pound fighter in the world, right?
If only it was that easy.
The UFC 284 main event was billed as MMA's best two fighters — regardless of division — going head to head and while it certainly lived up to the hype, what it didn't do is give the MMA Fighting Rankings crew a unanimous No. 1 selection. We are not the only ones in this quandary, as can be seen by public reactions.
Whether they believed Volkanovski was good enough to win or because Makhachev would lose to Volkanovski at featherweight in an imaginary matchup, our panelists all have Volkanovski as the No. 1 spot with the other six voting for Makhachev.
Discussions about the meaning of pound for pound elicits questions as to whether we should focus more on the hypothetical, or on the outcome of such rare head-tohead matches. Either way, given how they performed on Saturday, it's a safe bet that Makhachev and Volkanovski won't be relinquishing their spots in the top 5 anytime soon.
Speaking of the top 5, next month sees not only the trilogy bout between No. 3 Leon Edwards and Kamaru Usman, but the return of Jon Jones, who was the de facto answer for pound-for-pound No. 1 before going on a lengthy hiatus from competition. After two-and-a half years of being away, Jones makes his move to heavyweight. Taking home a UFC title at a second division would put him back on top. On the other side, Ciryl Gane already receives votes every month from half of our panel, so beating Jones all but guarantees that he jumps from the ranks of the honorable mentions to the top 10.
Recent results for ranked fighters (previous ranking shown): No. 2 Islam Makhachev def. No. 1 Alexander Volkanovski
Upcoming bouts featuring ranked fighters: No. 3 Leon Edwards vs. No. 5 Kamaru Usman (UFC 286, March 18)
Fighters also receiving votes (number of ballot appearances shown): Ciryl Gane (4), Vadim Nemkov (4), Johnny Eblen (3), Magomed Ankalaev (2), Jan Blachowicz (2), Colby Covington (2), Petr Yan (2), Curtis Blaydes (1), Beneil Dariush (1), Alexandre Pantoja (1), Shavkat Rakhmonov (1), Raufeon Stots (1)
---
WOMEN'S POUND-FOR-POUND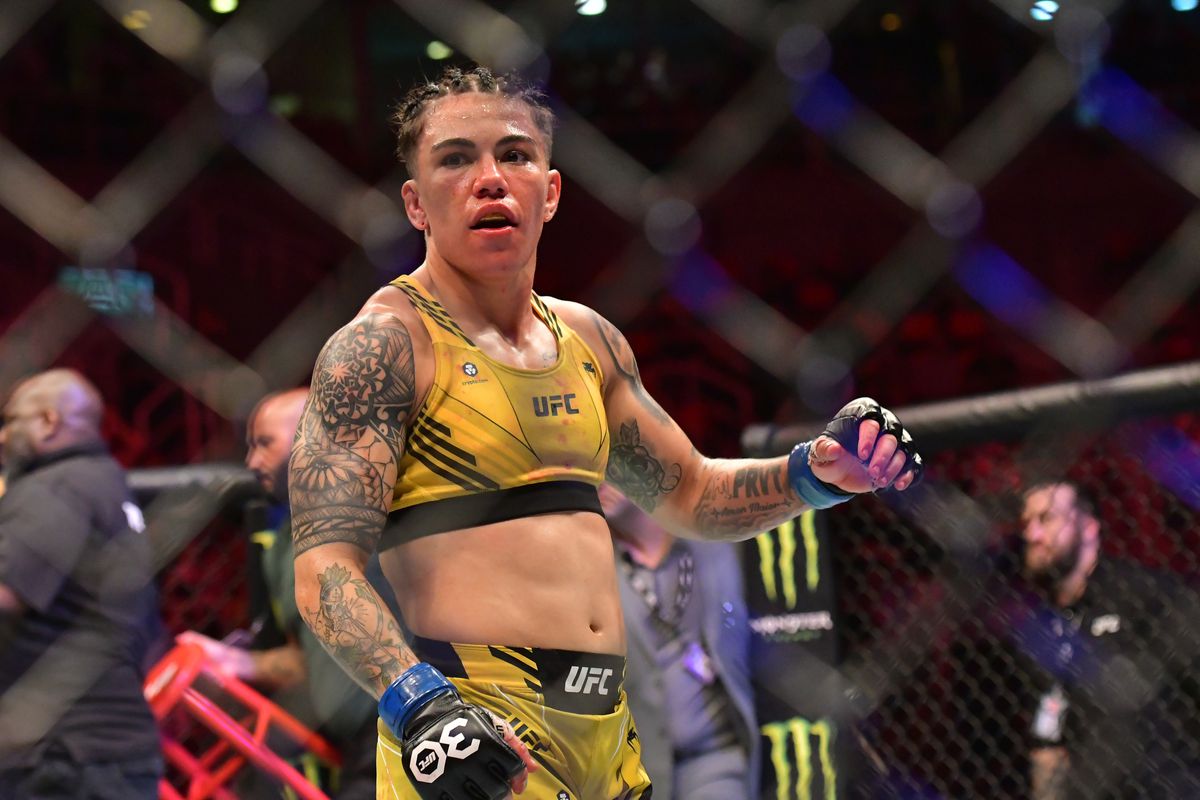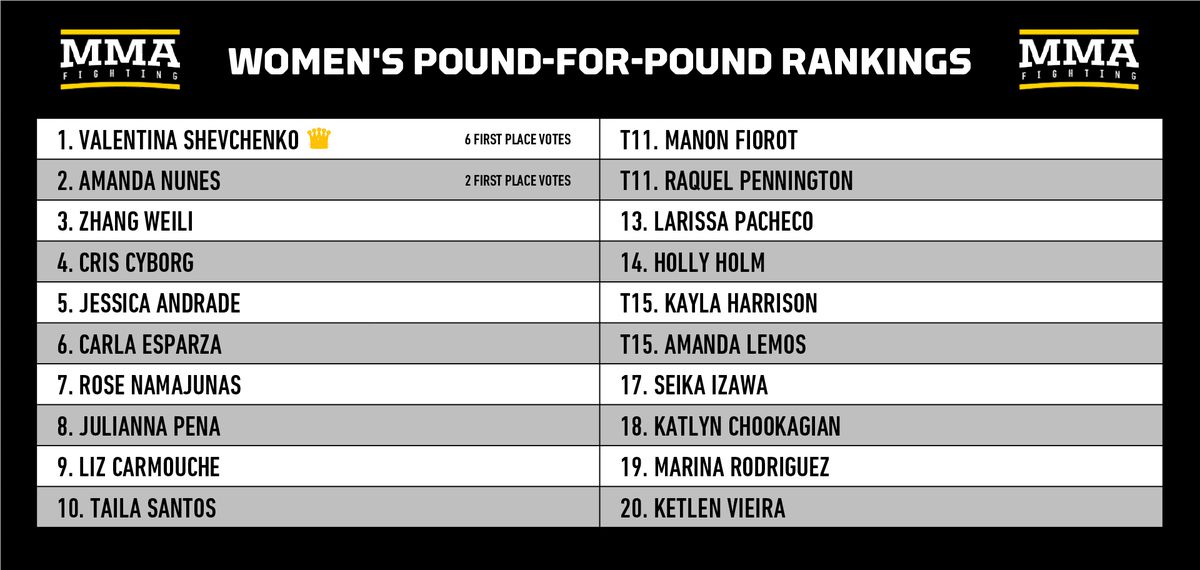 It was another ho-hum rankings cycle for the women's pound-for-pound list, though we could be due for a major shakeup in the coming weeks.
Valentina Shevchenko goes for her eighth defense of the UFC flyweight title at UFC 285 and she faces a hungry challenger in Alexa Grasso. Like fellow Mexican standout Yair Rodriguez, Grasso has faced a few notable stops and starts on her road to a championship opportunity after being pegged as a blue-chip prospect since her Invicta days and she could turn the MMA world on its head if she upsets Shevchenko.
Another marquee matchup takes place this weekend as Jessica Andrade has made the bold decision to step into the UFC Vegas 69 main event to replace Taila Santos against Erin Blanchfield.
Andrade has been a menace to contenders in two divisions and she now looks slow the roll of Blanchfield, a 23-year-old prodigy who seems destined to fight Shevchenko some day. If she performs well against Andrade, that fight could be a lot sooner than anticipated. Blanchfield may have to face reality against Shevchenko, a UFC champ who is a formidable competitor.
Recent results for ranked fighters (previous ranking shown): N/A
Upcoming bouts featuring ranked fighters: No. 1 Valentina Shevchenko vs. Alexa Grasso (UFC 285, March 4), No. 5 Jessica Andrade vs. Erin Blanchfield (UFC Vegas 69, Feb. 18)
Fighters also receiving votes (number of ballot appearances shown): Lauren Murphy (4), Juliana Velasquez (4), Yan Xiaonan (3), Irene Aldana (2), Xiong Jing Nan (2), Seo Hee Ham (1), Erin Blanchfield (1)
---
Lastly, a refresher on some ground rules:
The eight-person voting panel consists of MMA Fighting staffers Shaun Al-Shatti, Alexander K. Lee, Guilherme Cruz, Mike Heck, E. Casey Leydon, Steven Marrocco, Damon Martin and Jed Meshew.
Updates to the rankings will be completed following every UFC pay-per-view. Fighters will be removed from the rankings if they do not compete within 18 months of their most recent bout.
Should a fighter announce their retirement, our panel will decide whether that fighter should immediately be removed from the rankings or maintain their position until further notice (let's put it this way: we'd have taken Khabib Nurmagomedov out of our rankings a lot quicker than the UFC did).
As a reminder, the notion of pound-for-pound supremacy is always going to inherently be subjective. There is no right or wrong answer when you are trying to decide whether Robert Whittaker should be considered above Max Holloway ,. This is a serious matter, people.
Thoughts? Questions? Concerns? Let us know your concerns in the comments section below.
Source: https://www.mmafighting.com/2023/2/13/23596676/mma-pound-for-pound-rankings-islam-makhachev-knocks-off-alexander-volkanovski-to-take-no-1-spot?rand=96749