If Petr Yan does not come out to fight, and Anatoly Malykhin does not give back the lost fifty thousand dollars, Merab Dvalishvili is ready to go to Thailand to personally deal with the Russian fighters.
"I hope Peter will act like a real man and go out to fight on March 11," the native of Georgia wrote on a social network. "Best friends, Anatoly and Peter… One must give me 50,000 dollars, and the other must go to the fight on March 11th. Otherwise, I will go to Thailand and find them there."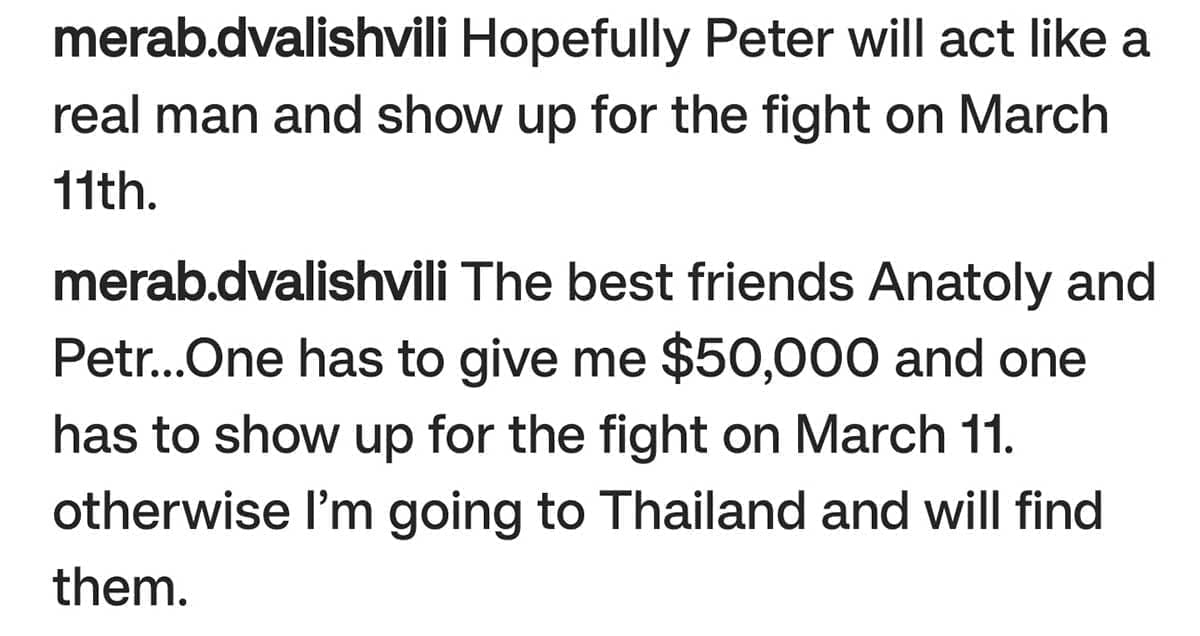 Thus, Dvalishvili made it clear that he still had not received fifty thousand dollars from Malykhin, which the Russian lost to him by betting on the rematch of Peter Yan and Aljamain Sterling. As you know, Malykhin was the initiator of the bet, to which Dvalishvili agreed, despite the fact that the bookmakers considered Jan to be more than a six-time favorite, and one could earn much more than one to one on his defeat.
After the fight in April last year, Malykhin confirmed that he was ready to send Dvalishvili the lost amount by asking him for a card number, but the Georgian fighter claims that he never received the money from the Russian.
Recall that the fight in the bantamweight division between Peter Yan and Merab Dvalishvili will be the main event of the UFC Fight Night 221 tournament, which will be held on March 11 in Las Vegas.
Source: https://fighttime.ru/news/item/30614-merab-dvalishvili-obratilsya-s-ugrozami-k-petru-yanu-i-anatoliyu-malykhinu.html?rand=19907