American boxing legend Floyd Mayweather Jr. continues to intrigue with a rematch with Irish MMA superstar Conor McGregor – in the summer of 2017, he stopped him in the 10th round.
According to Mayweather, the fight will take place on Allegiant Stadium in Las Vegas (USA). And for this fight, he plans to earn at least 100 million USD (if it is a real fight, not an exhibition one).
It's funny that McGregor has already reacted to Mayweather's words, and he did it succinctly: "Not interested."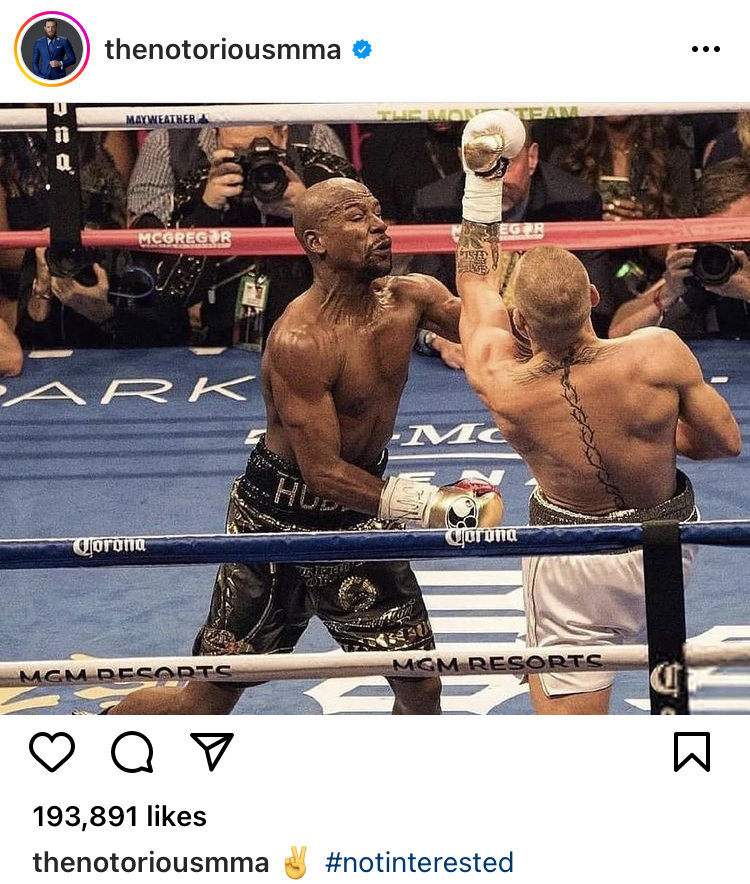 ---
Absolute champion of women's lightweight (up to 61.2 kg) and leader P4P female rating 36-year-old Irish Katie Taylor (21-0, 6 KOs) will defend all titles on October 29 at Wembley Arena (London, England) vs. undefeated
Karen Elizabeth Carabajal (19-0, 2 KOs) from Argentina.
The challenger scored a record on a frankly nondescript opposition, and she also spent all her fights in the limit of the featherweight (up to 57.2 kg) and the second featherweight (up to 59 kg) divisions.
---

DAZN streaming called the official number of sold paid broadcasts of the third fight between Mexican Saul Alvarez (58-2-2, 37 KOs) and Kazakhstani Gennady Golovkin (42-2-1, 37 KOs) – they fought last weekend for the title of absolute super middleweight champion (up to 76 .2 kg).
Platform bosses claim to have sold over 1 million PPVs. But this does not mean that the number of paid broadcasts of this fight named by the columnist – and Dan Rafael spoke of figures up to 600 thousand – is fundamentally wrong. The thing is that 1.06 million is the total number of PPVs, and 550-575 thousand are sales figures in the United States.
However, showrunner Eddie Hearn (Matchroom Boxing) and columnist Rafael argue to this day about which of them is telling the truth and who is manipulating the numbers.
---
Alvarez vs. Golovkin: The red-haired superhero Jagganath – Canelo vs Golovkin III fight report
---
IBF featherweight champion (up to 57.2 kg) Briton Josh Warrington (31-1-1, 8 KOs) will meet his mandatory challenger Mexican slugger Luis Alberto Lopez (26-2, 15 KOs) on December 10 in Leeds (UK) .
So says the reviewer
Salvador Rodriguez.
---
A chic eliminator fight was ordered in the WBA in the first flyweight (up to 49 kg). In a face-to-face fight, the former owner of the temporary belt Cuban Daniel Matheion (13-0-2, 7 KOs) who plays for Panama and the former regular champion (WBA World) Carlos Canizales (25-1-1, 19 KOs) from Venezuela will meet.
In the meantime, unification will take place in this weight, which we have been asking for a long time – there is a date for the fight.
.