On February 26, in Ad-Diriya (Saudi Arabia), a boxing evening will be held, the main event of which will be an 8-round heavyweight fight (up to 90.7 kg) between a boxing YouTuber from the USA Jake Paul (6-0, 4 KOs) and a star reality show Love Island British prospect Tommy Fury (8-0, 4 KOs).
In the second most important event of the evening, the WBC champion in the same division Ilunga Makabu (29-2, 25 KOs) from the DRC will try to prevent the Swedish veteran Bud Jack (27-3-3, 16 KOs) from conquering the third division and becoming the oldest champion in history cruiserweight.
Live broadcast of the show will start on February 26 at 21:00 Kyiv time / 22:00 Moscow time / 23:00 Tbilisi time / February 27 at 00:00 Tashkent time / 01:00 Astana time.
---
Live broadcast: Jake Paul – Tommy Fury. Watch online
---
We bring to your attention all the results of the Paul Fury show in LIVE mode.
Paul is Fury, Makabu is Jack. Live results
Jake Paul (6-0, 4 KOs) – Tommy Fury (8-0, 4 KOs).
8 rounds in heavyweight (up to 90.7 kg)
Ilunga Makabu (29-2, 25 KOs) – Badu Jack (27-3-3, 16 KOs).
Title fight WBC heavyweight (up to 90.7 kg)
Ziyad Almayuf (1-0, 1 KOs) – Ronald Martinez (3-1-1, 0 KOs).
4 rounds in super lightweight (up to 63.5 kg)
Muhsin Keyson (10-0, 7 KOs) – Tariel Jafarov (18-5, 17 KOs).
8 rounds in heavyweight (up to 90.7 kg)
Bader Samrin (7-0, 6 KOs) – Viorel Simion (23-9, 9 KOs).
8 rounds in lightweight (up to 61.2 kg)
Adam Saleh (0-0-1) – Stuart Kellogg (debut).
6 rounds in lightweight (up to 61.2 kg)
---
PLACE A BET ON PARIMATCH
BET ON FAVBET
BET ON WBET
---
Jake Paul – Tommy Fury: forecast and bets for the fight on February 26
---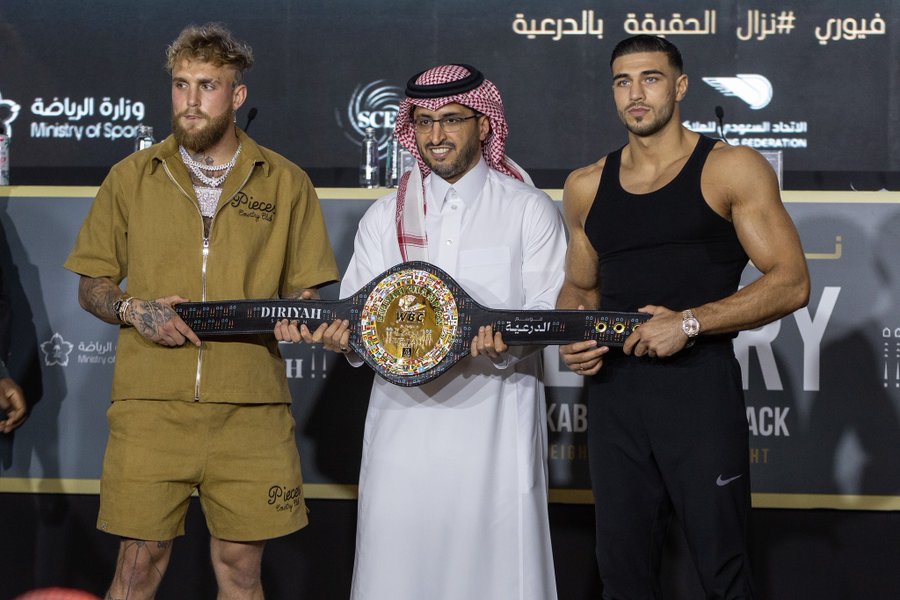 Photo: Most Valuable Promotions (c)
YouTube star, successful businessman, actor and musician Paul first entered the ring in 2019 – he went to Britain and, according to the rules of amateur boxing, timed the blogger Deji.
The event was streamed for free on YouTube and became one of the most rated of the year, which did not go unnoticed by boxing bigwigs. Promoter Eddie Hearn (Matchroom Boxing) And streaming DAZN offered Paul to try himself as a professional – in 2020, he alternately took out a vlogger from the ring Ali Eson Gib and a basketball player Nate Robinson.
Jake realized that it was time to raise the level of opposition and switched to age-old ex-MMA champions: first, he quickly dealt with Ben Askren (ex-champion Bellator And ONE), then knocked out Tyron Woodley (ex-champion UFC).
In the last fight held, he dropped, pulled out a victory from the legendary veteran of mixed martial arts Anderson Silva. He is the only American in the track record who had experience in the ring.
But Fury, by and large, has nothing to brag about in boxing. Fame brought him performance in the show Love Island and the fact that he is the younger brother of WBC heavyweight champion Tyson Fury.
The upcoming fight is the third attempt to organize a face-to-face fight for the antagonists. The previous ones fell through the fault of Fury – first an injury, then problems with a visa.
---
The main fights of February 2023 in boxing: Beterbiev Yard is resting – a month of fierce wrestlers is ahead
---
African Makabu will hold the third defense of the WBC belt. Former middleweight and light heavyweight champion Jack is his biggest pro-firing rival.
But it is still worth recognizing that the best times of the veteran are in the distant past. The last time against top-level opposition, Jack came out in 2019 – controversially and minimally lost to ex-champion Jean Pascal.
If he wins, Badu will become the oldest heavyweight champion in history and will make a significant bid for membership in International Boxing Hall of Fame.
The Swede has an extremely high level of opposition – from 2015 to 2019 he fought in turn with Anthony Dirrell, George Groves, Lucian Bute, James DeGale, Nathan Cleverly, Adonis Stevenson, Marcus Brown and Jean Pascal.
Source: https://vringe.com/news/163062-dzheyk-pol-tommi-fyuri-rezultaty.htm?rand=141343