Chaos was the name of the game in 2022. For the second year in a row, a record-tying number of UFC titles changed hands — of the 12 UFC beltholders who began 2022 with gold strapped around their waists, just five managed to clamber into 2023 unscathed, once again matching the record for the largest championship turnover in UFC history.
With such extreme volatility in the past, it is difficult to know how anyone can predict what will happen with the title picture. Well, ask and you shall receive: The annual contender draft is back! Frenemies Shaun Al-Shatti and Jed Meshew are here to once again make fools of themselves by trying to answer our age-old question: Which three non-champions have the best chance of ending 2023 wrapped in UFC gold?
And of course, they're doing so by returning to the format of kings: The fantasy draft.
Godspeed, gentlemen. We don't need to be bad.
---
Al-Shatti: Ah yes, welcome back to our own little Thunderdome, my dear friend Mr. Meshew. It is the year no. 5 for this lovely competition, but the second in a row for you, so I assume you're comfortable and know your way around.
I must admit, you had me scared last year — the late and unexpected push of Magomed Ankalaev nearly left me dead to rights! Candidly, I would've been furious had Anklaev pulled it off in the final pay-per-view of 2022 and handed me an Usman-esque loss at the buzzer. But luckily those wonderful ol' MMA judges did me a real solid, leaving the light heavyweight division beltless and leaving us stuck with a 1-1 tie in the final 2022 tally.
Team Al-Shatti: Khamzat Chimaev, Amanda Nunes (135), Jon Jones

Team Meshew: Islam Makhachev, Petr Yan, Magomed Ankalaev
This is a good effort, even for a novice. But be warned: 2023 will be my magnum opus.
First, before we get underway, let's recap a few ground rules to refresh the audience and set the stage for anyone who's catching us for the first time.
1. Our goal here today is to construct the three-fighter team who will end the 2023 campaign with the largest share of UFC gold. Also, interim belts are counted. If your soothsayer abilities can somehow lead you to a perfect 3-for-3 sweep, you're a guaranteed winner. I can assure you that this is not the case. Two correct picks, or really one, was enough in years past to win the dub. This whole thing is much, much more difficult than it looks.
2. This will be a 3-round draft of the snake. For the uninitiated, that means the team who gets Pick 1 also gets Picks 4 and 5, while the opposing team gets Picks 2, 3, and 6.
3. Only fighters who are not the current champion in the UFC division for which they're selected can be picked from the pool. For example: Alexander Volkanovki at 145 pounds? Not available. But Volkanovki at 155 pounds? It was a fair game.
4. In order to nudge us toward more adventurous thinking, teams are only allowed to select one name each from a pool of fighters already either scheduled or rumored to be the next title challenger. That means only one pick each from this group: Jon Jones, Glover Teixeira, Jamahal Hill, Israel Adesanya, Kamaru Usman, Alexander Volkanovki (155 pounds), Josh Emmett, Yair Rodriguez, Henry Cejudo, and Brandon Moreno. This is a prognostication exercise, and not a fight prediction.
Sound good?
Meshew: Everything sounds good except that part where you reminded me of the cruelty of the MMA Gods. It was close. SO CLOSE! The RKO — Jed wins. And then Magomed forgot how to fight for the first 15 minutes. I am angry again.
It's fine. Fine. I will just win this year, even though it is difficult for me to think about my choices and your first choice when there are only one viable candidate.
Alright, I went first last year. Now it's your turn. Al-Shatti, get on it!
Team Al-Shatti is on the clock! And with the first pick of 2023 contender draft … Who could it be? … Oh yes! … It's Khamzat Chimaev!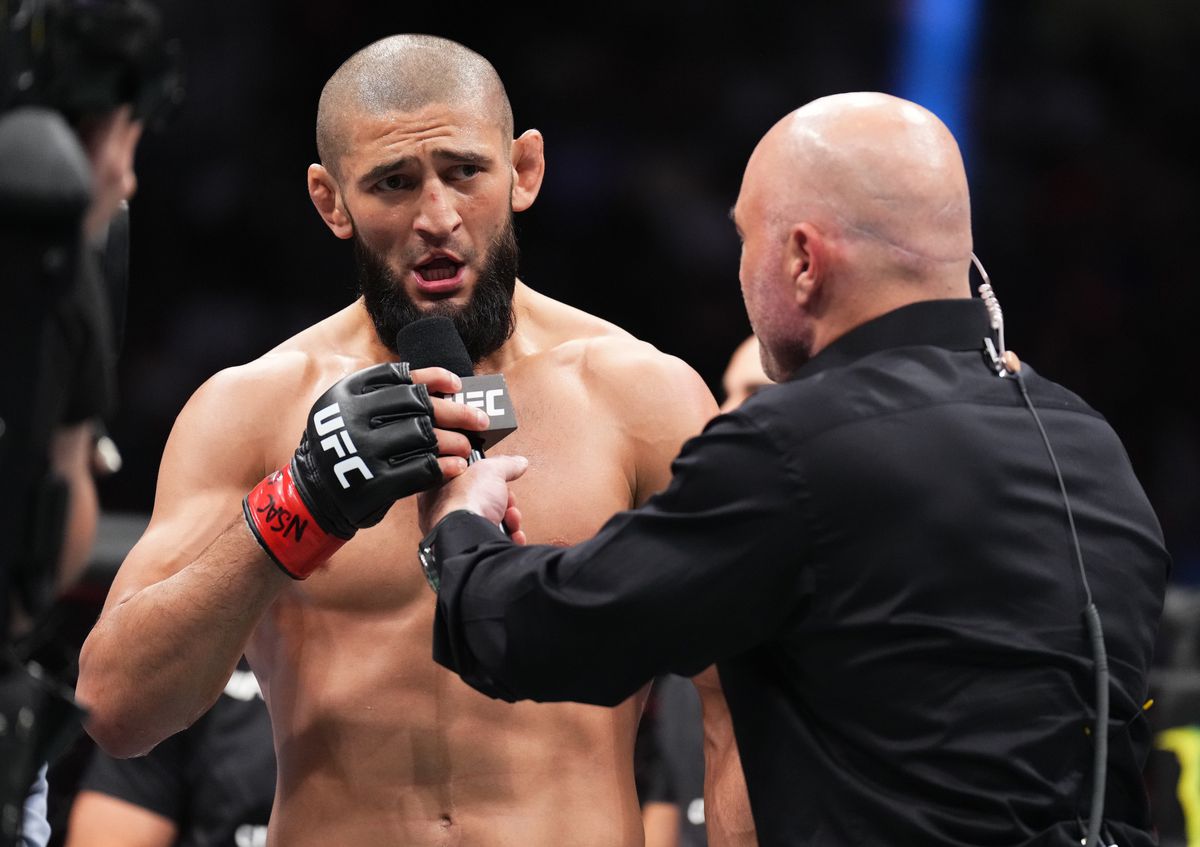 Al-Shatti: Damn straight it is.
Look Jed, 2023 is already shaping up to be a weird year for the purposes of this exercise. Usually there's a smattering of three to five good names I feel confident about on my board — names that hit that perfect intersection of talent and opportunity this sort of draft demands. But not so for 2023. Seemingly half of the UFC's divisions are total question marks as to who's getting title shots in 2023, while the other half are question marks as to whether the current champs can even be beaten by any of their peers within striking distance. Add in legitimate questions about the availability of talents like Jon Jones and Jiri Prochazka to return in 2023, and this year's draft pool plummets off a cliff after pick No. 1.
But Khamzat Chimaev? He's at least in our tier.
I may have been a year too early with my pick of the Chechen wolf in 2022, but 2023 is undoubtedly the year Chimaev finally lands his opportunity to prove his dominance over the best of the best. He's (at most) one fight away from a title shot at either 170 pounds or 185 pounds, and he would be (at minimum) a 3-to-1 favorite over either of the current champions in those divisions. Hell, considering his obviously limited shelf life to make the welterweight limit, it's not outside the realm of possibility that Chimaev ends the year holding gold in two different weight classes. He's that good — and nowhere else left on this year's board is there the combination of talent and opportunity he'll bring into 2023.
This couldn't have started out better. Your move, Meshew.
Team Meshew is on the clock and looking a little crestfallen that Al-Shatti didn't fumble the first pick … Team Meshew picks… UFC interim flyweight champion Brandon Moreno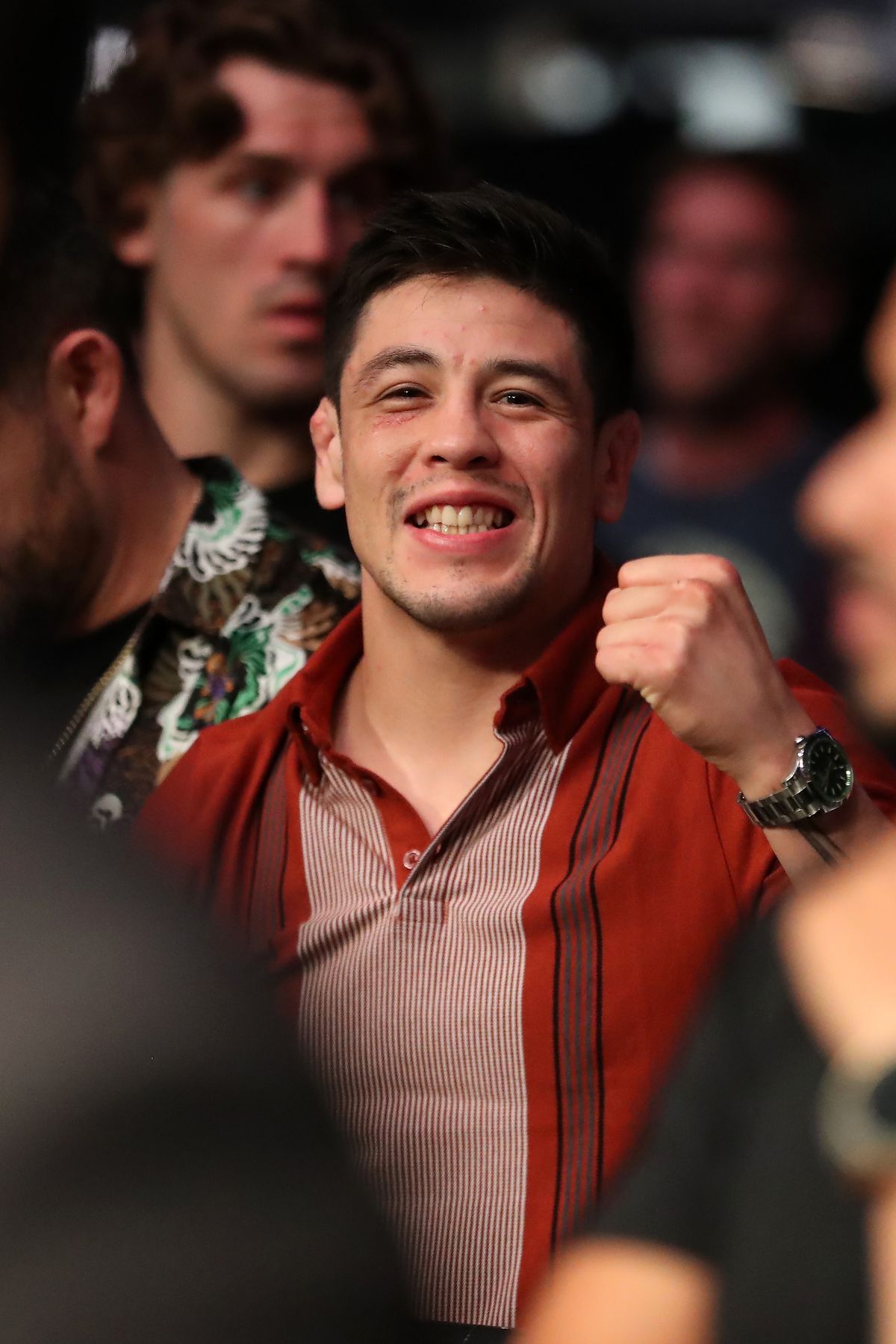 Meshew: First, let me say that I sincerely hope Khamzat somehow doesn't fight for a belt this year and this becomes your new gimmick, spamming Khamzat until he finally wins you one.
Second: I loathe this pick. I hate all my picks. These people will not win the title. There was too much turnover in 2022; 2023 is going to be a bunch of the same.
With that being said, I came into this year's draft with a new strategy: I'm just going to pick fighters I KNOW will at least get a shot at the belt, and if I can get ones that are also great fighters, that's a bonus. Fortunately, Moreno comes through in both regards.
We are aware that Moreno will be fighting Deiveson Figueiredo again in January, and we feel good about our chances. Moreno finished Figgy once and arguably should have won the third fight. Figgy is also getting older. I think we get another all-star performance out of The Lego Master.
The concern here is that he's fighting for the title in January. He loses and I am down immediately. If he wins I will still need to make it through Alexandre Pantoja in January. Although there is much risk, this year, there are very few good choices. So, give me Moreno. The vibes are positive, if nothing else.
Perhaps a surprise pick from Team Meshew to kick things off, but they are back on the clock and maybe go with a more chalk selection now … What's that? … You have the choice! It is Jiri Prochazka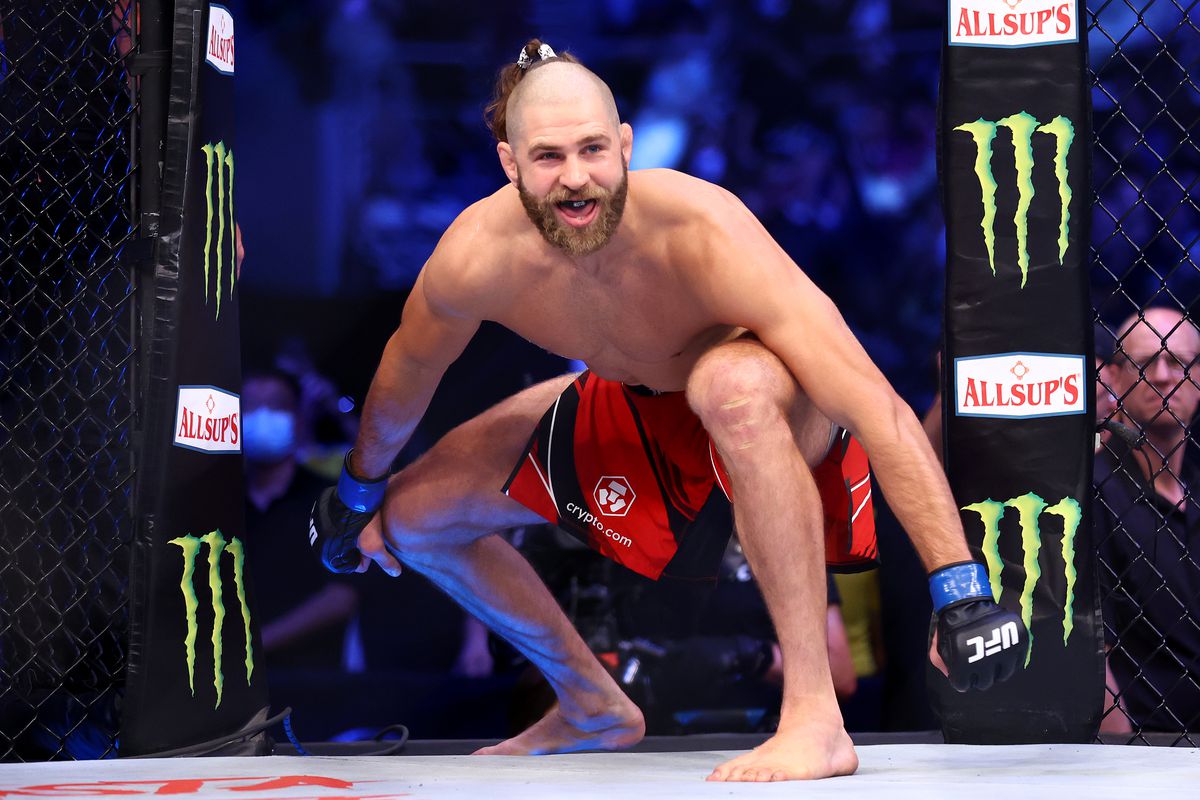 Meshew: Remember that whole thing I said about only picking fighters I KNOW will get a title shot. Ummmm. Yeah. About that.
S***. I'm really bungling this one, eh?
Look, light heavyweight is an impossibly stupid division and picking who is going to come out on top at the end of the year is tantamount to trying to catch a fart with your bare hands. BUT HEAR ME OUT.
Prochazka remains the uncrowned champion in the division. Glover Teixeira was defeated by Prochazka in one of his best fights and he is guaranteed to get a title shot whenever he returns. He sustained a severe shoulder injury which could have an irreversible impact on his career. We don't know if he will be back in the same time frame. Sure. But Jiri believes he will be back in the fall and I believe in Jiri. He's a heroic, lunatic samurai whatever. Bushido Code will help him get back in the cage this year. It will be for his belt. AND, since it won't happen until the fall, odds are that it's his only fight of 2023, so once he wins, that's one in the W column for ol' Meshew.
OK. I am starting to think for myself.
And the board turns back to Team Al-Shatti … Where will he go? … No, he didn't … Yes! He did! It was Magomed Ankalaev.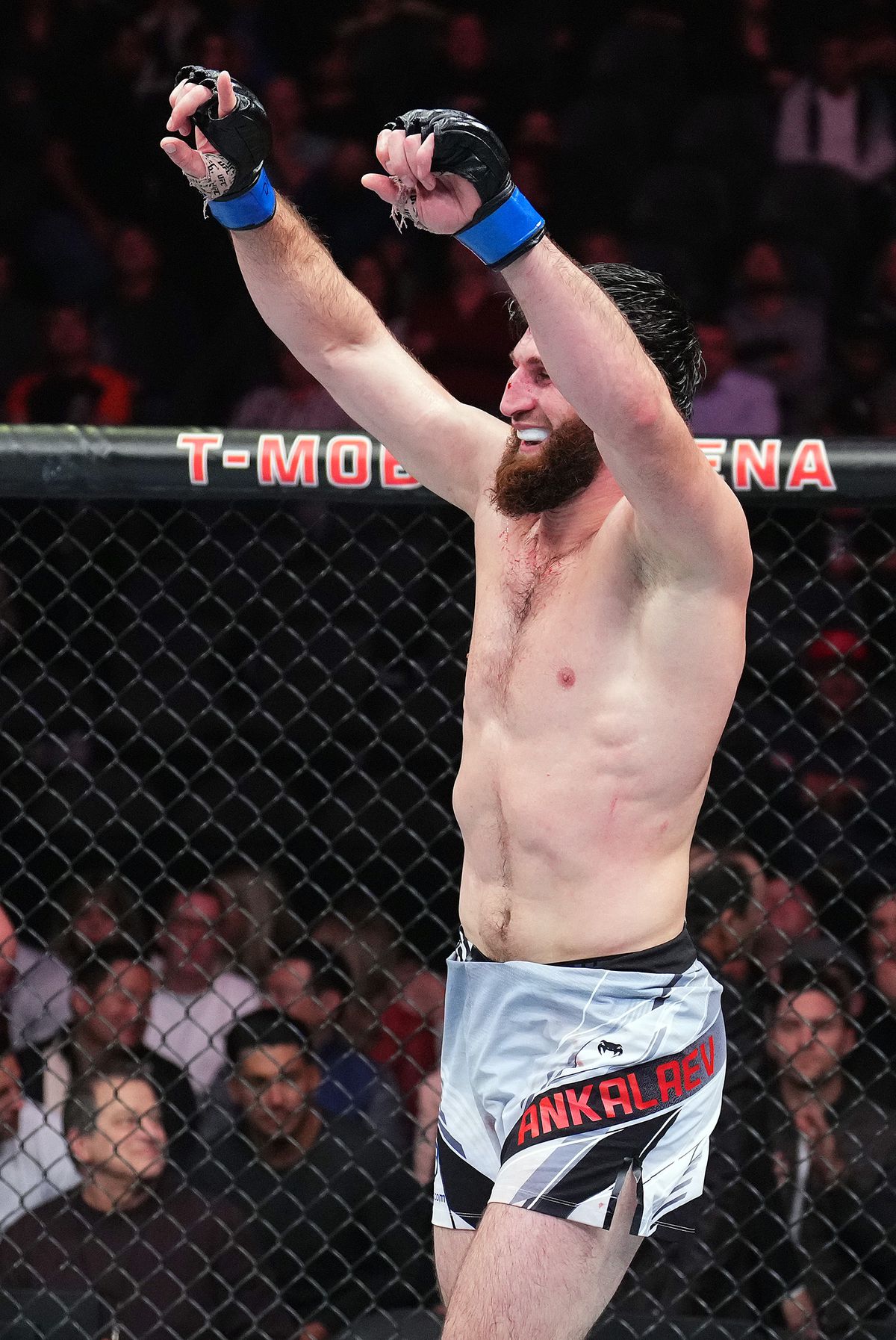 Al-Shatti: Oh yes, Jed. Your 2022 misfortune is about to turn into my 2023 gain.
I'll admit it, Ankalaev did not win last year's draft. It was only by sheer dumb luck. It was a savvy pick, because even after UFC 282, I think we both still believe Ankalaev to be the most skilled light heavyweight in the world. I just never expected him to stumble into a 2022 title shot considering how clogged the ladder was the top of the division to start last year, but weird stuff happens in MMA and that oversight nearly bit me.
Rest assured that I will not make the same mistakes again.
Ankalaev may not be the UFC's favorite fighter right now, but talent ultimately prevails in a division as uninteresting at the top as 205 pounds. He will be forced to win another fight against an Aleksandar Rakic or Paul Craig type of figure first, but he'll do so, and at that point, with a still-human Prochazka sidelined for the majority of 2023 and the division lacking compelling options, it's going to be nigh impossible for the UFC to hold the 30-year-old Dagestani back from reentering the title mix. Regardless of who wins the belt next between Glover Teixeira or Jamahal Hill, Ankalaev will be favored to defeat either man.
His fights may not set the world afire, but he's still the cream of the crop in a thin weight class — and 2023 will be the year he rights the wrongs of UFC 282.
Let's go. Team "Names Ending In -aev" for the win.
The board stays with Team Al-Shatti … There appears to be some internal debate with this one … It could be. … Yes! That's Israel Adesanya!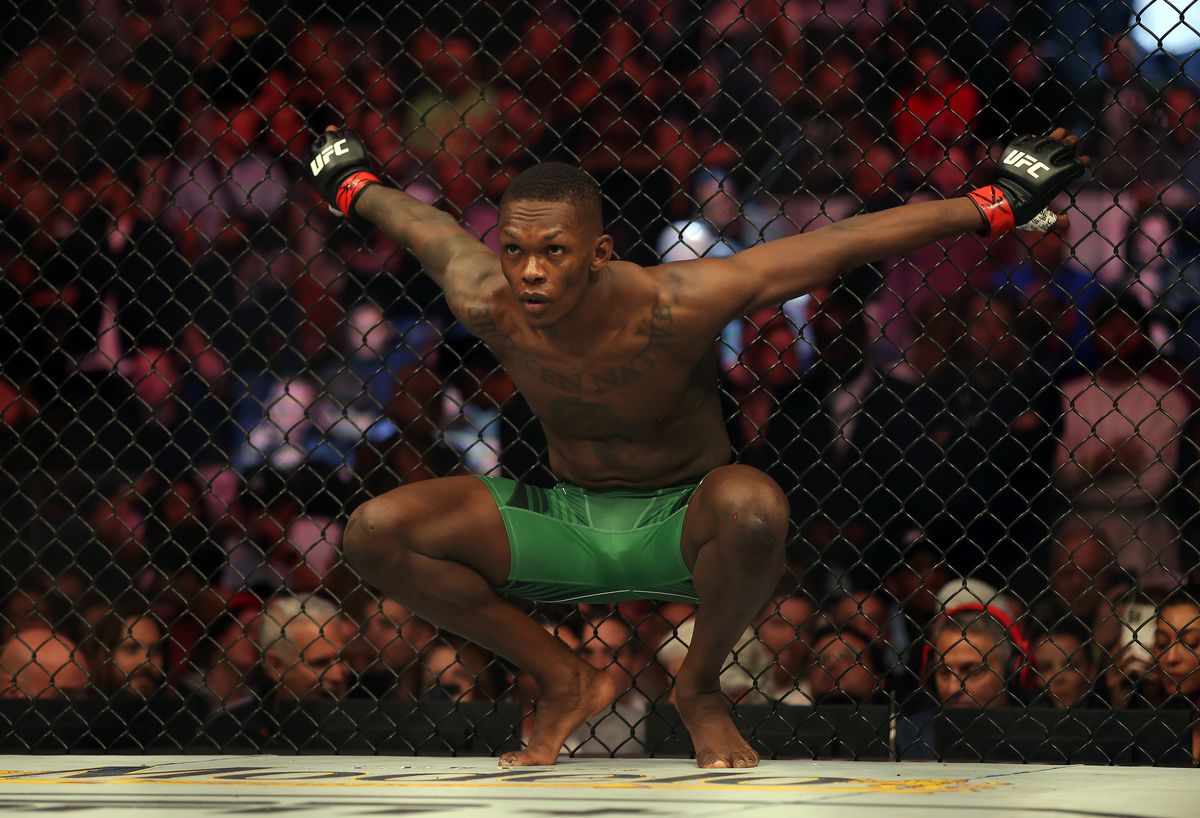 Al-Shatti: I felt good about my first two picks, Jed. But this one? It's more like a hunch than anything.
Yes, I'm aware "The Last Stylebender" is 0-3 in his series against Alex Pereira. This is not ideal. Sometimes, no matter how successful or prominent you are in any field of life endeavor, there will always be someone who has your back. You can be the fiercest Charizard in the entire world, but there's always going to be a boogeyman Blastoise out there around the corner just waiting to drown you at first glance.
Maybe that's who Pereira is for Adesanya. His Blastoise. After UFC 281, I won't fault anyone who believes that to be the case. Still, there is something to be said for how close this series actually is — Adesanya should've won their first fight if not for a bad judges' decision, then he was well ahead on the scorecards in both the second and third fights before suffering two dramatic, come-from-behind knockout losses in the closing minutes. That's a fairly insane way for all of this to play out. There's a not-too-far-off alternate world where Adesanya holds a comfortable 3-0 lead over Pereira and none of this is a discussion.
That's why the former champ is my final pick. He's already proven he's the best non-Pereira talent at 185 pounds, he's going to get his inevitable rematch, and you have to imagine he's going to prepare more diligently for Round 4 than he's ever prepared for anything in his entire life. Can lightning strike for Pereira a fourth time? Perhaps. But I'm playing the odds and siding with the proven talents of an ultra-focused "The Last Stylebender."
Eventually he has to seal the deal, right?
Team Meshew trudges up to the podium slowly, looking distraught. Things aren't alright in Mudville … Still, the representative goes up to the mic and makes the final selection … Mrs. Irrelevant, Valentina Shevchenko!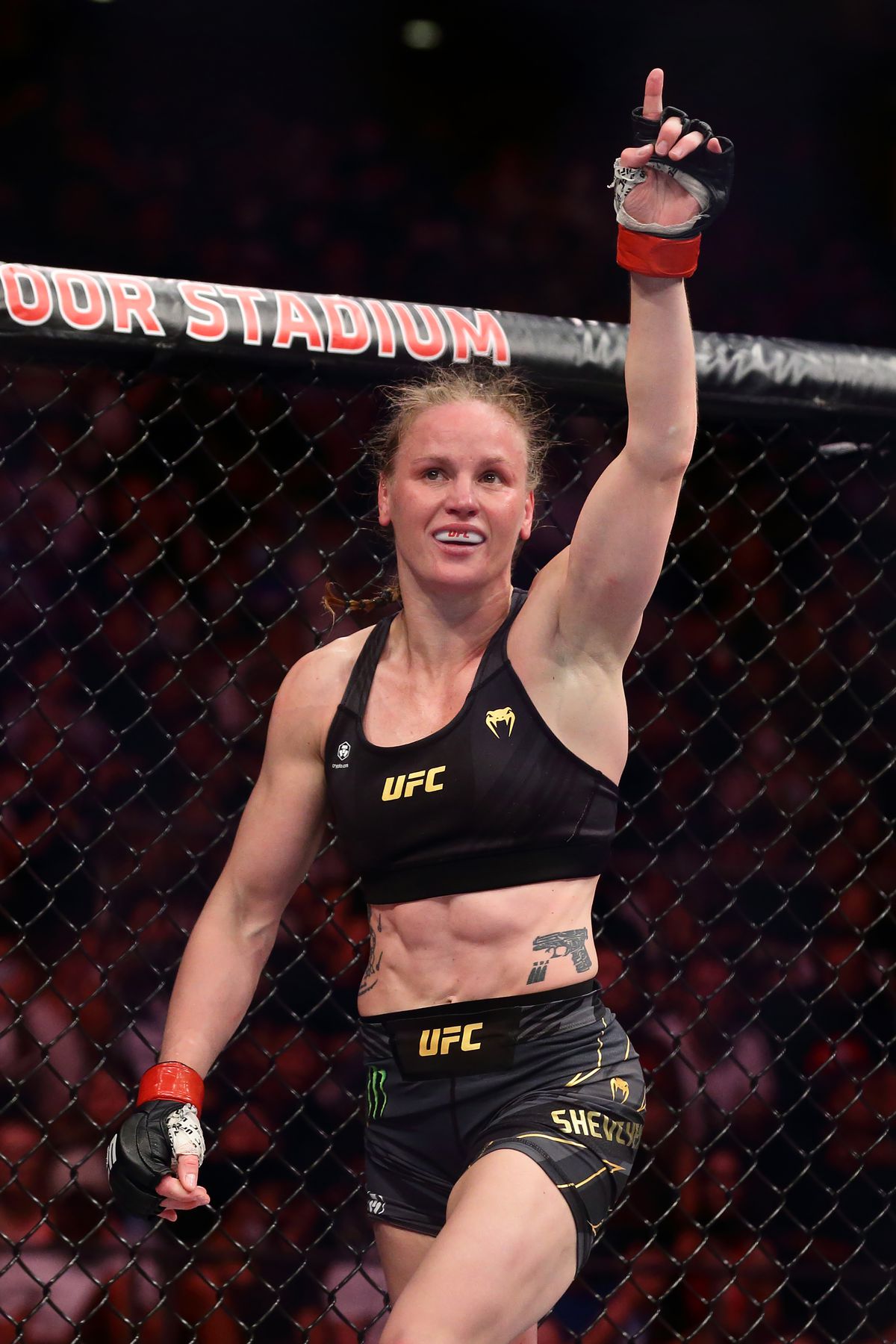 Meshew: Let me start by saying, what's that old adage about insanity? It's about repeating the same thing over and over again, expecting different results. I'm sure this is the year Adesanya finally beats the man who has beaten him multiple times already.
This is Valentina Shevchenko's year to beat Amanda Nunes for the bantamweight title. Despite having already lost twice to her.
Damnit. I hate my entire draft.
Look, I started this off by saying there was only one good choice this year, and you snaked him with the No. 1 overall pick. I've been reeling ever since. Now, with the final pick, there really isn't any good choice available. Rose Namajunas was the obvious choice, having won two fights over Rose, who is currently strawweight champion. But, it's not clear if Rose will be fighting this year. Rose is a mercurial fighter. After putting up the worst fight of modern MMA history in her last outing, Rose seems like a very long shot of getting a title shot. I was left with Shevchenko because she's going for it.
Taila Santes and Erin Blanchfield will be fighting in a fight that almost definitely has a No. 1 contender's fight. Similarly, if Ketlen Vieira beats Raquel Pennington next weekend, she'll be next in line for Nunes. Both of those title fights can be set up as the main and co-main event for a summer pay-per-view. Then, when both champions retain, as they are extremely likely to do, there is nothing left for either division but the trilogy fans have been expecting for years.
Will Shevchenko win? No clue. My gut says no, if we're being honest. But both previous encounters were razor close, and I'm very confident she at least gets the chance. That's more than I can say for anyone else.
---
And thus concludes the 2023 contender draft! Let's take a look at our final rosters.
Team Al-Shatti: Khamzat Chimaev, Magomed Ankalaev, Israel Adesanya
Team Meshew: Brandon Moreno, Jiri Prochazka, Valentina Shevchenko (135 pounds)
Who won? Vote in the poll and let your voice be heard in the comments below.
Source: https://www.mmafighting.com/2023/1/10/23542850/fantasy-draft-which-3-non-champions-will-end-2023-with-ufc-gold?rand=96749