Eddie Alvarez is not here for this foolishness.
Francis Ngannou was officially released from UFC contract and stripped of his UFC Heavyweight title. Dana White announced the seismic shakeup at the UFC Vegas 67 post-fight press conference, and the UFC President almost immediately went on the offensive, saying Ngannou did not re-sign with the promotion because he "doesn't want to take the risk." It's a well-worn tactic for White, one he has used countless times over the years with fighters who proved to be tough negotiators, and former UFC lightweight champion Eddie Alvarez isn't having any of it.
In a tweet to his Twitter account Alvarez mocked Dana White's response to Ngannou, laughing at its absurdity.
Ufc simply lost the bid for Francis , instead of admitting that , they go with the narrative the the Scariest mother fucker alive is Afraid to fight in the UFC hahhahahahhahahahhahahahhaa These jokes write themselves #PHSUnreal

— Eddie Alvarez (@Ealvarezfight) January 16, 2023
"[UFC] simply lost the bid for Francis, instead of admitting that, they go with the narrative the the scariest motherf***** alive is afraid to fight in the UFC. Hahahahahahahahahahaha. These jokes write themselves. #PHSUnreal"
Alvarez's thoughts on the matter don't end there, though. In replies to an MMA Junkie Instagram post on the topic, Alvarez went off on the notion once again, and added that all of this is part and parcel of the UFC's business strategy.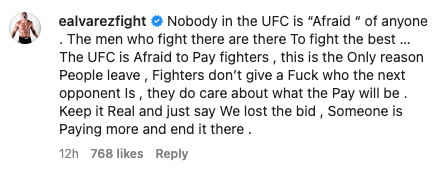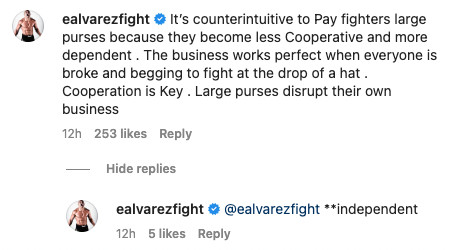 "Nobody in the UFC is "afraid" of anyone. The men who fight there are there to fight the best… Fighting is not a sport that pays fighters. This is why people quit the UFC. Fighters do not care who their next opponent will be, but they are concerned about the amount of pay. Keep it real and just say, 'We lost the bid, someone is paying more,' and end it there.

"It is counterintuitive for fighters to be paid large amounts of money because they are less cooperative and more [independent]. It works best when everybody is poor and desperate to fight. Collaboration is the key. Large purses disrupt their own business."
One of the most accomplished lightweight fighters ever, Alvarez joined the UFC in 2014 after winning the Bellator lightweight title in his rematch with Michael Chandler at Bellator 106. A three-year stint in the promotion saw Alvarez capture the UFC lightweight belt in 2016 before dropping it to Conor McGregor just a few months later. Alvarez left the UFC in 2018 after the two parties were unable to come to terms, signing with ONE Championship. Alvarez recently left ONE, and has shown an interest in possibly re-signing with the UFC, particular for a trilogy bout with Chandler, however, White has seemed cool to the possibility.
Source: https://www.mmafighting.com/2023/1/16/23557469/eddie-alvarez-blasts-dana-white-over-francis-ngannou-comments-nobody-in-the-ufc-is-afraid-of-anyone?rand=96749