Americans have fixed their weight

UFC lightweight champions Michael Chandler and Dustin Poirier weigh in ahead of their fight at UFC 281.
Chandler showed a weight of 70.67 kg, and the scales under Poirier stopped at 70.76 kg. Both fighters met the required norms of the weight category.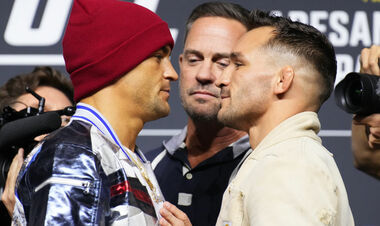 Read also:
Chandler vs Poirier is a fight that will not let you get bored. The winner will go to the champion
36-year-old Chandler has 30 fights in MMA, 23 of which were victorious. Poirier, 33, has won 28 out of 35 fights.
Michael Chandler and Dustin Poirier will find out on the undercard of the UFC 281 tournament, which will be held in New York on the night of November 13th.
1️⃣5️⃣6️⃣ for the 𝘿𝙄𝘼𝙈𝙊𝙉𝘿

[ @DustinPoirier | #UFC281 | Tomorrow | Live on ESPN+ PPV: https://t.co/nzONUJMdiS ] pic.twitter.com/4pLmOub1rz

— UFC (@ufc) November 11, 2022
All smiles for 𝑰𝑹𝑶𝑵 𝑴𝑰𝑲𝑬 as he makes it official 💪

[ @MikeChandlerMMA | #UFC281 | Tomorrow | Live on ESPN+ PPV: https://t.co/nzONUJLFtk ] pic.twitter.com/xzPLWLj6hk

— UFC (@ufc) November 11, 2022