The WBC turned a blind eye to a doping scandal involving the British welterweight prospect (up to 66.7 kg) Conor Benn (21-0, 14 KOs) – the "investigation" of the incident ended with the boxer's acquittal, in the March rating he will be returned to the top 15.
Benn's side claims the footprints clomiphene in the body of an athlete is the result of excessive consumption of chicken eggs.
---
The world's largest chain of pizzerias reacted funny to this news Domino's Pizza – offer to try something new "Conor Benn special".
Boxer in response was a little offended. Says I prefer pizza Pizza Hut: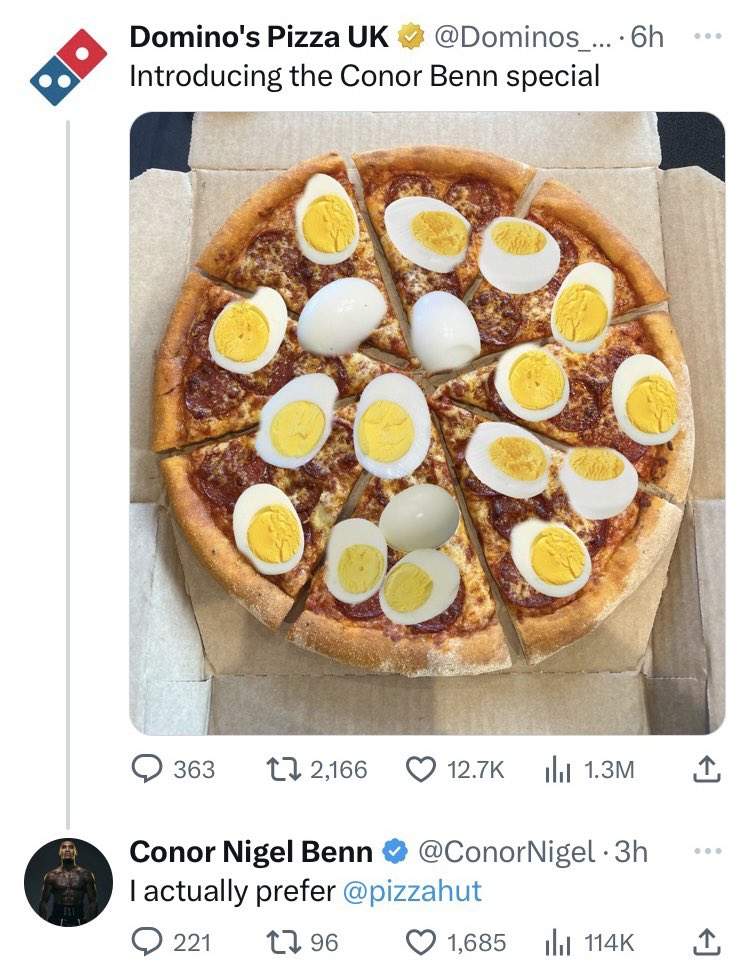 ---
The fight for the WBC flyweight title (up to 50.8 kg) between full and interim champions of the organization Mexican Julio Cesar Martinez (19-1, 14 KOs) and Puerto Rican Macullams Arroyo (21-4, 16 KOs) will take place on May 6 at the stadium in Jalisco (Mexico) on the undercard of the show Canelo Alvarez vs John Ryder.
This is the 6th attempt to arrange a rematch. The fighters met in 2021, but it was not possible to determine the winner due to the cut of the applicant.
---
Promoter Eddie HearnMatchroom Boxing), apparently hastened to call British light heavyweight (up to 79.4 kg) Joshua Buatsi (16-0, 13 KOs) a favorite for the May fight with WBA Super champion Russian Dmitry Bivol (21-0, 11 KOs).
Challenger trainer Virgil Hunter says that "Joshua is not quite ready for this fight yet – he needs to fight a couple more fights."
---
IN British Boxing Council (BBBC) will consider the incident between the newly-minted WBA featherweight champion (up to 57.2 kg) Mauricio Lara (26-2-1, 19 KOs) and his former two-fight rival Josh Warrington (31-2-1, 8 KOs).
On Saturday, immediately after defeating Britain's "Bronco" Lee Wood, Lara spat at his former opponent. He is shocked: "Fucking bastard!" Warrington demands to fine the Mexican, says: "This is fucking mean. It's even worse than a sneak attack."
---
On the sidelines there were rumors that two popular local super middleweights (up to 76.2 kg) would fight in the USA on June 10 – ex-world champion Daniel Jacobs (37-4, 30 KOs) and top contender Edgar Berlanga (20-0, 16 KOs).
Boxing manager Keith Connolly categorically denies this: "Complete bullshit. They didn't even discuss it."
Earlier, Berlanga left Top Rank and continue his career with Hearn.