Russian heavyweight Anatoly Malykhin explained why he still hasn't paid off Merab Dvalishvili, with whom he bet fifty thousand dollars before the rematch between Peter Yan and Aljamain Sterling.
According to the ONE Championship champion, he cannot transfer money because the Georgian fighter refuses to provide the full details required for a bank transfer.
"Four times I threw him a sheet that needs to be filled out for transfer – all four times he filled it out incorrectly, and says that this is not necessary," Malykhin said in a video posted on the social network. "Now I have been to the bank for the fifth time to transfer money to him, and they tell me that this information is needed. I ask him again, send me this information for transfer, I physically cannot transfer this money to you, but he, I don't know why, simply does not give me this information. So I don't mind giving him the money. Just tell him to throw off what you need, and I will send him the money.

"I haven't been knocked out, I'm a sane person, and I understand what is needed. I don't know, maybe it's all due to the fact that he had these icy adventures or knockouts, this already needs to be sorted out "
The Russian also published a screenshot of another correspondence with Dvalishvili, where he is trying to get in touch with him.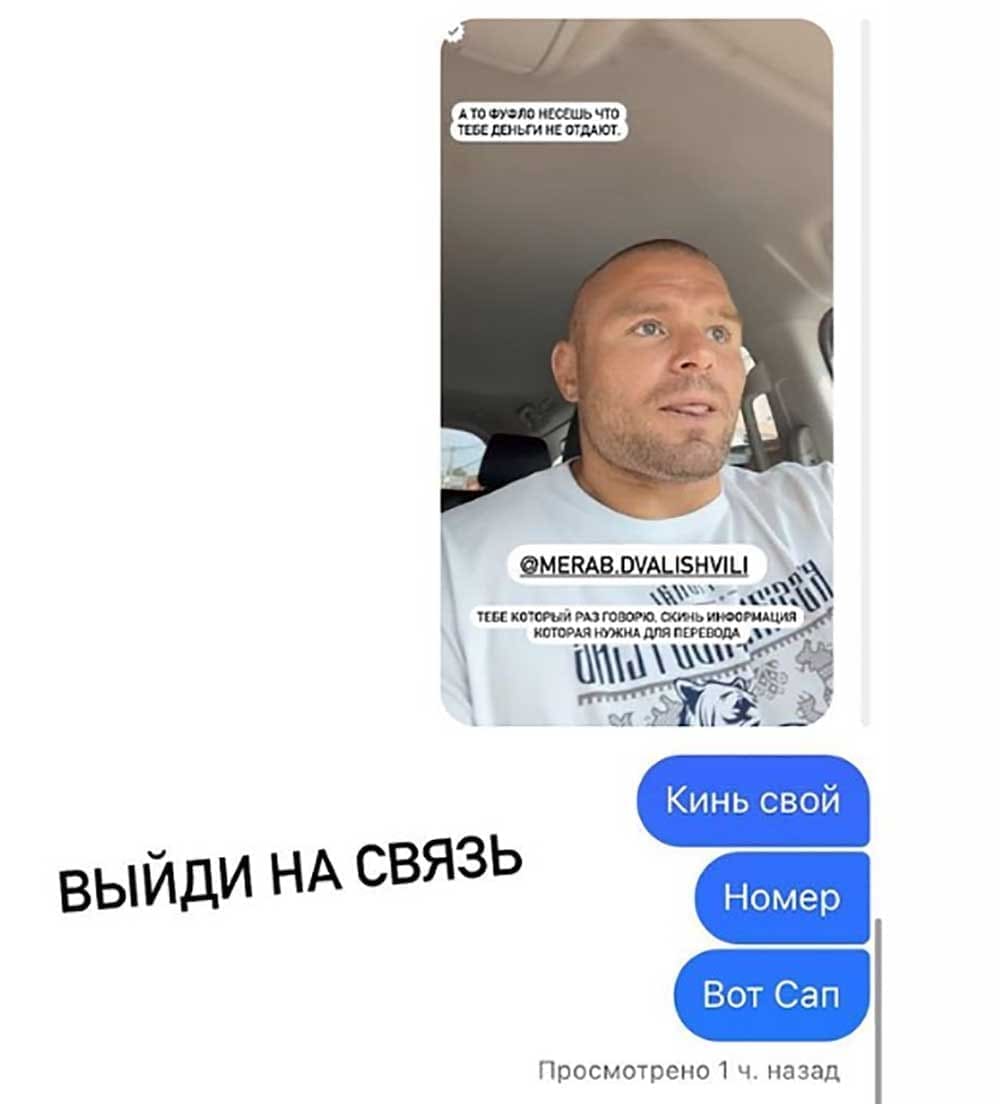 Earlier, Merab Dvalishvili announced that he plans to visit Thailand and personally demand a debt from Anatoly Malykhin. At the same time, the Georgian fighter refers to a conversation with Petr Yan, in which the Russian allegedly stated that he had allowed his friend not to give this money.
Recall that last weekend Merab Dvalishvili scored a dominant victory over Petr Yan, winning the fight by unanimous decision with a score of 50-45 three times.
Source: https://fighttime.ru/news/item/31015-anatolij-malykhin-ob-yasnilsya-po-povodu-dolga-merabu-dvalishvili.html?rand=19907