WMMAA   /   News   /   Primorye MMA Championship: results and video (part 2)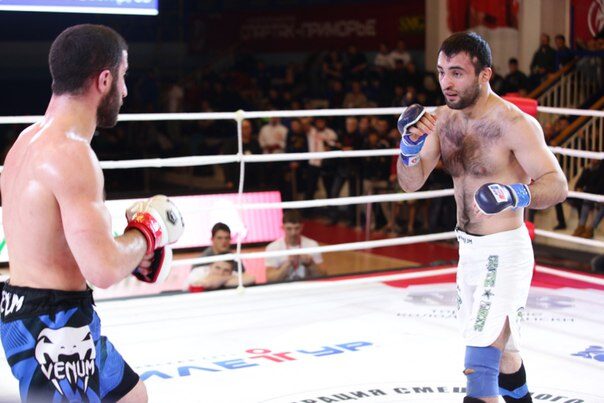 February is the month when various regional MMA championships are held throughout Russian Federation.
This far eastern part of the largest country in the world is no exemption to this rule. Find below what the results of the Primorsky Krai MMA Championship are plus watch some of the fights on WMMAA's official channel.
-57 kg (16-17 yo):

1. Alexander Ikonnikov

2. Andrey Barabash

3. Sevak Avdalyan

3. Andrey Leskov

-61,2 kg (16-17 yo):

1. Dmitry Novikov

2. Mikhail Povkh

3. Andrey Glukhoi

-65,8 kg (16-17 yo):

1. Vladimir Tatarinov

2. Maxim Vetrik

3. Mikhail Efremov

-70,3 kg (16-17 yo):

1. Andrey Frolov

2. Ilya Potseluev

3. Vladislav Pashkov

3. Maxim Kurilko

-77,1 kg (16-17 yo):

1. Amirkhan Erznukaev

2. Denis Podyninogin

3. Andrey Timchenko

3. Artur Kolpakov

-84 kg (16-17 yo):

1. Matvey Ivanenko

2. Konstantin Sveshnikov

-61,2 kg:

1. Shamil Dibirov

2. Kalantar Magomedov

3. Vasily Dunkai

3. Anvar Abutalimov

-65,8 kg:

1. Murad Gasainiev

2. Kamo Avagyan

3. Andrey Danilov

3. Ilya Tsegelnikov

-70,3 kg:

1. Magomedsaigid
Alibekov

2. Roman Gerts

3. Danil Dekterev

3. Khushkadam
Zavurbekov

-77,1 kg:

1. Shamil Magomedov

2. Sergey Lyubimov

3. Shamil Olokhanov

3. Vladimir Sergeev

-84 kg:

1. Alexander Efimov

2. Grigory Sirenko

3. Alexander Skasarsky

3. Artem Vorobyev

-93 kg:

1. Anton Troshev

2. Igor Lyubimov

3. Pavel Axenov

3. Pavel Bubela

+93 kg:

1. Mikhail Kabargin

2. Taron Avoyan

3. Igor Pisarenko

3. Igor Siryuk