Published on 15 December 2013
Baku didn't disappoint thousands in attendance, among them hundreds of the guests from eight countries including sportsmen, coaches, family and friends. Olympic sports arena Serkhedchi proved worth of being chosen for this important event under the banner of WMMAA. Honorary president of Azerbaijan MMA League Rovshan Gasanov and the League's president Kenan Mamedov thanks many guests of honor who accepted the invitation to attend the Cup Finals. Athletes from eight countries were divided into two groups. The runner-up from each grioup wil ltake on the second best opponent from anoth group. And the best teams will collide in the Grand Finale. WMMAA president Vadim Finkelstein said he's glad with the event and completely satisfied that Azerbaijan was chosen above other candidates to host the World Cup Finals. He thanked the people of Azerbaijan for their sincere hospitality.
Then mister Finkelstein opened up about WMMAA's plans on Azerbaijan that passed the test with flying colors. Baku is now officially set to host European MMA Championship under the WMMAA banner.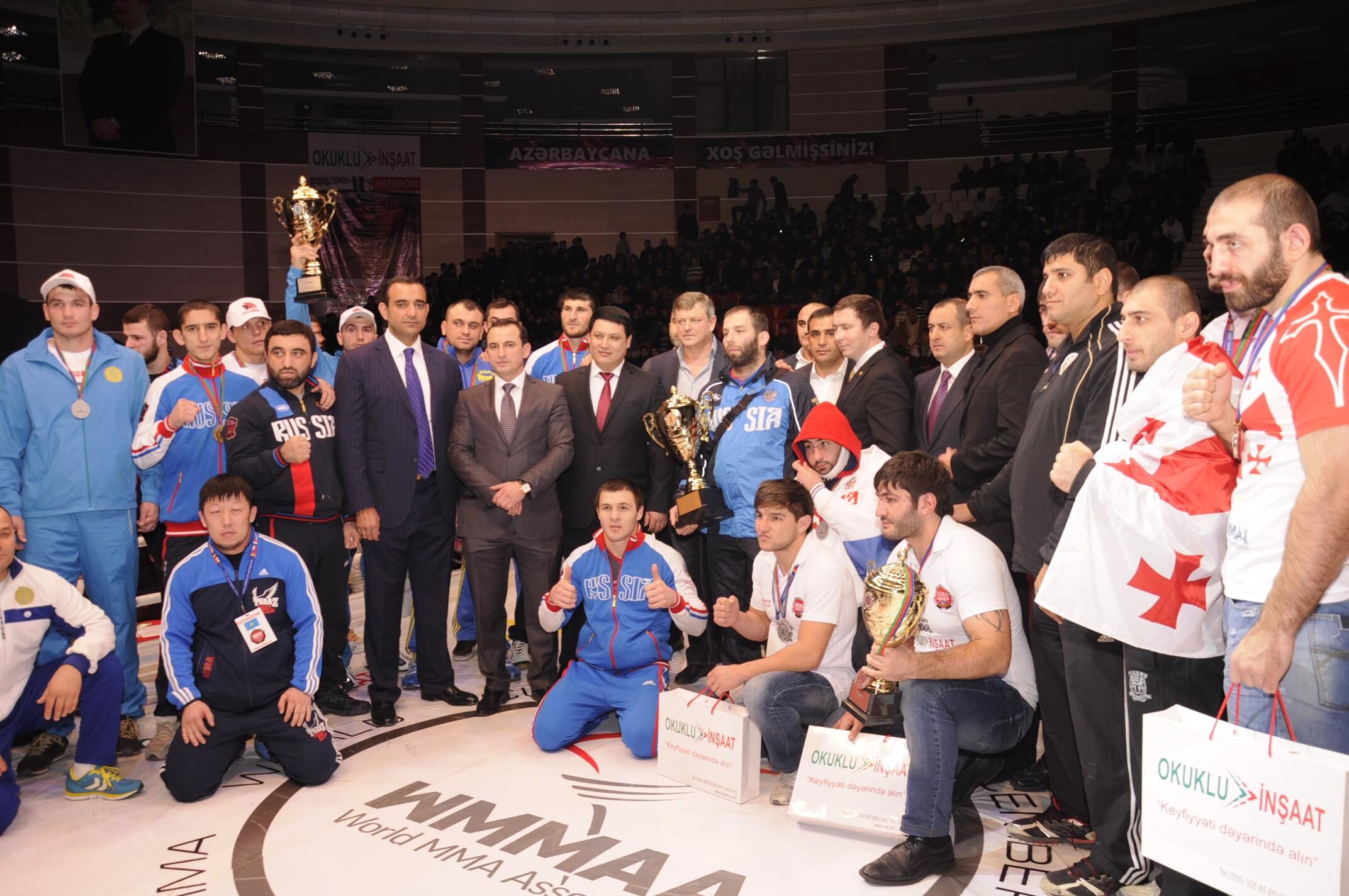 Azerbaijan's team was comprised of the following athletes: -70,3 kg: Orkhan Mamedov -71,1 kg: Vusal Bairamov -84 kg: Talekh Nadzhafzade -93 kg: Rasul Muslimov +93 kg: Zaur Gadzhibabaev These young up and coming athletes took on rivals from Russia, Kazakhstan, Romania an Belarus. And now the names of the fighters who emerged victorious:
-70, kg: Alibeg Rasulov (Russia)
-77,1 kg: Rashid Dagaev (Kazakhstan)
-84 kg: Gamzat Khiramagomedov (Russia)
-93 kg: Magomed Ankalaev (Russia)
+93 kg: Zaur Gadzhibabaev (Azerbaijan)
As a final unofficial team result, Russia became first, Kazakhstan took silver while Azerbaijan got the third place overall.
Comments:
Facebook
Download SocComments v1.3