Published on 22 August 2013
Working meeting of Executive Committee of the World Association of MMA took place on the occasion of grandiose competition in the history of the Mixed Martial Arts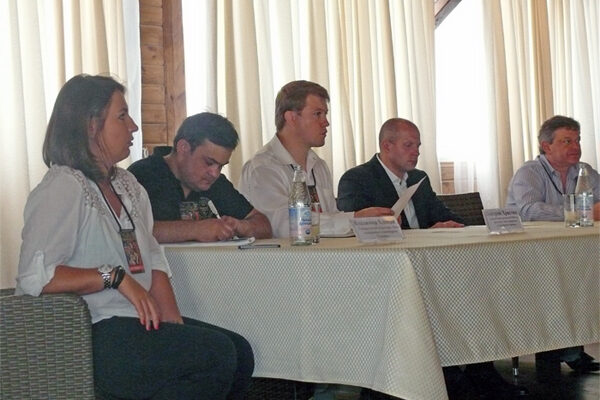 On August 20, 2013 working meeting of the Executive Committee of the World Association of MMA took place in Sain-Petersburg (Russia). President of the WMMAA Vadim Finkelshtein, First Vice-President of WMMAA Dmitry Khristyk, Executive Director of WMMAA Vladimir Khlopan and other members of the Executive Comittee were at the meeting.
Question regarding organization and carrying out the World Championship of the Mixed Martial Arts in October in Saint-Petersburg became one of the main questions which were considered during the meeting. This international Championship will be the first official World Championship during the whole history of the MMA. This sport event will be held during the World Games of Martial Arts SportAccord. For the fist time in the history of MMA winners will get The World Champion of the Mixed Martial Arts belt as an official kind of sport. Millions of people will have an opportunity to watch historical finals online.
High officials of the Russian Federation and honorary guests from all over the world are expected at the official opening ceremony.
The day before the World Championship the final Congress meeting of the WMMAA will be held where results of the work will be summarized and rules will be adopted that are promoting development and popularization of the mixed martial arts. Calendar plan of the official events for year 2014 will be approved. Also questions regarding new members will be discussed.
Regulation about membership in the World Association was confirmed during the meeting. Other organizational questions regarding development of the MMA in the world were considered.
Furthermore, decision of the Executive Committee was approved at the following Congress regarding working out and confirmation of unified system of the sport titles for sportsmen of all age groups. Every sportsman who is attending mixed martial arts will have a possibility to pretend and get prestigious title and reward similarly to other kinds of martial arts (karate, kickboxing and etc.)
We would like to remind that in October 18-20 in Saint-Petersburg at Sport Hall "Ledoviy" the first official World Championship of MMA under the auspices of the WMMAA will be held.
  Regulations can be downloaded here (.pdf)