WMMAA   /   News   /   Ukraine's first youth championship results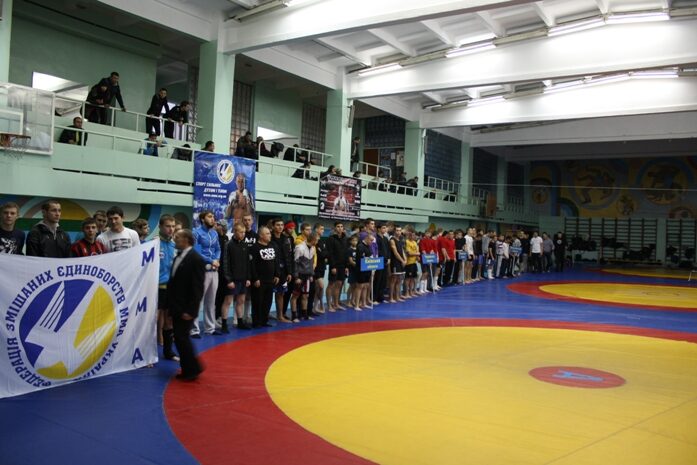 Last week (November, 23-24) Khmelnitsky, Ukraine hosted the inaugural official championship for athletes under 21 years old. Over 150 young fighters competed in 7 weight categories.
Khmelnytskyi Oblast is an oblast (province) of western Ukraine. The administrative center of the oblast is the city of Khmelnytskyi. The current estimated population is around 1,401,140.
Judges were: Vadim Podrushniak, Vakhabzhan Muratov, Stanislav Kushik, Vladimir Soldatenko, Nikolay Cherny, Rostislav Bitsyura, Evgeny Manikalo, Alexander Babyuk, Vladimir Kocharyan, Ruslan Abibulaev, Tatiana Shevchuk, Irina Adamchuk, Dmitry Ilyushenko.
Age group: 12-13 years old
-33 kg 1. Vladislav Ivanov (Khmelnitsky oblast) 2. Maxim Malash (Khmelnitsky oblast) -36 kg 1. Vladislav Mendrik (Khmelnitsky oblast) 2. Vladislav Sobkov (Khmelnitsky oblast) -39 kg 1. David Kostinyuk (Khmelnitsky oblast) 2. Maxim Nazarovets (Khmelnitsky oblast) 3. Vladislav Kukhnitsky (Kiev) -42 kg 1. Samvel Gulyan (Dnepropetrovsk oblast) 2. Dmitry Kondratyev (Khmelnitsky oblast) -48 kg 1. Vladislav Koval (Vinnitsa oblast) 2. Alexander Volodin (Khmelnitsky oblast) 3. Artur Pisanov (Odessa oblast) -52 kg 1. Evgeny Pavlichenko (Odessas oblast) 2. Konstantin Kharchenko (Vinnitsa oblast) 3. Yaroslav Komarov (Dnepropetrovsk oblast) -60 kg 1. Vladislav Slobodnyak (Vinnitsa oblast)
2. Nikolay Orlij (Odessa oblast)