A WMMAA member since 2013, the Serbian MMA Federation has progressed during that period, overcoming internal issues including an MMA ban from 2011-2012 in the Republic of Serbia.
The Minister of Sports of the Republic of Serbia made a request for the Serbian MMA Federation to become a member of a global MMA federation and, according to its sports law, much work was required in terms of its Planning Association.
"One of the major steps was joining the WMMAA," said Aleksandar Radosavljevic, President of the Serbian MMA Federation. "We have received a lot of benefits from joining the WMMAA.
Without being a WMMAA member, we would have a lot of problems with laws regarding MMA in our country. The organization is progressing, step-by- step, but it takes work and patience.
"Our goal is to send the first MMA team from the Republic of Serbia to fully compete in the World Championship, as well as to eventually organize a European or World Championship in our capital city (Belgrade)."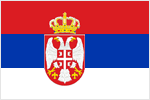 Due to financial restraints, though, Serbia will not compete in the 2016 WMMAA World Championships. "We hope that we will soon be part of the Republic of Serbia's budget," Radosavljevic added, "after which we can participate in all international competitions."
The future appears bright for the Serbian MMA Federation and WMMAA.
"I would like to thank the entire WMMAA, which regulates MMA globally," Radosavljevic concluded. "At this point, we cannot provide much help regarding our performance but, we have a lot of faith in the WMMAA and thank everyone there for everything."
www.facebook.com/WMMAA-665064310170463/
www.youtube.com/user/TheWMMAA
Twitter: @theWMMAA
Instagram: @worldmmaa
Telephone: +381 60 49 222 92E
EMail:[email protected]
Website:http://mmasavezsrbije.org