Published on 03 December 2015
We present you the final line-up of the upcoming SuperCup of MMA that will take place on December, 5 in Chelyabinsk, Russia.
Multiple current World Champions are scheduled to participate by the way!
Also, non other than "BIG" John McCarthy will be present at the event.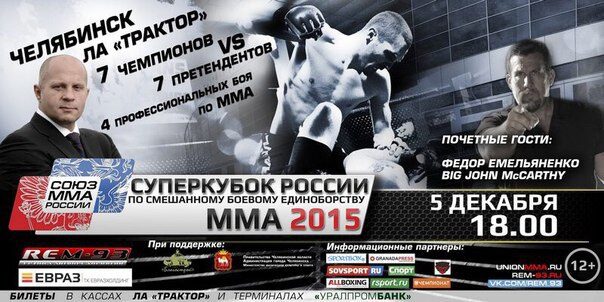 -61,2 kg: Bakhachali Bakhachaliev (Makhachkala) World MMA Champion, Russian MMA Champion vs. Armen Gulyan (Mytishi) Russian MMA Cup winner
-65,8 kg: Mansur Vitaev (Grozny) Russian MMA Championship silver medalist vs. Nabi Ashurlaev (Moscow) Russian MMA Cup winner
-70,3 kg: Kamil Magomedov (Moscow) European MMA Champion, Russian MMA Championship silver medalist vs. Arthur Zainukov (Chelyabinsk) Moscow MMA Cup
-77,1 kg: Alibeg Rasulov (Makhachkala) European MMA Champion, Russian MMA Championship silver medalist vs. Ramazan Kuramagomedov (Makhachkala) Russian MMA Cup winner
-84 kg: Gamzat Khiramagomedov (Moscow) World MMA Champion, Russian MMA Champion vs. Ramazan Gamzatov (Stavropol) Russian MMA Cup winner
-93 kg: Magomed Ankalaev (Makhachkala) World MMA Champion, Russian MMA Champion vs. Nadyr Bulkadarov (Simferopol) Russian MMA Cup winner
+93 kg: Amirkhan Isagadzhiev (Astrakhan) Russian MMA Championship silver medalist vs. Georgy Sakaev (Mytishi) Russian MMA Cup silver medalist
Honorary guest – Russian MMA Union president Fedor Emelianenko
Comments:
Facebook
Download SocComments v1.3