Published on 25 October 2015
The annual Russian MMA Cup is in the books now. Volgograd proved it's more than worthy of being chosen as the host city for such an important event in the Russian MMA scene. We present you the full results and the final from the finals which took place tonight on October 25.
The full list of participants at Russian MMA Cup can be found here.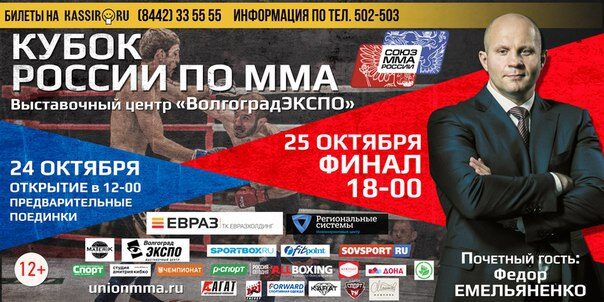 -61,2 kg:
1. Armen Gulyan (CSKA)
2. Azamat Kerefov (SKFO)
3. Salman Magomedov (Saint Petersburg), Khasan Magamadov (SKFO)
-65,8 kg:
1. Nabi Ashurlaev (Moscow)
2. Gamzat Saidbegov (SKFO)
3. Salman Salimkhanov (CSKA), Murad Asildarov (Moscow)
-70,3 kg:
1. Kamil Magomedov (Moscow)
2. Abakar Magomedov (URFO)
3. Elgun Mamedov (PFO), Magomed Mamaev (UFO)
-77,1 kg:
1. Ramazan Kuramagomedov (SKFO)
2. Magomed Umalatov (UFO)
3. Mukhamed Berkhamov (SKFO), Sharaf Davlatmurodov (CSKA)
-84 kg:
1. Ramazan Gamzatov (SKFO)
2. Nutsalkhan Umakhanov (SKFO)
3. Murad Abdulbekov (UFO), Vitaly Nemchinov (URFO)
-93 kg:
1. Nadyr Bulkadarov (KFO)
2. Magomed Gadzhiyasulov (Moscow)
3. Abdula Dalgatov (URFO), Alexandr Dankov (Moscow)
+93 kg:
1. Mukhamat Vakhaev (CSKA)
2. Georgy Sakaev (CSKA)
3. Oganes Aroyan (SFO), Rashid Sirazhudinov (URFO)
Tags:
Russia
Volgograd
Russian Cup
results
video
Comments:
Facebook
Download SocComments v1.3