ROBERT LAU
Born: December 13, 1997 in Wittlich, Germany
Hometown: Hasborn, Germany
Weight Class: Light Heavyweight
Amateur Record: 26-4-0; Pro Record: 4-0-0
2016 World & European Championships Silver Medalist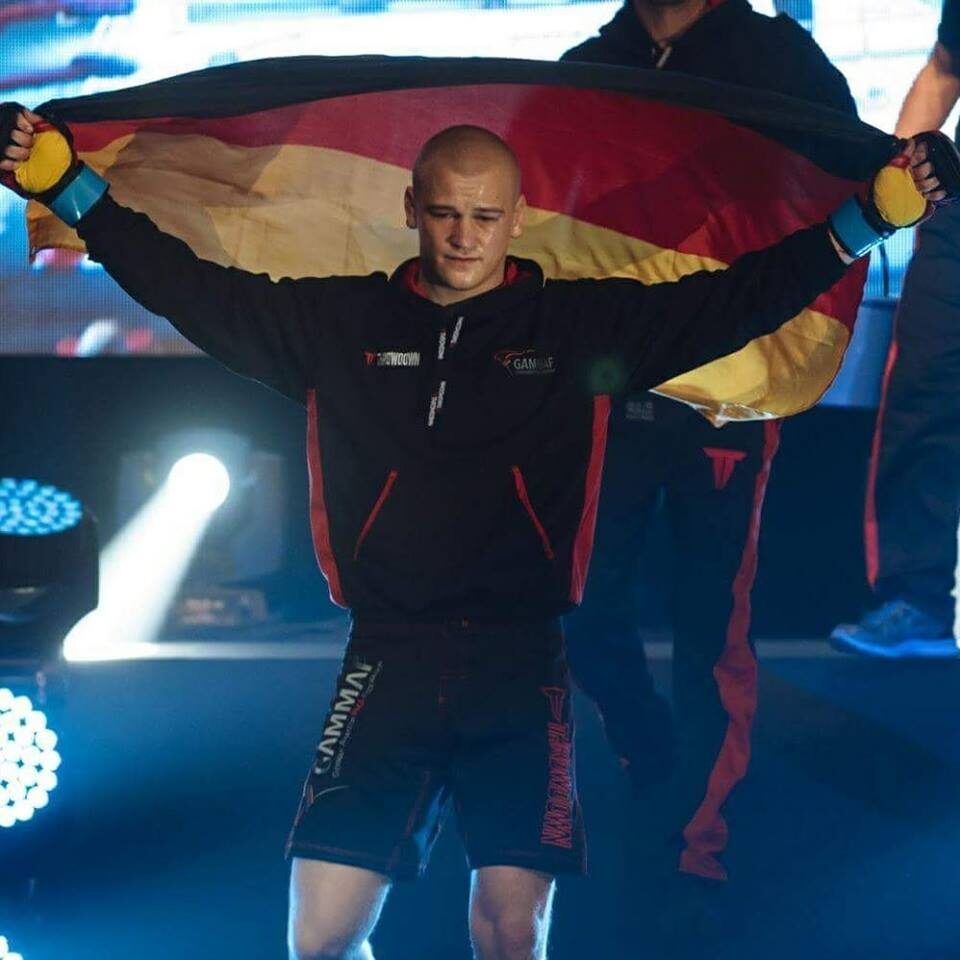 The future of Mixed Martial Arts is the World MMA Association (WMMAA); the future is already here for German MMA, 19-year-old Robert Lau.
Lau (pictured left), the German light heavyweight champion, is one of the most promising prospects in the world of mixed martial arts.  In 2016, Lau captured silver medals at both the World MMA Championship and European Championship, giving fans a glimpse into the immediate future.
Using his kickboxing background to his full advantage, Lau was recently honored to be named by GNP1 as the best young (under 23) fighter in Germany.  
As a member of Team Integra in Wittlich, Lau kicked off 2016 last April at Respect FC 16, where he won at home by way of first-round submission of Thomas Wassmer, followed a month later with a TKO victory over Maximilian Schlatter at Erstrundensieg.
Last September 24th, Lau peaked at We Love MMA 23 in Stuttgart. At the tender age of 18, sporting only three professional MMA bouts, Lau headlined against heavily-favored Brazilian Amilcar Alve, the UFC veteran fighter.
Lau went into that fight against an opponent who not only was twice his age, but having substantially more invaluable experience. From the opening bell, Lau was the aggressor, setting clean low kicks and beats. Even when the fight went to the ground, Lau prevented his experienced Judo foe spin long on the mat. In the second half of the first round, Lau finished the show with a perfect counter-attack.
The young German phenom currently has a 26-4-0 amateur record, as well as being undefeated in four professional matches.
Lau first got into MMA three years ago, albeit for an unusual reason.  He couldn't handle trash talking from opposing soccer players.  "I played football (soccer) but opponents were really unfair and said very stupid things about my mother.  So, I punched and knocked them out.  Somebody told me to try martials arts and I did.  It worked out well for me, I fell in love with this sport."
He proved to be a natural in MMA and his career has been on a rising path since the first day he started training in combat sports.  Last November, he traveled to Macau, China, to represent Germany in the World MMA Championship, in which he qualified for the final of the light heavyweight division.  Unfortunately, Lau suffered an injury during his semifinals match and he was unable to compete in the final against Russian gold medalist Magomed Ankalaevev, settling for a silver medal.
"It was good to win a silver medal," Lau said, "but the goal was to win the championship belt.  I was sad not being able to achieve my goal.  This year I will prepare and fight better top achieve my goal this year."
Known as a strong finisher, outside of MMA Lau enjoys playing soccer, trampling, and biking, in addition to training youngsters in MMA.  He has clear short and long-range goals in MMA.
"I want to fight in the UFC and to represent Germany as well as I can in MMA," Lau added.  "I also want to open a gym with my trainer, Wladimir Schwarz, to develop warriors who will also represent Germany and achieve greatness in MMA.
(L-R) — Lusen Bakos , vice president of German Amateur MMA Federation; living MMA legend and WMMAA honorary president, Fedor Emelianenko; Robert Lau and his head coach, Wladimir Schwarz.
"Robert has improved so much since he first started training because he works so hard every day in the gym to get stronger mentally and physically," coach Schwarz added.  "Right now, he needs to work the most on his wrestling, especially his takedown defense. I believe Robert can reach the absolute top of the mountain in MMA!"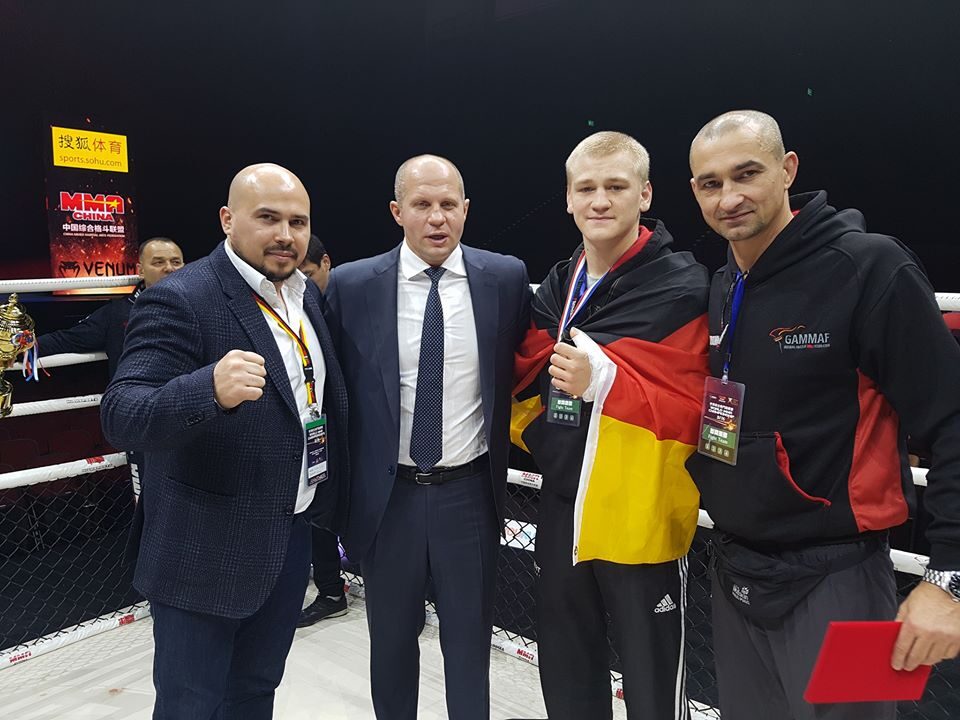 FIGHTER FAVORITES
MMA Fighters:  Cain Valasquez & Fedor Emelianenko
Food:  Watermelone Schaschlik
Movies: 300 & Gladiator
Music:  Scorpions
Book: Durrenmat Die Physiker
Robert Lau is trained by Wladimir Schwarz and he represents Integra Fight.
SOCIAL MEDIA: Facebook.com/robertlau. Instagram: @robertlau97