July 14, 2016
From Secretary General of WMMAA Alexander Engelhardt
To all it may concern,
The World MMA Association has received the appeal from Stefano Sartori, manager of Fabio Maldonado. In his letter Mr. Sartori asks that the Main Event of Fight Nights 50 (Emelianenko vs Maldonado) to be judged by another panel of judges.
Reasons for the appeal are:
Conflict of interest
The initial appeal was unjustfully rejected by the Head Jury.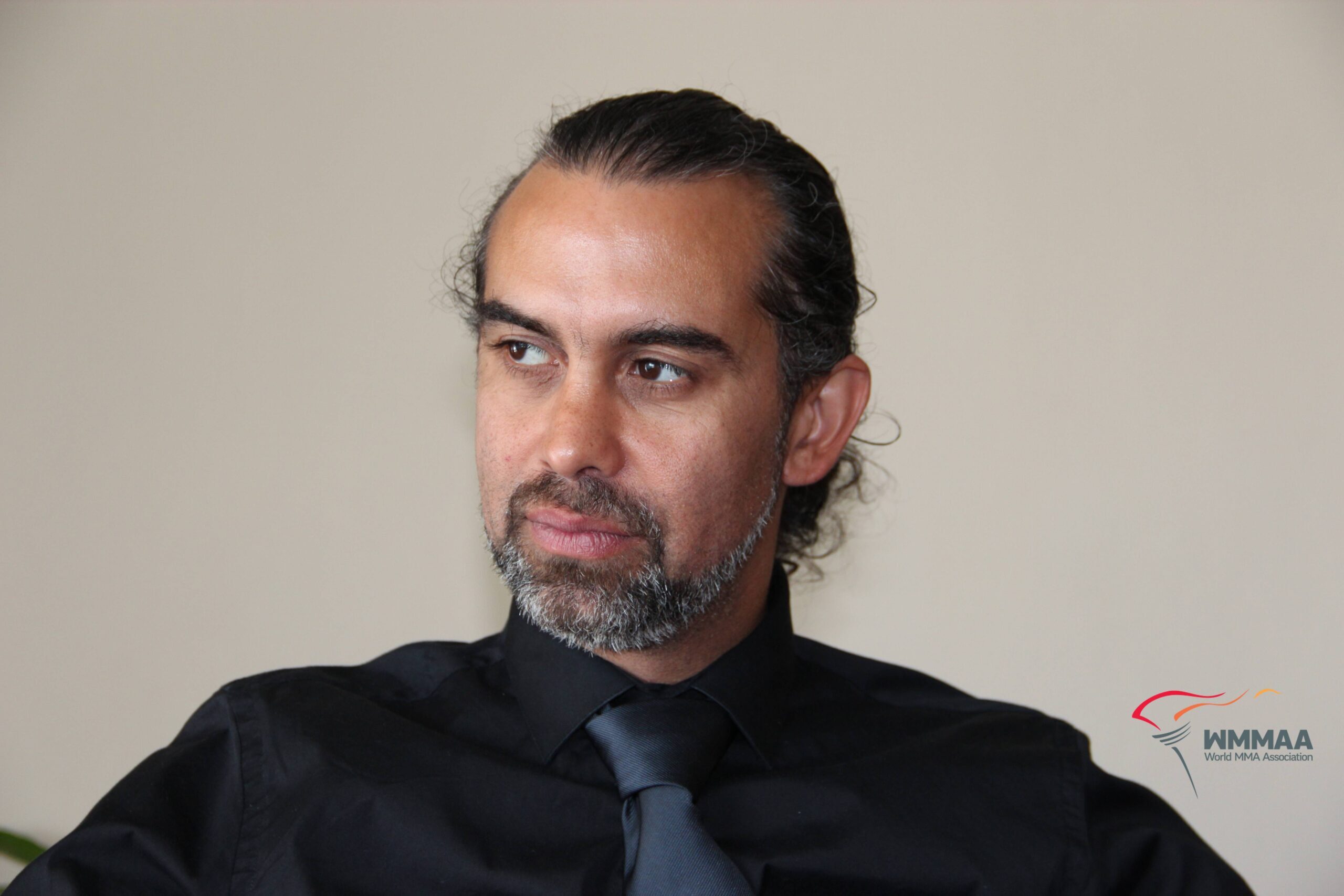 Alexander Engelhardt, Senior Vice President and Secretary General of the WMMAA,  was responsible for the appeal procedure. The appeal procedure was divided in two parts that needed to be reviewed.
1. Have there been made any procedural mistakes related to this fight?
2. An independent international judges panel has to review the fight.
On the first criterion the WMMAA came to the conclusion that the appeal was legit to accept.
The fact that the fighter, Fedor Emelianenko, being the President of the Russian MMA Union and the Head of Judge, Radmir Gabdullin, have a work relationship could potentially affected the judgmental decisions. We are not saying that this relationship has led to a different outcome of the  result, but it is an unfortunate choice.
Another mistake made was the refusing of the appeal. This is was based on the Amateur rules of the WMMAA and this fight was done under the professional rules of WMMAA.
Regarding the second criterion. Marco Broersen as Head of the Professional Referees has selected three judges who were not working at the fight to judge the Maldonado vs Fedor fight.
These were:
Youri Lamoureux (CAN)
Lukasz Bosacki (POL)
Alexey Zemskov (RUS)
All Judges came to the same conclusion of 28-28 (Draw).
The attached letter of Marco Broersen with the advice to change the result to "Unanimous Draw" will be accepted by the WMMAA. This decision will be announced to Fight Nights and communicated with the Fedor Emelianenko, the Russian MMA Union and Stefano Sartori.
With this decision I will consider the Appeal to be official closed.
We trust to have informed you sufficiently.
Best regards,
Alexander Engelhardt
Attachment 1: Marco Broersen letter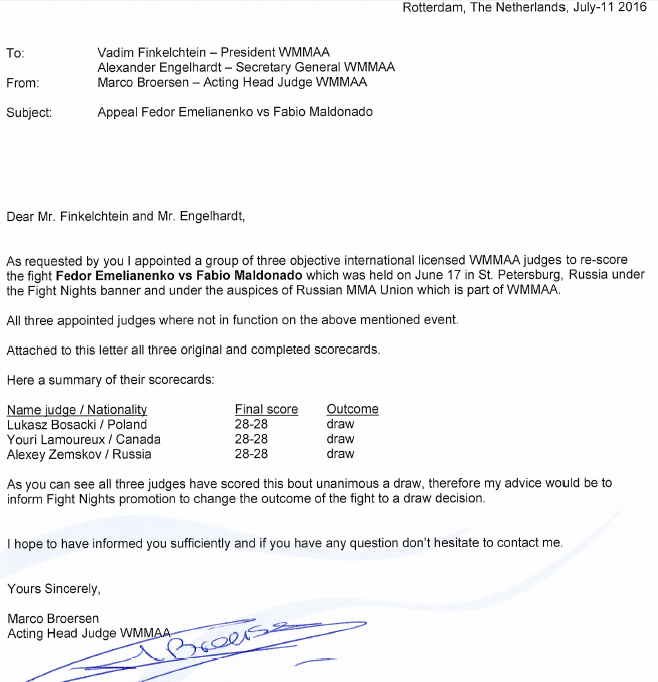 Attachment 2: Score card of Lukasz Bosacki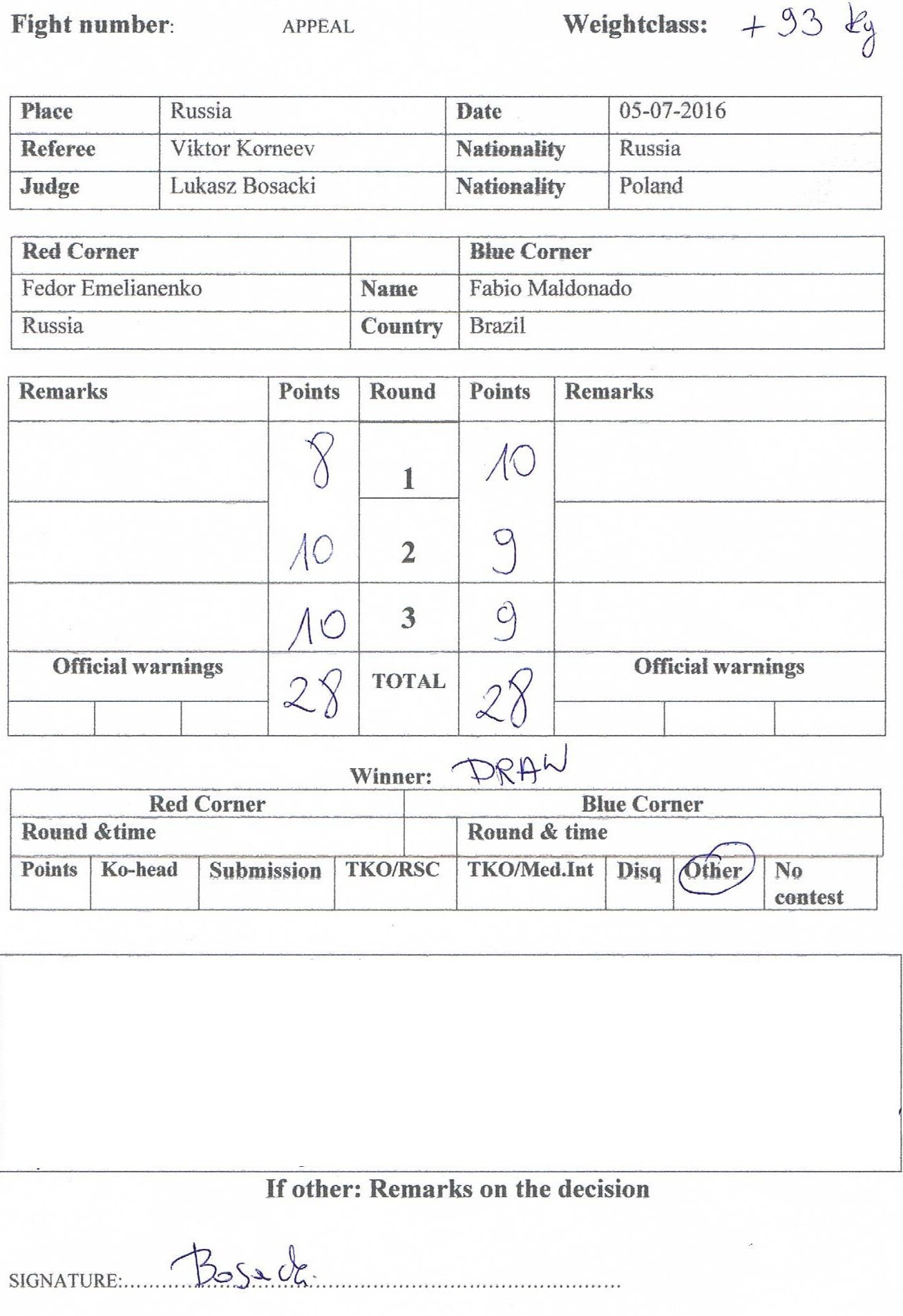 Attachment 3: Score card of Youri Lamoureux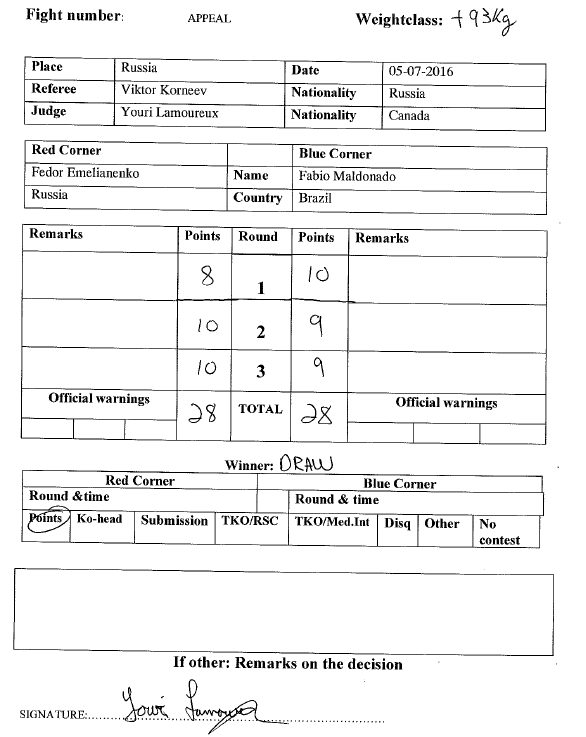 Attachment 4: Score card of Alexey Zemskov