WMMAA held its annual Congress between July, 3-5. The total number of the represented countries was at 18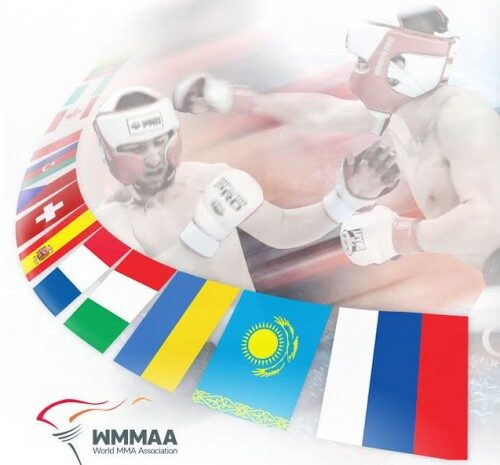 The annual European MMA Championship was held in Baku, Azerbaijan on the 15-st and 16-nd of November. Find the results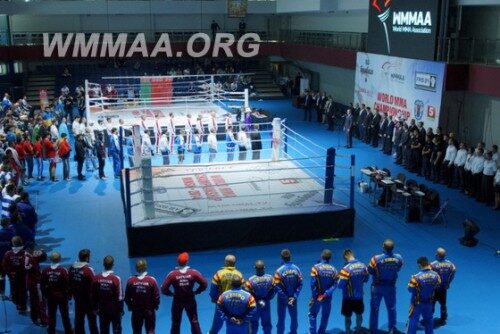 Find the official results of 2014 World Amateur MMA Championship that emanated from the Chizhovka Arena which is situated in…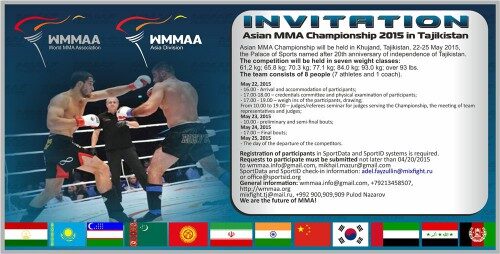 This year's Asian MMA Championship will hail from Khudzhand, Tajikistan on May 22-25 and will be held at the national…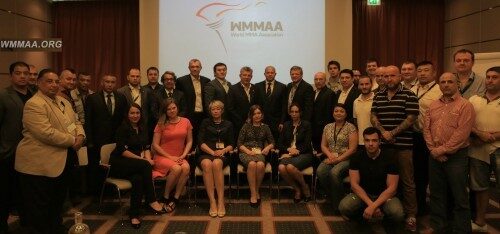 World MMA Association Congress in the Netherlands
Frontpage Slideshow | Copyright © 2006-2011 JoomlaWorks Ltd.
Published on 03 September 2015 Dear friends, Prague is a beautiful city and the Czech Republic is a beautiful country. We Czechs are proud of our country and our capital city as we are very proud to host the best amateur MMA fighters of the world in our home, in the year 2015. For three days – in the town where many heroes of Eu…
…>>
Published on 03 September 2015 Miami, Florida – World MMA Association –and Battle Brotherhood will launch on September 11th, 2015 a WORLD ALLIANCE, an international initiative to support and honor service members and their families. The initiative aims to educate, challenge, and spark action from all sectors of every…
…>>
Published on 29 August 2015 2015 World Championship will be held on 26-29 of November in the beautiful capital of Czech Republic, Prague. Each member of the WMMAA family is officially invited to participate in this upcoming celebration of combat sport action, dignity and mutual respect. The event is organized by our prominent member, Czech association of MMA in collaboration with Czech Martial Arts Union and Ministry of Education Youth and Sports of the Czech republic. Please find below the regulations of the upcoming championship. …
…>>
Published on 25 August 2015 Recently Russian MMA Union held its regular congress that took place in Moscow Olympic village that had been built for the Olympic Games back in 1980. Watch the video from August, 22 + a photo gallery from the event. …
…>>
Published on 25 August 2015  
Argentina Asociación Argentina de MMA Address: Uruguay 431, Bell Ville, Cordoba, Argentina Embajador: Ricardo Serrats Presidente: Carlos Castro Vice-presidente: Fernando Costantino E-mail: This email address is being protected from spambots. You need JavaScript enabled to view …

…>>
Published on 25 August 2015
Oceania Division
…
…>>
Published on 25 August 2015    
Albania: Albanian Free Fighting Federation President – Arjan Rizaj Vice-president – Enrik Elamazi Secretary General – Celtina Morina Address of Federation: Tirane, Albania street: Margarita Tutulani office/apartment No: 13/E ALBANIAN FIGHT CLUB telephone: 00 355 692879738Fax…

…>>
Published on 25 August 2015
  Senegal: Federation Senegalaise De Kung Fu Wushu President – Sala Dior Mbaye Vice-presidents – Sadibou Ba, Jean Louis Dacosta Secretary General – Papa Aliou DiattaAddress of Federation: postal code 64580 – Dakar Fann, Dakar, Stade Leopold Sedar Senghor street, office/apartment…

…>>
Published on 20 August 2015 For the fourth time in a row Serbian MMA Federation in partnership with the shopping mall Delta City is organizing "Delta City – MMA BELGRADE OPEN 2015".
On October 3 the capital city of Serbia, Belgrade will be hosting a regular open MMA competition.
The competition is p…
…>>
Published on 20 August 2015 As everyone knows, Fedor Emelianenko keeps preparing for his long awaited return to resume his legendary MMA career. The Last Emperor trains in his native Stary Oskol at the newly built Alexander Nevsky training facility. Alongside with multiple world combat sambo champion Kirill Sidelnikov, Bellat…
…>>
January 18
MMA Seminar in Cuba
January 18
Cage Survivor 3 in Athens, Greece
January 24
MMA Mania in Torino, Italy
January 24
Maxima Pojistovna MMA Liga in Prague, Czech Republic
January 29-31
Fight Club in Firenze, Italy
February 1
2k9 Trial Series in Argentina
February 8
Interregional Championship Nord-Es in Cavazzale, Italy
February 8
Judge and referee seminar in Athens, Greece
February 15
Arts of War 2 in Lecce, Italy
February 15
Gala Kempo Elite Wicked One Tournament in Paris, France
February 16
RXF 16 (pro) in Targoviste, Romania
February 21
MMA Liga in Prague, Czech Republic
February 21
Latvian Top Fighters – Open Cage 4 in Riga, Latvia
February 22
Amateur MMA Championship in Athens, Greece
February 25
2k9 Trial Series in Argentina
February 25
GCF 30 in Prague, Czech Republic
February 28
La Notte dei Gladiatori in Lecce, Italy
March 1
Oltenia MMA Cup in Ramnicu Valcea, Romania
March 7
Night Warriors in Cento, Italy
March 7
Gala Kempo Elite GFA 2 in Nimes, France
March 8
National Championship, First round, Western Section in Százhalombatta, Hungary
March 13
Rivals MMA 1 in Montreal, Canada
March 13
Invictus Fighters 9 in Ciudad de Salta, Argentina
March 13
FFC 18 in Sarajevo, Bosnia and Herzegovina
March 14
Cage Warriors in Taranto, Italy
March 14
National Championship, Second round, Eastern Section in Gyula, Hungary
March 15
2k9 Trial Series in Argentina
March 16
RXF 17 in Craiova, Romania
March 18
1st Trial Series 2K9 Ultimatum region sur in Bariloche, Argentina
March 18
MMA Seminar in Cuba
March 20
XFFC 6 in Grande Prairie, Canada
March 20-22
Ukrainian National Championship in Kiev
March 21
Czech Open in Prague, Czech Republic
March 21
Elite 1 MMA in Moncton, Canada
March 21
National MMA Championships in Bucharest, Romania
March 22
1st trial Series 2k9 Ultimatum region centro in Rio Cuarto, Argentina
March 27
Unified MMA 22 in Edmonton, Canada
March 27
Havoc FC 8 in Red Deer, Canada
March 27
GCF Challenge : Back in the fight 4 in Pribram, Czech Republic
March 28
Fight4Pride 3 in Laval, Canada
March 28
Battlefield Fight League 35 in Vancouver, Canada
March 28
Kenpo National Championship in Lyon, France
March 29
Fight or Nothing in Firenze, Italy
March 29
National MMA Championship in Athens, Greece
April 2-5
PFO Championship in Kirovsk, Russia
April 2-5
UFO Championship in Tyumen, Russia
April 2-5
SFO Championship in Novosibirsk, Russia
April 4
Mega evento de MMA in Junin, Argentina
April 4
2nd Trial Series 2k9 Ultimatum region norte in Concordia, Argentina
April 4
Ronin Fight in Bariloche, Argentina
April 4
Kazakhstan National Championship in Uralsk, Kazakhstan
April 4
Battle of Nomads 3 in Uralsk, Kazakhstan
April 11
Oktagon in Milano, Italy
April 11
La Jaula del Dogo 2 in Azul, Argentina
April 11
Gala Kempo Elite GOTA IV in Aubenas, France
April 12
National MMA Cup in Milano, Italy
April 12
1st Trial Series 2k9 Ultimatum in Buenos Aires, Argentina
April 14
2015 Qualifying Tournament, Cuba
April 15
FFC 19 in Ljubljana, Slovenia
April 15
Provincial Fighting Championship 4 in London, Canada
April 16-18
National MMA Championship in Bishkek, Kyrgyzstan
April 16-18
National Judge & Referee Seminar in Antalya, Turkey
April 16-19
SZFO Championship, Russia
April 16-19
UFO Championship in Volgograd, Russia
April 16-19
SKFO Championship Grozny, Russia
April 17
Spanish National Championship trials in Madrid, Spain
April 17
2nd Trial Series 2k9 Ultimatum region centro in Tucuman, Argentina
April 18
Gala Kempo Elite KOC 8 in Cognac, France
April 18
Cadet & Junior National MMA Championship in Riga, Latvia
April 18
Transilvania MMA Cup in Bistrita, Romania
April 18-19
National Championships in Antalya, Turkey
April 19
Pro Kombat Fight Show in Barletta, Italy
April 23-26
DVFO Championship Vladivostok, Russia
April 23-26
CFO Championship in Moscow, Russia
April 23-26
KFO Championship in Sevastopol, Russia
April 24
Fivestar Fight League 14 in Fort St. John, Canada
April 24
2nd Trial Series 2k9 Ultimatum region sur in Puerto Madrin, Argentina
April 26
Interregional Championship Centro Italia in Viterbo, Italy
April 26
2nd Trial Series 2k9 Ultimatum in Buenos Aires, Argentina
April 27
RXF 18 in Cluj, Romania
April 29
Combate Extremo Gladiatores MMA in Malvinas Argentinas, Argentina
April 31
2k9 Trial Series in Argentina
May
Kazakhstan Republican Tournament
May 1
2k9 Trial Series 2 in Argentina
May 1
National Championship (Seniors) in Belgrade, Serbia
May 1-3
National Championship in Chisinau, Moldova
May 2
National Championship (1st half) in Seoul, South Korea
May 2
Hybrid Pro Series 3 in Gatineau, Canada
May 2
Judge & Referee seminar in Villeurbanne, France
May 2
Gala Kempo Elite LFC V in Villeurbanne, France
May 4
National Referee seminar in Tehran, Iran
May 8
2k9 Trial Series 2 in Argentina
May 10
Interregional Championship Nord-Ovest in Brandizzo, Italy
May 15
2k9 Trial Series 2 in Argentina
May 15
International Judge & Referee Seminar in Riga, Latvia
May 15
FFC 20 in Sofia, Bulgaria
May 16
KnocKOut in the Cage in Roma, Italy
May 17
French Open Kenpo Elite in France
May 20
2k9 Trial Series 2 in Argentina
May 21-22 May
Referree Seminar in Cuba
May 22-23
WMMAA Asian MMA Championship in Khujand, Tajikistan
May 23
Gala Kempo Elite VIIIe Masters Kenpokan in Nice, France
May 23-24
Cuba National Championship
May 23
Moldavia MMA Cup in Vaslui, Romania
May 24
2k9 Trial Series 2 in Argentina
May 25
RXF 19 (pro) in Brasov, Romania
May 28-31
Russian MMA Championship Finals in Omsk, Russia
May 29-31
National MMA Championship in Rimini, Italy
May 29
Unified MMA 23 in Edmonton, Canada
May 30
Throwdown 6 in Athens, Greece
June
National Championship in Erevan, Armenia
June 5-6
First Iran national championship in Khoramshahr, Khozestan province, Iran
June 6
Gala Kempo Elite KOC 1 in Bordeaux, France
June 6
National Championship Finals in Budapest, Hungary
June 7
Bucharest MMA Cup in Bucharest, Romania
June 13
2k9 Top Fight in Argentina
June 13-14
International Gala Cup in Istanbul, Turkey
June 20
Riga Challenge 2 in Riga, Latvia
June 22
MMA Seminar in Cuba
June 27
League Warriors 3 in Zakynthos, Greece
June 30
2k9 Top Fight in Argentina
July
Battle of Nomads 4 in Kazakhstan
July 15
2k9 Top Fight in Argentina
July 18-19
Cuban MMA Open
June 19
FFC 21 Milano, Italy
June 19
Havoc FC 9 in Red Deer, Canada
July 30
2k9 Top Fight in Argentina
August, 1
Dobrogea MMA Cup in Tulcea, Romania
August 4-6
Congreso Tecnico De Arbitros
August 4-9
Seminario Internacional De MMA in Colombia
August 8-9
National MMA Championship in Colombia
August 15
2k9 Top Fight in Argentina
August 24
RXF 20 (pro) in Constanta, Romania
August 25
Delta City Challenge (Senior) in Belgrade, Serbia
August 28-30
Republican Cup in Chisinau, Moldova
August 30
2k9 Top Fight in Argentina
September
WMMAA European MMA Championship in Romania
September
MMA National Cup in Erevan, Armenia
September
Professional MMA Championship in Moldova
September 1
2k9 Top Fight in Argentina
September 2
National Championship (2nd half) in Seoul, South Korea
September 5
Kazakhstan MMA Cup
September 12-13
Geneva Open in Geneva, Switzerland
September 12
Muntenia MMA Cup in Tirgoviste, Romania
September 16-19
Russian MMA Cup in Sochi, Russia
September 18-19
International Gala Cup in Tehran, Iran
September 22
MMA Seminar in Cuba
September 22
Referee Seminar in Cuba
September 25
Judge and referee seminar in the Ukraine
September 25-27
Ukrainian Cup
September 27
Gala Kempo Elite Apash Tournament in Vaux-en-Velin, France
October
FFC 22 in Budapest, Hungary
October 5
RXF 21 (pro) in Sibiu, Romania
October 5
Gala Kempo Elite Urban Legend XI in Villepinte, France
October 10
Best of the Best Caspian cup in Chalus, Mazandaran province, Iran
October 15
2k9 Top Fight in Argentina
October 17-18
Campeonato Nal Infantil in Colombia
October 18
National MMA Cup in Athens, Greece
October 23-25
Ukrainian Championship for youth
October 24
Latvian Top Fighters – Open Cage 5 in Riga, Latvia
October 30 – November 2
Russian MMA Championship in Moscow, Russia
November 27-28
WMMAA World MMA Championship in Czech Republic
November
FFC 23 in Brno, Czech Republic
November 6
"Fight Games 6" National Championship in Vrbas, Serbia
November 9
RXF 22 (pro) in Galati, Romania
November 15
2k9 Top Fight in Argentina
November 15
Gala Kempo Elite Urban Legend XII in Villepinte, France
November 21
Latvian MMA Championship in Riga, Latvia
November 22
Gala Kempo Elite LFC IV in Villeurbanne, France
December
FFC 24 in Vienna, Austria
December
Professional MMA Championship in Chisinau, Moldova
December 3-6
Russian MMA Super Cup, Russia
December 13
Gala Kempo Elite Urban Legend XIII in Villepinte, France
December 14
RXF 23 (pro) in Bucharest, Romania
December 15
SuperCup in Astana Kazakhstan
December 18
FFC 25 in Zagreb, Croatia
December 19
Baltic MMA Championship in Riga, Latvia
December 19
Cuban MMA Open
December 20
Gala Kempo Elite GOTA Challengers in Ruoms, France
December 25
"TeslaFC 5" Pro Tournament in Belgrade, Serbia

Afghanistan


Albania

Argentina


Armenia


Аustria


Аzerbaijan


Belarus


Belgium


Bulgaria


Canada


China


Colombia


Croatia


Cuba


Czech Rep.


France


Georgia


Germany


Greece


Guatemala

Hungary


India


Iran


Italy


Каzakhstan


Kyrgyzstan


Latvia


Macedonia


Mexico


Moldova


Monaco


Mongolia


Netherlands


Paraguay


Poland


Romania


Russia


Senegal


Serbia


Slovakia


S.Korea


Spain


Switzerland


Таjikistan

Trinidad

and Tobago


Тurkey


Ukraine


Uzbekistan


Venezuela