World MMA Association held an inaugural event under professional MMA rules. The event took place in Almaty which is a former capital of Kazakhstan. The event dubbed Battle of Nomads was organized by Kazakhstan MMA and jiu-jitsu Federation and it delivered.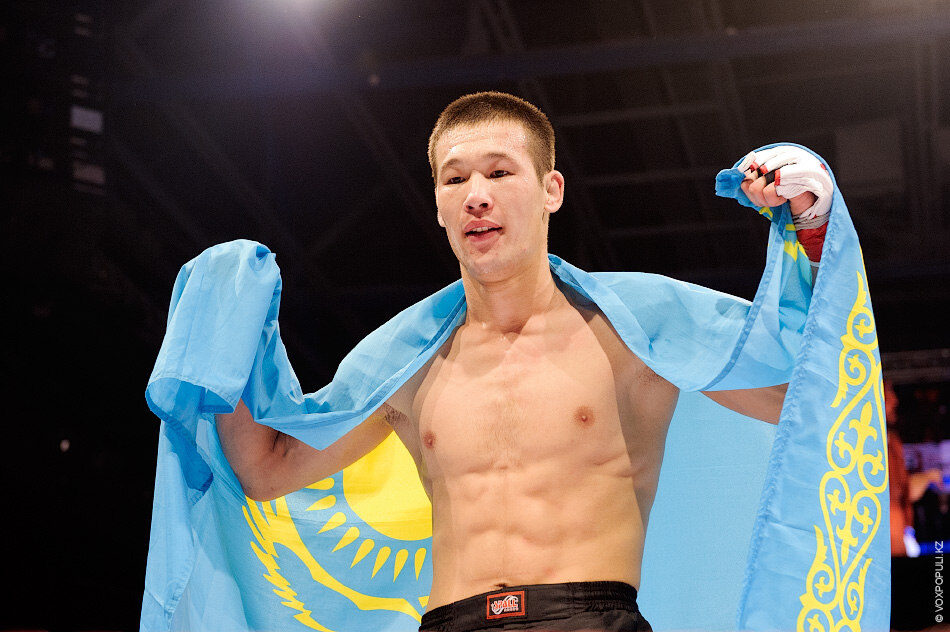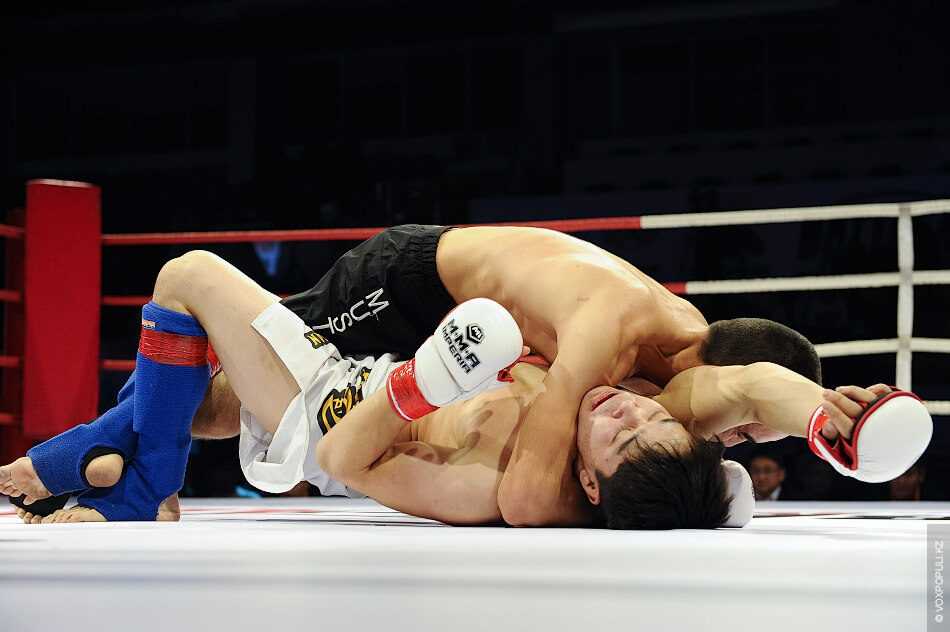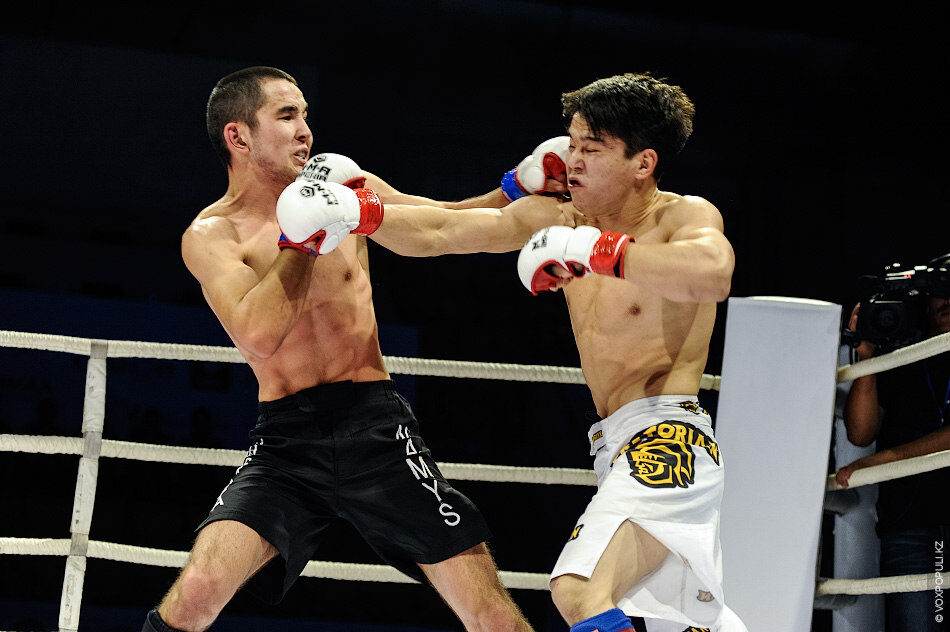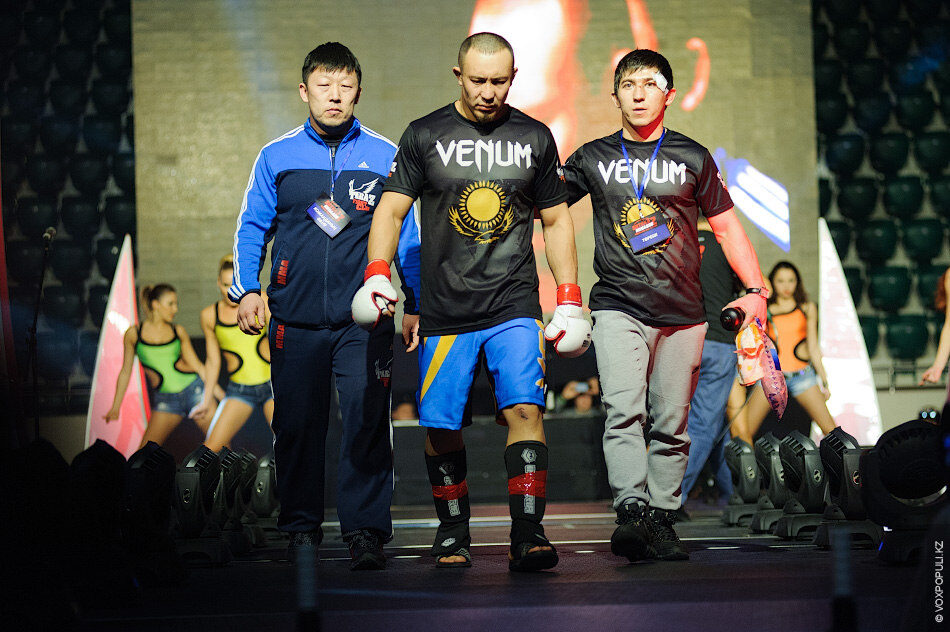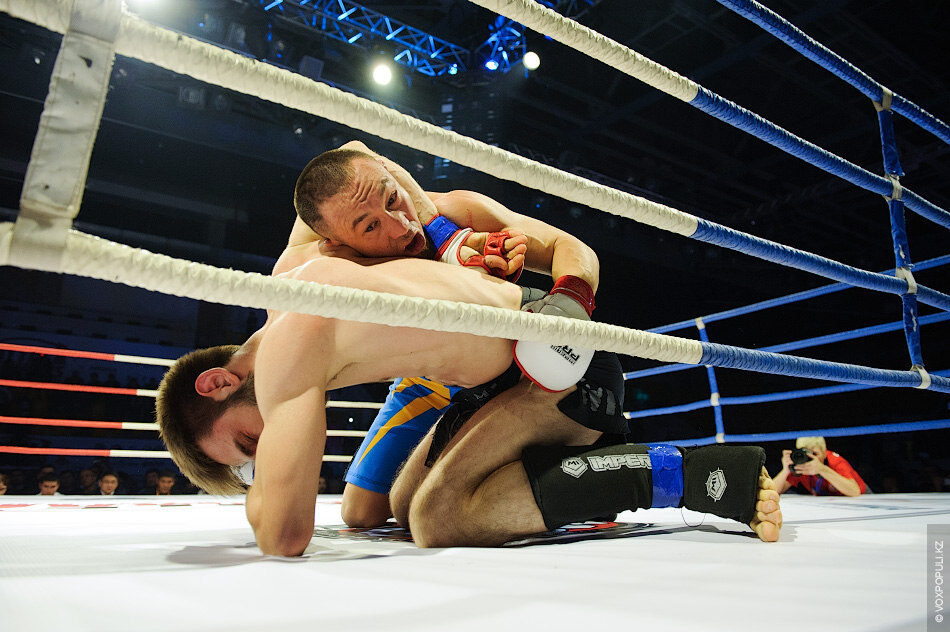 Two fighters got yellow cards: 24-y.o. Ismail Geroev (on the previous photo – below) from Karaganda and 21-y.o. Aibek Abdigaliev from Taraz (on the next photo). Both fighters lost their respective fights.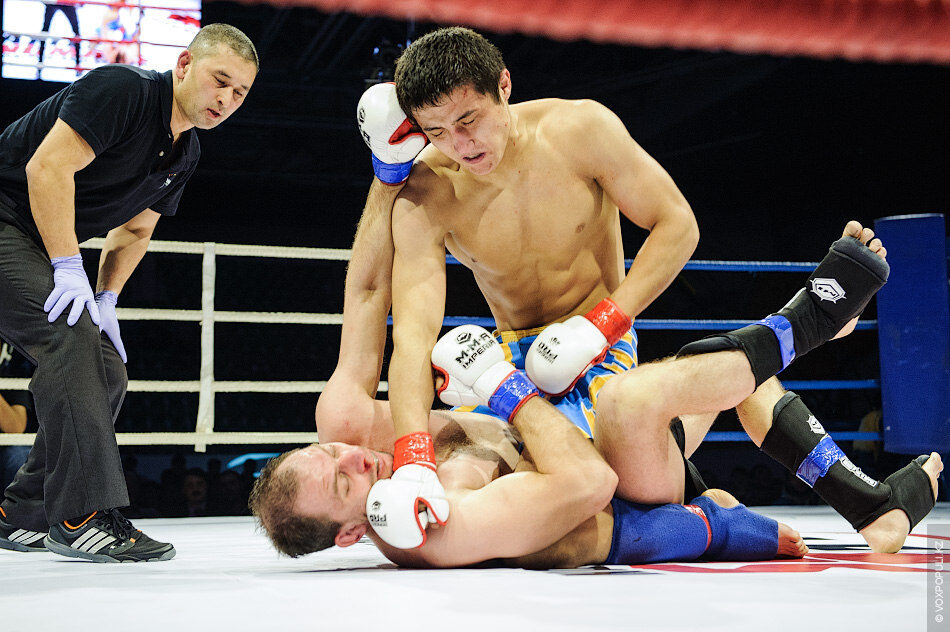 What a firework a welterweight fight between 28-y.o. Kirill Yakimovich from Akmolinsk and 21-y.o. Aibek Abdigaliev from Taraz was! (photo below)
Thei battle went the distance unlike the majority of the fights that night.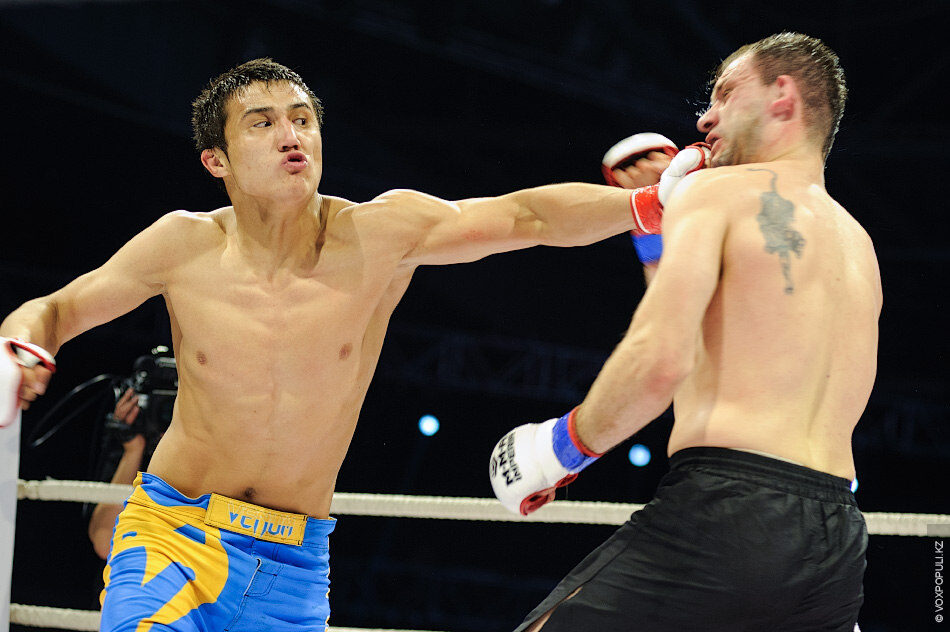 At the end Kirill Yakimovich was declared a winner. And rightfully so.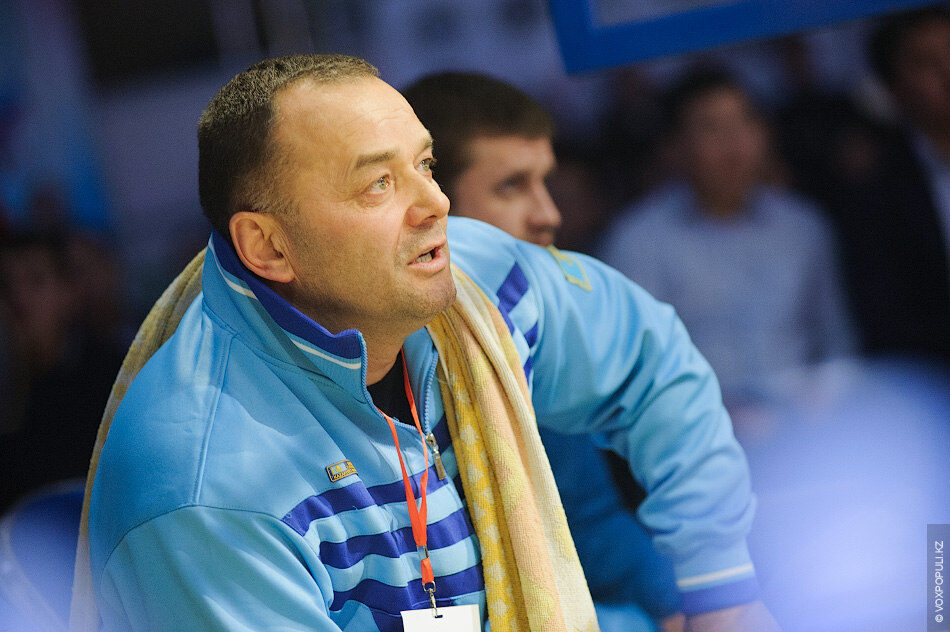 Coaches keep a close eye on the course of the fight.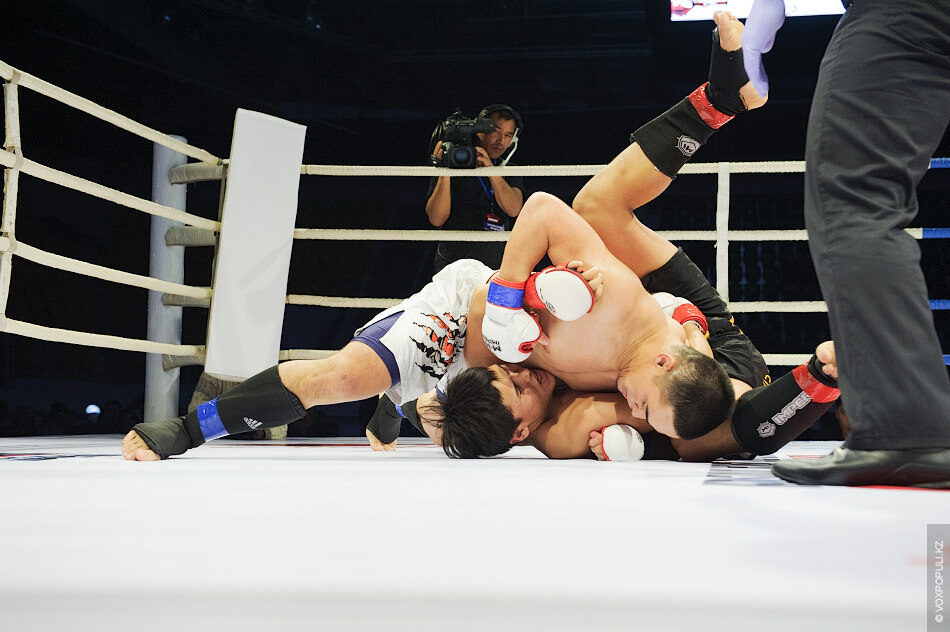 A fight between 23-y.o.o Zhasulan Khasimov and 20-y.o. Erkenbek Inzhel in the middleweight category.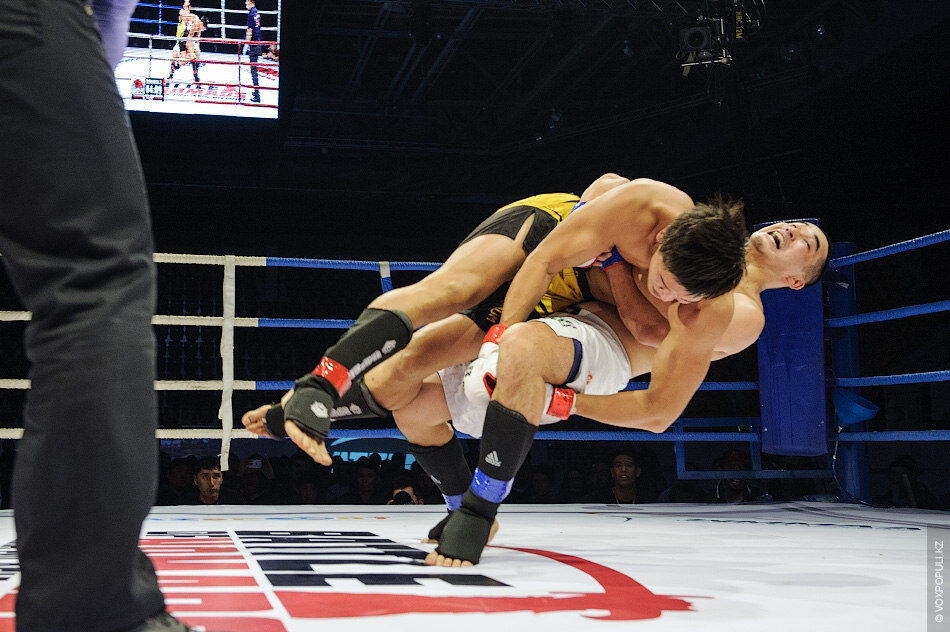 Erkenbek was able to knock his opponent out in the very first round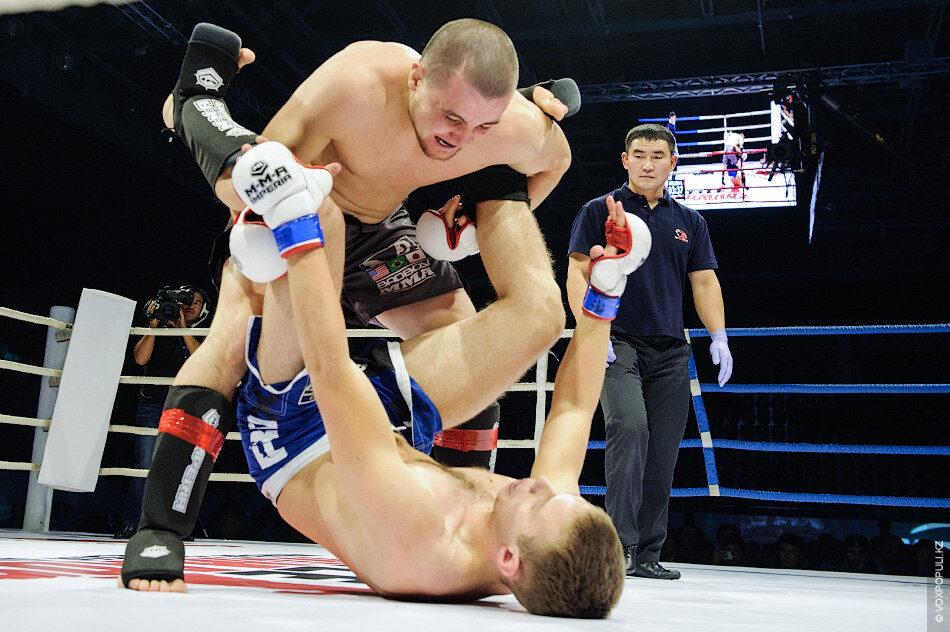 In total 4of the scheduled 7 bouts ended by a submission or a knockout.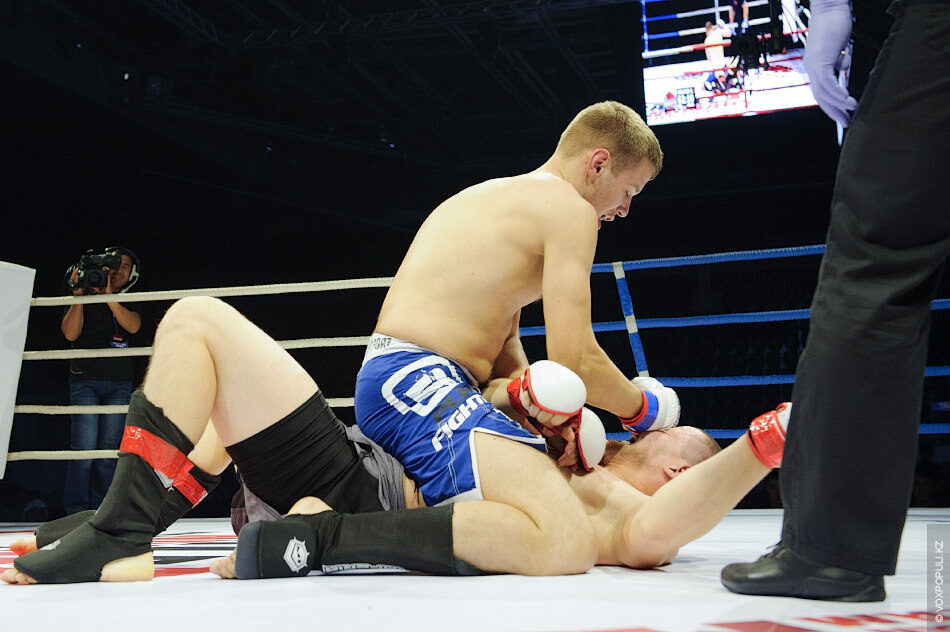 At the Kazakhstan MMA Cup that took place in the undercard of Battle of Nomads Astana Team got gold for overall performance. Silver went to Uralsk team. And bronze was conquered by the fighters out of Karaganda.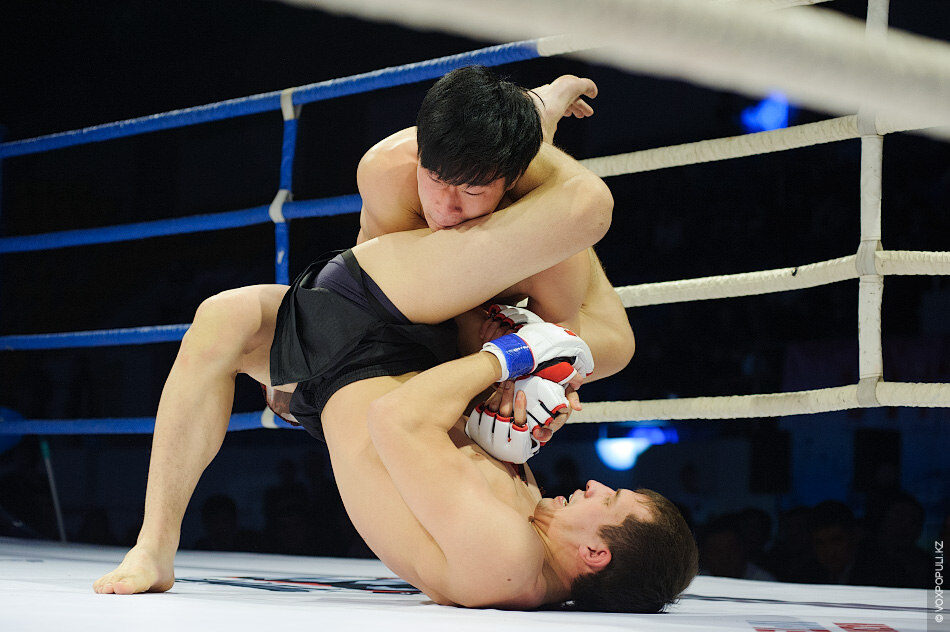 At Battle of Nomads the audience in attendance watched fighters from Russia, South Korea, Tajikistan, Brasil and of course local fan favorites.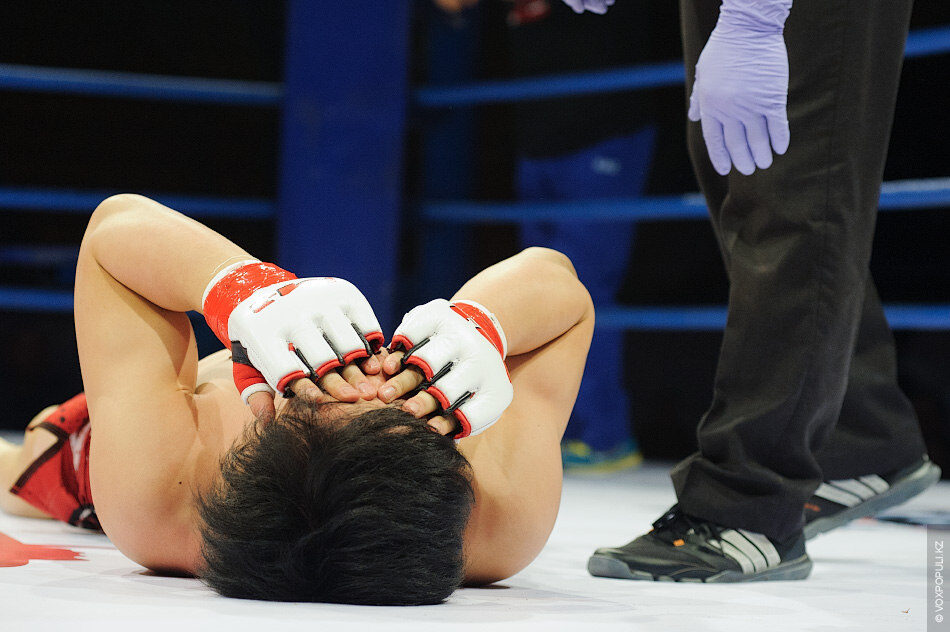 The first to open Battle of Nomads were lightweight fightersL Dmitry Ermolaev (Kazakhstan), Kazakhstan MMA champion with the record of 2-2 against Lee Gak Soo, South Koreac kickboxing champion with victories in all of his 5 professional outings.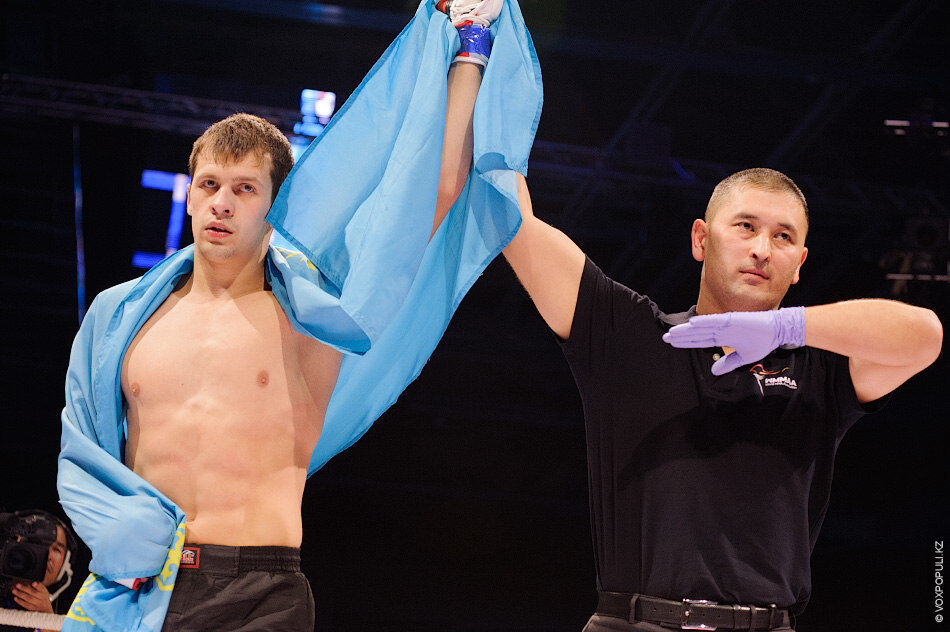 Ermolaev won by technical knockout in the first round.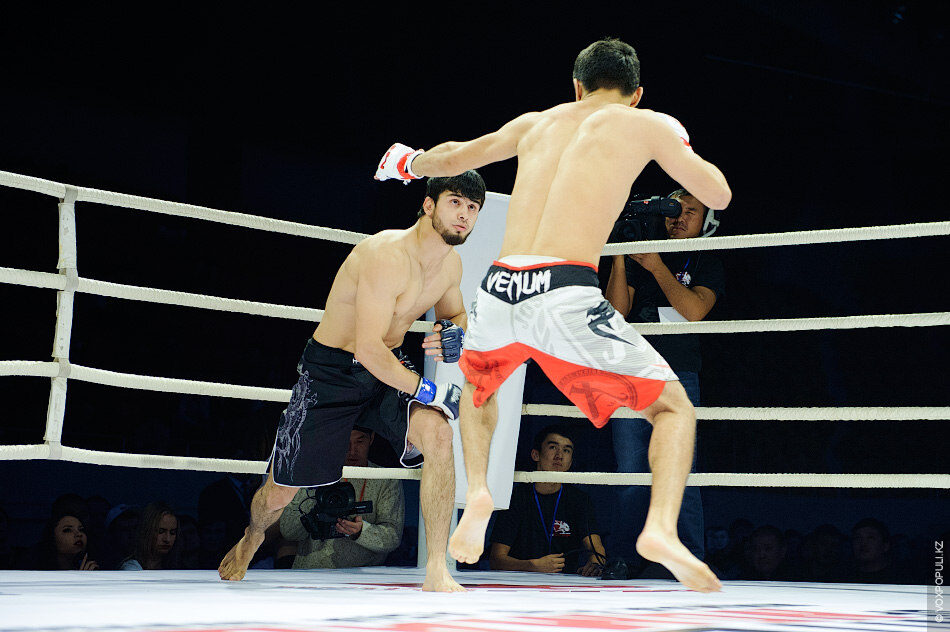 Next the featherweight showcased their skills.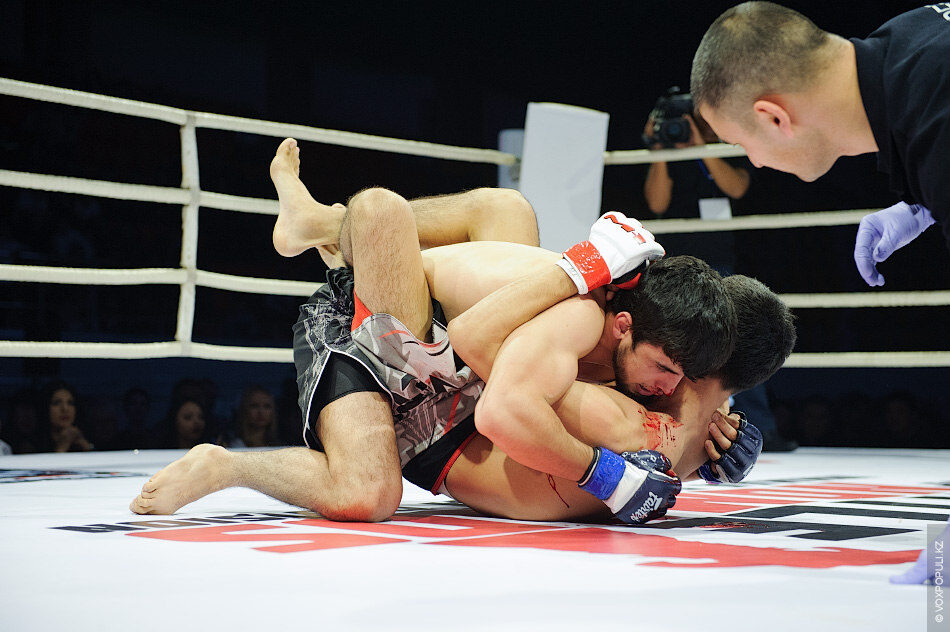 Farkhodi Saimirzo, MMA champion from Tajikistan debuted that night againt a fellow debutant in Samat Zhagiparov from Kazakhstan who is Pancration world champion.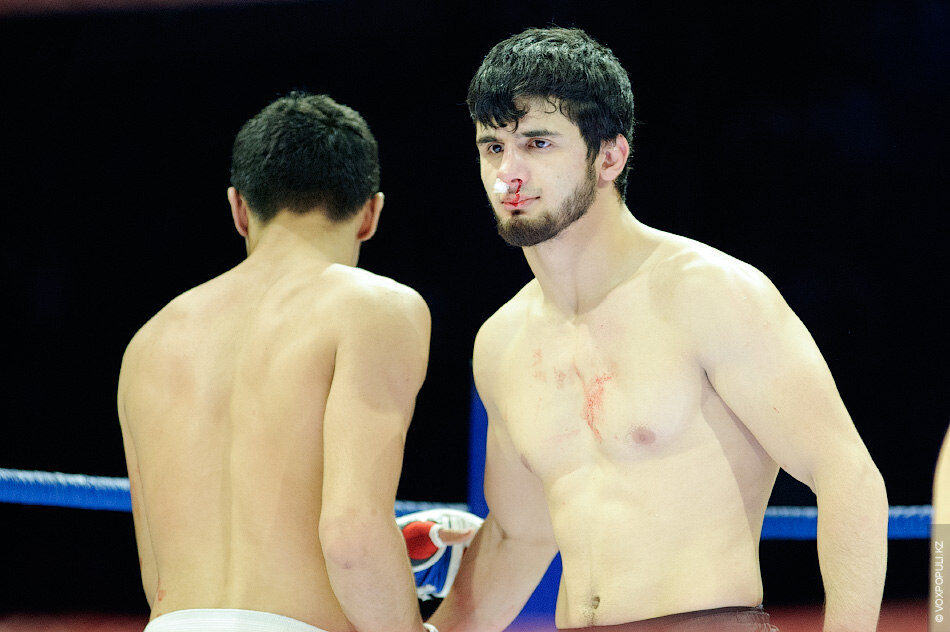 The fight didn't even start when it was all over – Farkhodi's broken nose derailed hiw owner's plans.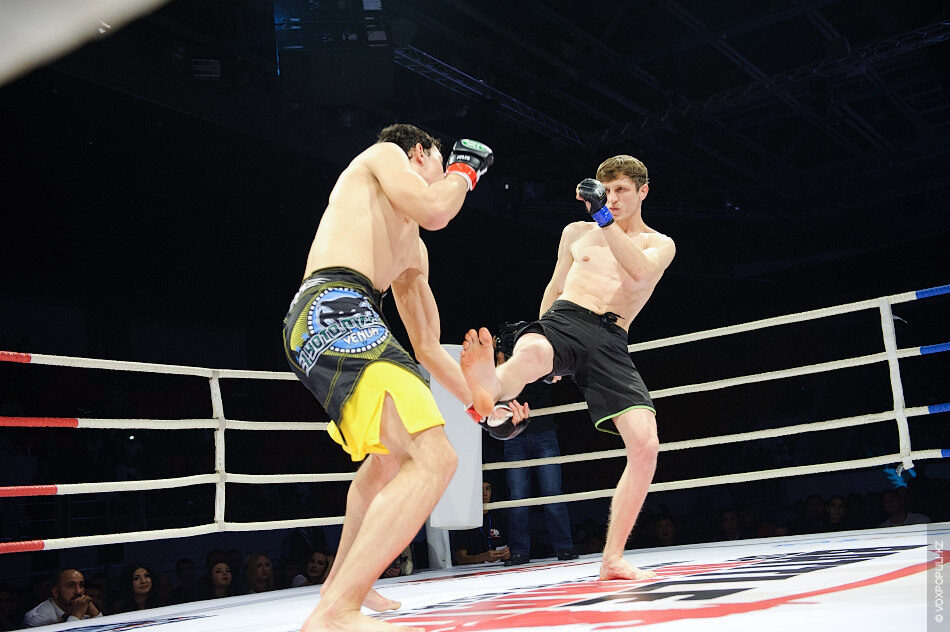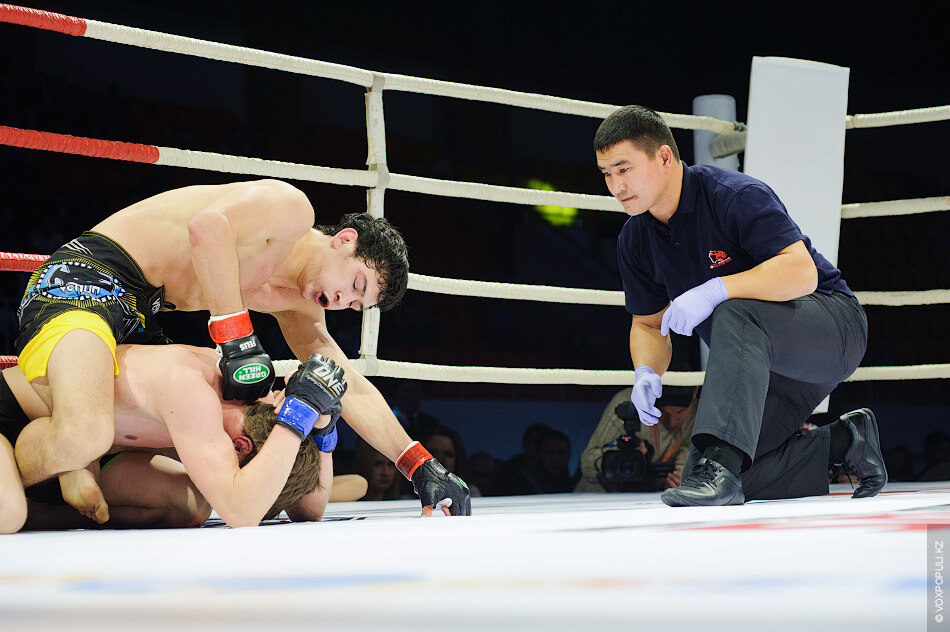 Next on the stage were Eldar Magomedov from Russia, hand-to-hand combat in his native Bashkortostan and Damir Ismagulov (Kazakhstan), sports master in army hand-to-hand combat.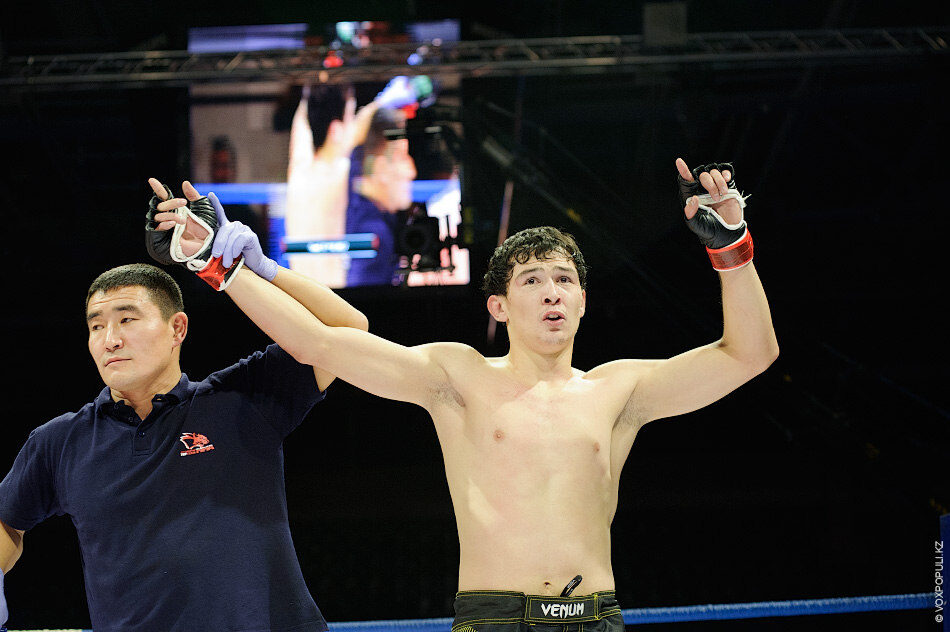 Damir Ismagulov won by tachnical knockout.
The one before the last fight was contested in the middleweight division. Azimdzhon Begidzhonov from Tajikistan, European MMA Championship silver medalist lost to Kazakhstan hand-to-hand champion in Asif Tagiev.
And finally the headliner was about to commence. Markus «Osso Duro» Vinicius from Brazil occupied the blue corner A capoeira fighter possessed a record of 9 wins against 7 losses.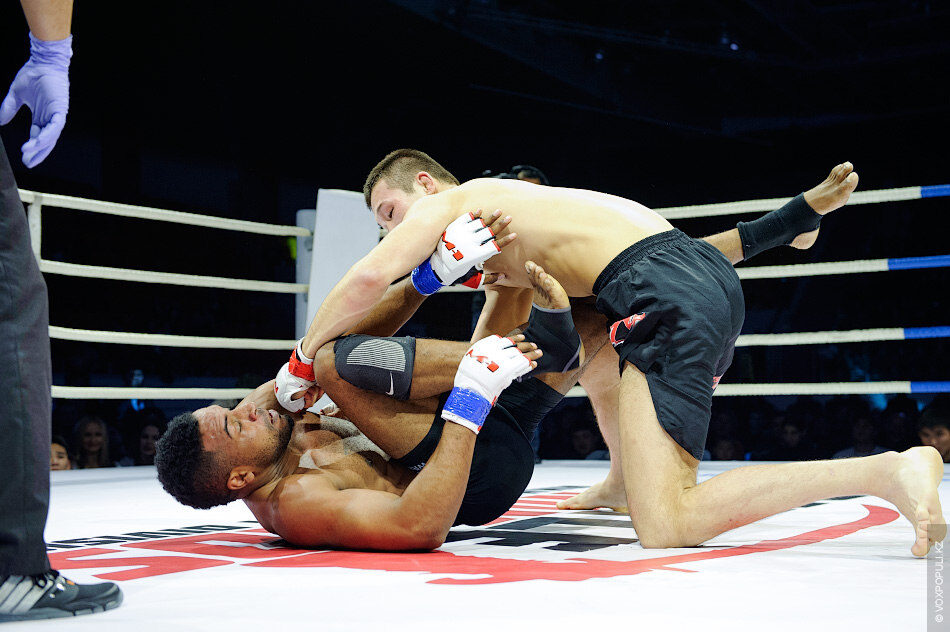 Crowd cheered him on as the local fan favorite was proceeding onto the stage. 2013 World MMA champion, 2014 World MMA Championship silver medalist Shavkat Rakhmonov from Kazakhstan couldn't disappoint his fans.
Despite sheer experience advantage on the Brazilian fighter's side Shavkat was able to follow the game plan and knock him out.