WMMAA   /   News   /   2016 Asian MMA Championship in South Korea
It's official! The next Asian MMA Championship under the WMMAA banner will take place in Hwasoon, South Korea. The venue will be Culture and Sports Center of the said city. Moreover, international referee seminar will precede the Championship.
Every WMMAA member that is part of Asian Division already received detailed regulations and invitation.
The event will be organized by three parties:
– World MMA  Association (WMMAA);- WMMAA Asia Division;
– Korea MMA Association.
Application deadline: May, 26th.
COMPETITION PROGRAM
May 25-27: international judges seminar will be held according to the additionally approved Regulations. The seminar will certify and accredit the judges. Only the accredited judges will be allowed to work during the Asian MMA Championship.
May 27, 2016, Before 16:00: participant's arrival;credentials committee, medical examination of the participants; weigh-ins, drawing procedure;
May 28, 2016, From 10:00: preliminary and semifinal fights;
May 29, 2016, From 18.00: final bouts; ASIA DEVISION CONGRESS; BATTLE OF NOMADS WMMAA PRO ASIA DIVISION
May 30, 2016: Departure of participants.
The international referee seminar is in the responsibility of the Presiding Judge of the Asian MMA Championship.
The Presiding Judge of Asian Championship – Gabdullin Radmir (Russia);
The Deputy of the Presiding Judge – Pavel Kan (Kazakhstan).
The Seminar Program
May 25:10:00 – 13:00 theory15:00 – 18:00 practice
May 26:
10:00 – 13:00 theory15:00 – 18:00 practice
May 27:
10:00 – attestation
12:00 – admission to the competition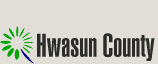 Hwasoon (or Hwasun) (화순군; Hwasun-gun) is a county in South Jeolla Province, South Korea.
Situated in the center of Jeollanam-do, most of Hwasun-gun consist of mountains of 400~900 meters above sea level except for river area in the west. As a vein of Sobaek Mountains, most of Hwasun-gun consist of mountainous areas with high mountains including Mudeongsan Mountain(1,187m), Mohoosan (母後山:919m), Baekasan Mountain (白鴉山:804m) Cheonunsan Mountain (天雲山:602m) and Hwahaksan Mountain (華鶴山:614m) in the line of Mudeongsan Mountains (無等山脈), while various tributaries of Youngsan Rive and Seomjin River flow into the parts of comparatively vast flatland of Hwasun-gun.
Made with county flower (Gunhwa, 郡花, peace and nature) and circle (community) as motive, the country bran slogan expresses each eup and myeon, which consist of Hwasun-gun, as the areas having their own uniqueness by expressing them as an independent form. The changes in their forms represent that respective development of each eup and myeon, while, in the end, they can demonstrate the biggest power as one unity of county. Green color symbolizes spring, vitality and nature and the one residents of Hwasun prefer most. Blue color symbolizes high ideals and spirit of county residents.